Last updated on September 25, 2023
Discover a variety of charming farmhouse interior window trim ideas that will effortlessly elevate your rustic home's aesthetic and make it stand out.
If you're looking to add some rustic charm and warmth to your home, then farmhouse interior window trim is the perfect way to do it. This style of window trim can instantly transform a room and give it a cozy, inviting feel.
Whether you're renovating an old farmhouse or simply want to bring some country style into your modern home, there are plenty of ideas out there for you. In this article, we've put together 20 inspiring ideas for farmhouse interior window trim that will help you create the perfect look for your space.
So let's dive in and get inspired!
Key takeaways:
Rustic wood trim: Adds warmth and texture to any room.
White shiplap trim: Creates a clean, fresh, and airy look.
Reclaimed barn wood: Adds character and warmth, eco-friendly.
Simple craftsman style: Clean lines, natural beauty of wood.
Distressed paint finish: Creates a charmingly rustic appearance.
What's Inside
Rustic Wood Trim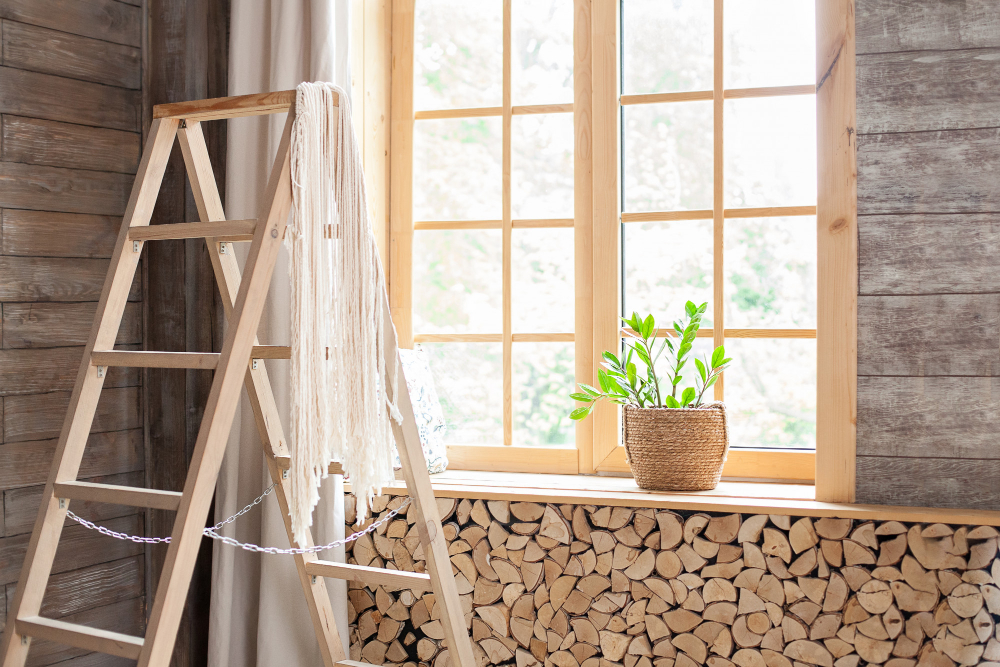 Rustic wood trim is a popular choice for farmhouse-style interiors. It adds warmth and texture to any room, creating a cozy and inviting atmosphere.
The natural knots, grains, and imperfections of the wood give it character that cannot be replicated by synthetic materials. Rustic wood trim can be stained or painted to match the color scheme of your space or left unfinished for an even more authentic look.
Some homeowners opt for reclaimed barnwood as their window trim material to add an extra layer of history and charm to their home decor. Whether you choose rough-hewn cedar or distressed pine boards, rustic wood trim is sure to bring a touch of nature indoors while enhancing the overall aesthetic appeal of your farmhouse interior design scheme.
White Shiplap Trim
This type of trim features overlapping boards that create a clean, horizontal line around the window frame. The white color adds brightness and contrast to the room, making it feel fresh and airy.
Shiplap can be used in both modern and traditional spaces, depending on how it's styled. For example, pairing white shiplap with black hardware creates a more contemporary look while using natural wood accents gives off a rustic vibe.
White shiplap trim is an easy way to add texture and interest to your windows without overwhelming the space with too much detail or color variation.
Reclaimed Barn Wood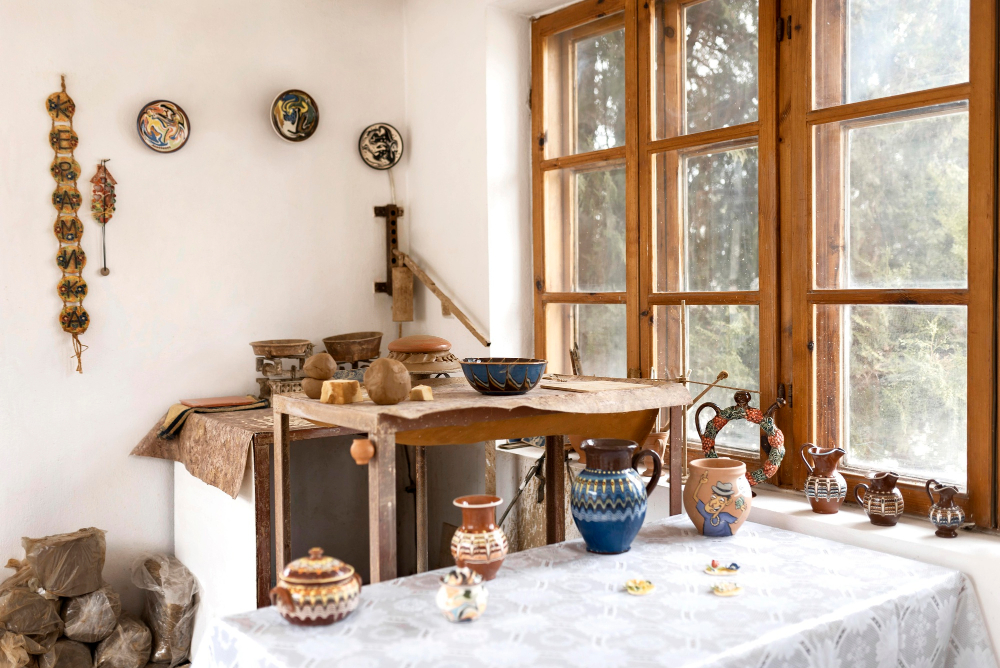 It adds character and warmth to any room, while also being eco-friendly. The natural texture and imperfections of the wood create a unique look that cannot be replicated with new materials.
Barn wood can be left unfinished or sealed with clear coat to protect it from wear and tear. It can also be stained or painted to match the color scheme of your home decor.
Reclaimed barn wood window trim pairs well with other rustic elements such as exposed brick walls, vintage furniture pieces, and industrial lighting fixtures for an authentic farmhouse feel in your home design scheme.
Simple Craftsman Style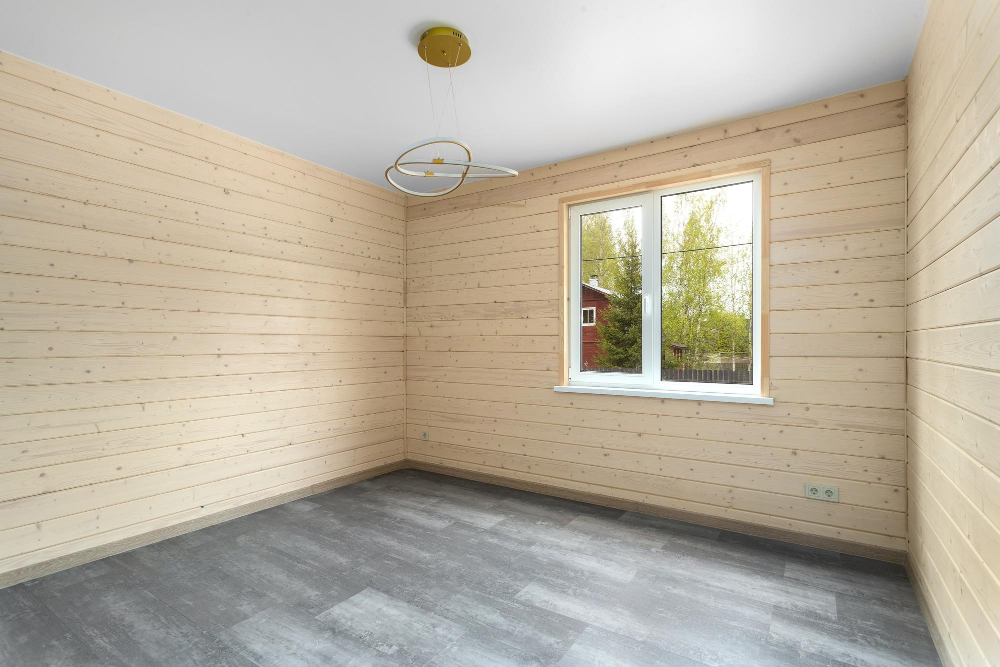 This design features simple, clean lines and minimal ornamentation. The craftsman style emphasizes the natural beauty of wood with its exposed grain and texture.
To achieve this look, use straight boards to create a square frame around the window opening with no additional decorative elements or moulding. Finish it off by staining or painting in a neutral color that complements your interior decor scheme.
Simple craftsman-style trim adds warmth and character to any room while maintaining an understated elegance that never goes out of fashion in farmhouse decorating trends.
Distressed Paint Finish
This technique involves intentionally creating a worn and weathered look on the surface of the wood. To achieve this effect, you can use sandpaper or other tools to scrape away some of the paint layers, revealing patches of bare wood underneath.
You can also add additional texture by using techniques like dry brushing or layering different colors of paint over each other before distressing them. The result is a charmingly rustic appearance that adds character and warmth to any room in your home.
Arched Window Trim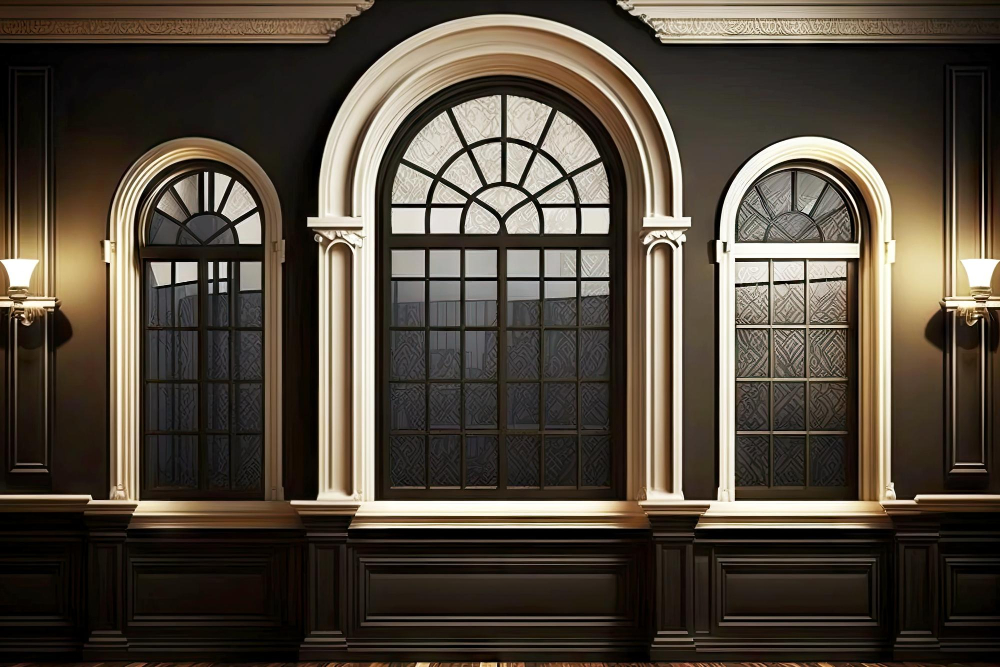 The curved shape of the arch softens the lines of a space and creates visual interest. When choosing arched window trim, consider using natural wood stains or distressed paint finishes to enhance its rustic charm.
You can also add decorative moulding or beadboard detail for extra texture and dimension. Arched window trims work well in living rooms, dining areas, and bedrooms where you want to create a cozy atmosphere with plenty of character.
Modern Farmhouse
This type of trim combines the clean lines and simplicity of modern design with the warmth and charm of traditional farmhouse decor. To achieve this look, opt for simple, straight-lined casing in white or black paint finishes that contrast with natural wood tones.
You can also incorporate metal accents such as black iron brackets or sleek stainless steel hardware to give your windows an industrial edge while still maintaining that classic farmhouse feel.
Natural Wood Stains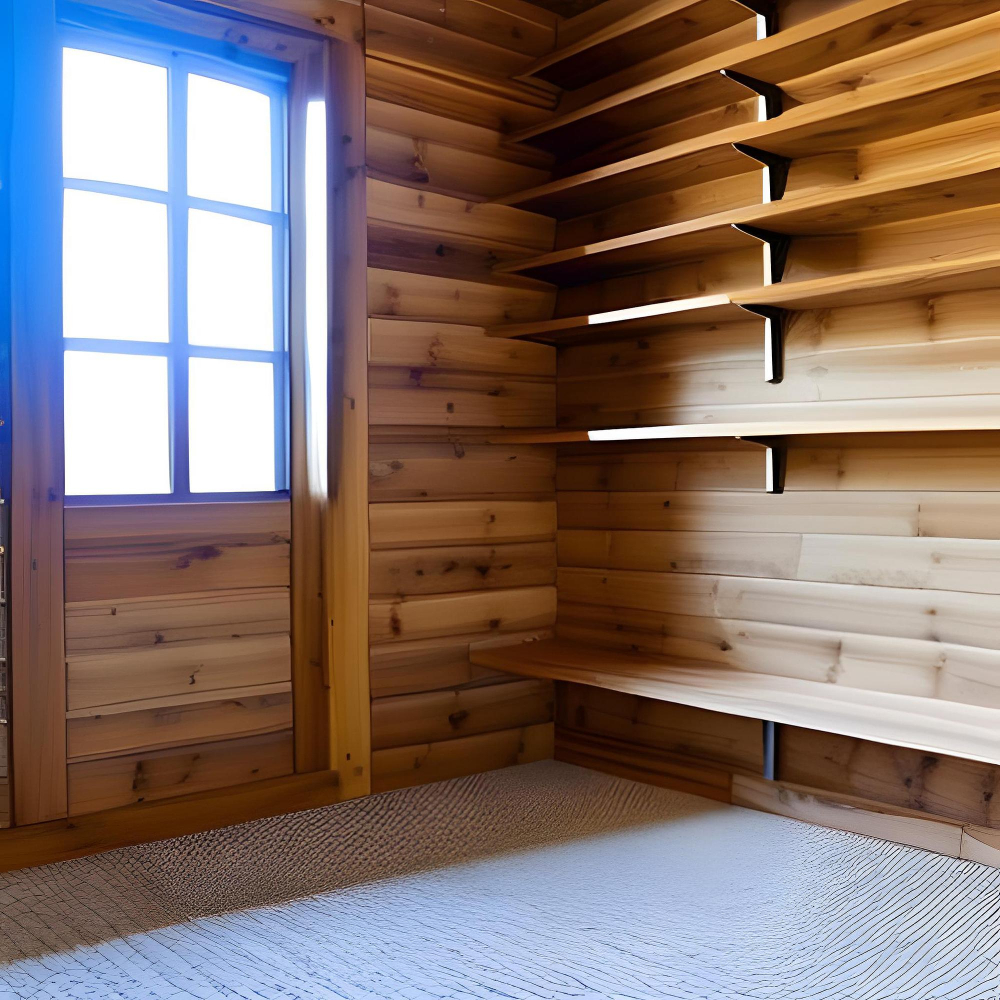 They provide a warm and inviting feel to any room, while also highlighting the natural beauty of the wood grain. Some popular options include walnut, oak, and cherry stains.
These stains can be applied in varying degrees of intensity to achieve different shades and hues that complement your decor style. Natural wood stain is perfect for those who want their windows to blend seamlessly with other wooden elements in their home or create an earthy ambiance within their space without overpowering it with color or texture.
Beadboard Detail
This style features narrow, vertical planks of wood with a small ridge or "bead" between each board. Beadboard adds texture and interest to the trim while still maintaining a clean and simple look.
It can be painted in any color to match your decor or left natural for a rustic touch. Beadboard also works well as wainscoting on walls, making it easy to tie together the overall design of your space.
Custom Carved Design
This type of trim is often made from wood, and the design can be as simple or intricate as you desire. A skilled carpenter can create custom carvings that reflect your personal style, such as floral patterns, geometric shapes or even animals.
These designs can be stained or painted in any color scheme that complements the rest of your decor. Custom carved window trims are perfect for adding a touch of elegance and sophistication to any room in your home while still maintaining its rustic charm.
Decorative Moulding
It can be used in a variety of ways, from simple crown moulding at the top of the window frame to more intricate designs that incorporate multiple layers and shapes. One popular option is using picture frame moulding around the perimeter of the window, creating an elegant look that draws attention to both the trim and any artwork or decor placed inside.
Another idea is adding decorative corner blocks or rosettes at each corner for added detail. When choosing decorative moulding for your windows, consider factors such as room style, existing architectural features, and personal taste in order to find a design that complements your space perfectly.
Shutter-inspired Trim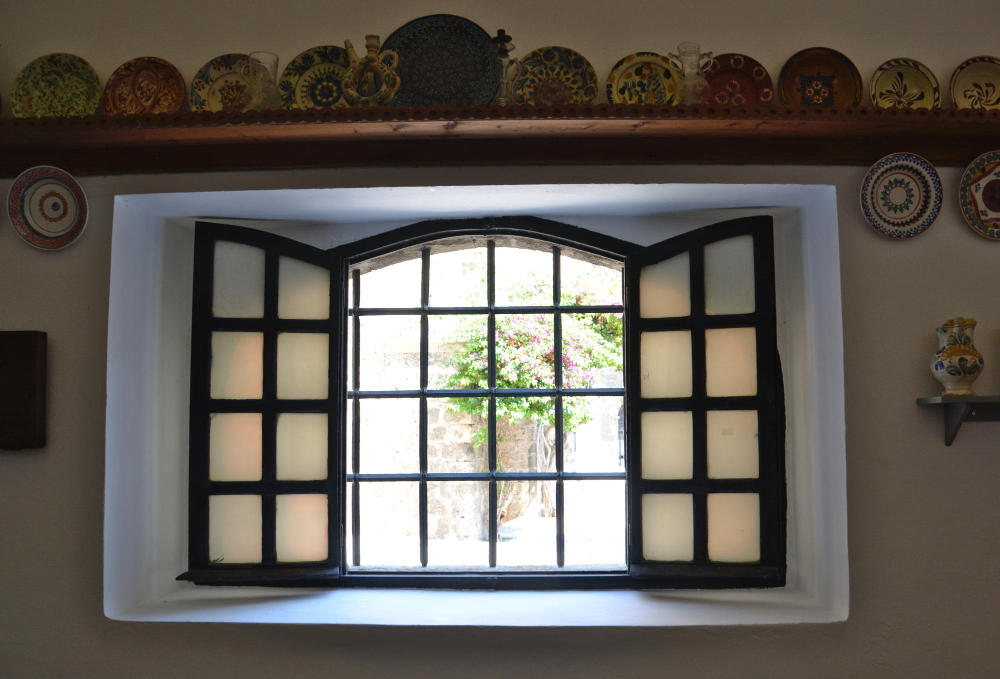 This type of trim mimics the look of traditional shutters, with horizontal slats that can be adjusted to control light and privacy. Shutter-inspired trim can be made from wood or composite materials, and it comes in a variety of colors and finishes to match your decor style.
Some homeowners choose to pair this type of window treatment with actual shutters on the exterior for a cohesive look both inside and out. Whether you opt for natural wood tones or painted finishes, shutter-inspired trim adds character and charm to any room in your home while providing practical benefits as well.
Vertical Window Grids
These grids, also known as muntins or grilles, divide the glass panes into smaller sections for a more traditional look. They come in various styles and materials such as wood, vinyl or metal.
One popular option is the six-over-six grid pattern which features six vertical bars dividing each pane of glass into six smaller squares. This style works well with double-hung windows commonly found in older farmhouses.
For those who prefer a more modern take on this classic feature, consider opting for thinner grid lines or even using black frames to create an industrial feel.
Vertical window grids can be customized to fit any size of window and painted in different colors depending on personal preference.
Painted Window Sashes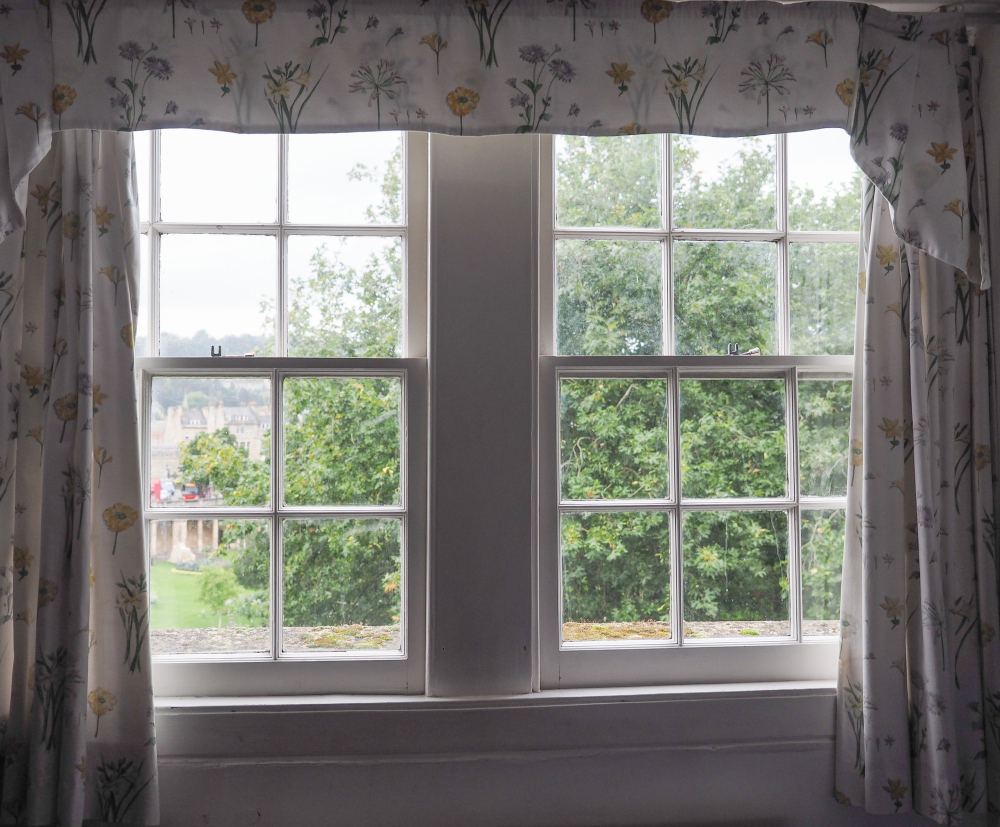 Whether you choose a bold hue or something more subdued, painted sashes can make your windows pop. Consider painting the sash in contrast with the trim for added interest, or match it to other elements in the room for a cohesive look.
Keep in mind that if you have intricate details on your window frame, painting may obscure them – so consider this before making any decisions. Painted window sashes are an easy and affordable way to update your farmhouse decor without breaking the bank!
Contrasting Trim Color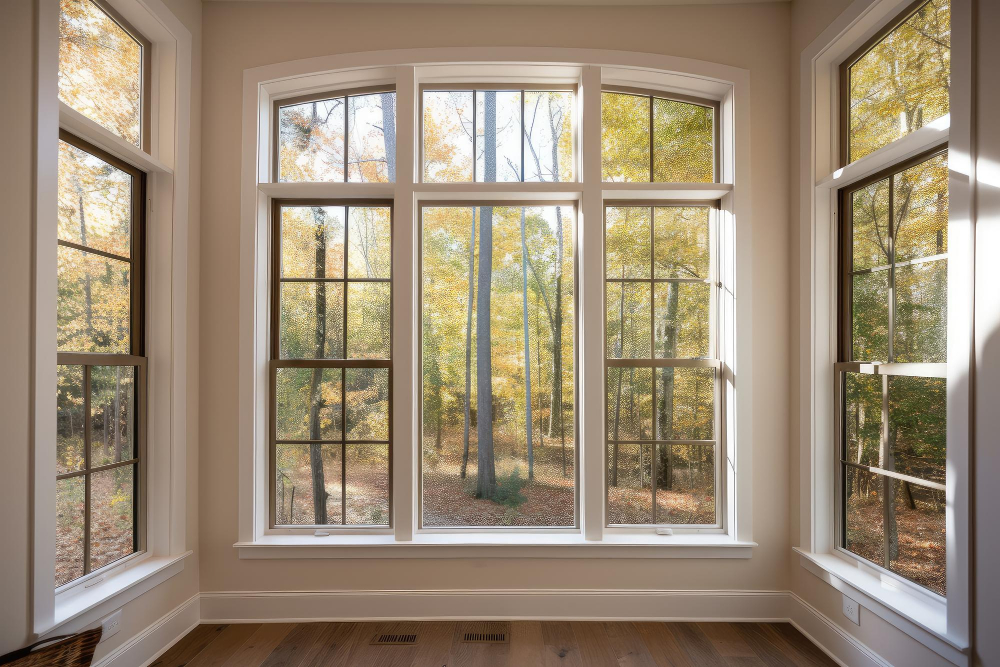 Instead of matching the color of the trim with the wall or window frame, choose a contrasting hue that complements your decor. For example, if you have white walls and black furniture in your room, consider painting the window trim in a deep shade of navy blue or forest green for an eye-catching contrast.
Alternatively, you can use two different colors on one piece of wood by painting one side with one color and another side with another color for added versatility. Just make sure that both colors work well together before committing to this design choice!
Classic Header and Sill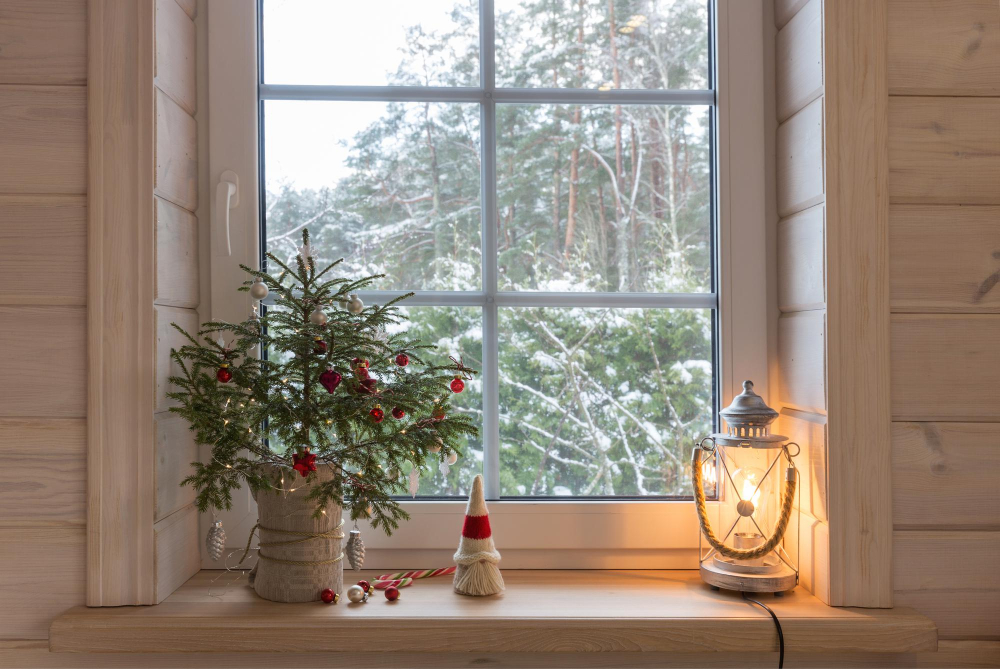 This style features a simple, flat board at the top of the window (the header) and another at the bottom (the sill). The boards are typically painted white or left natural to match other woodwork in the room.
This type of trim works well with any decor style, from traditional to modern farmhouse. It's also easy to install and can be customized with decorative moulding or beadboard detail if desired.
A classic header and sill is an elegant yet understated option that will never go out of style in your home's interior design scheme.
Wainscot-style Detail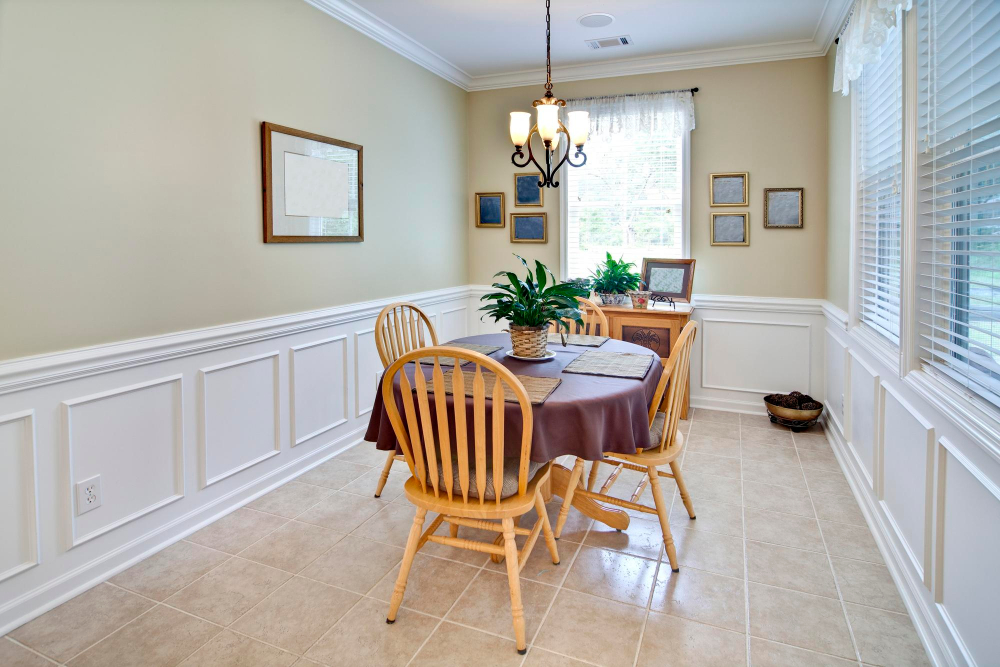 This style features a paneling design that covers the lower portion of the wall, with the upper portion left painted or wallpapered. The wainscoting can be made from wood panels, beadboard, or even tile and adds texture and depth to any room.
When used as window trim, it creates an elegant look that complements both traditional and modern decor styles. Wainscot-style detail can be customized by choosing different heights for the paneling or adding decorative mouldings on top of it to create more visual interest.
Trimmed Window Seats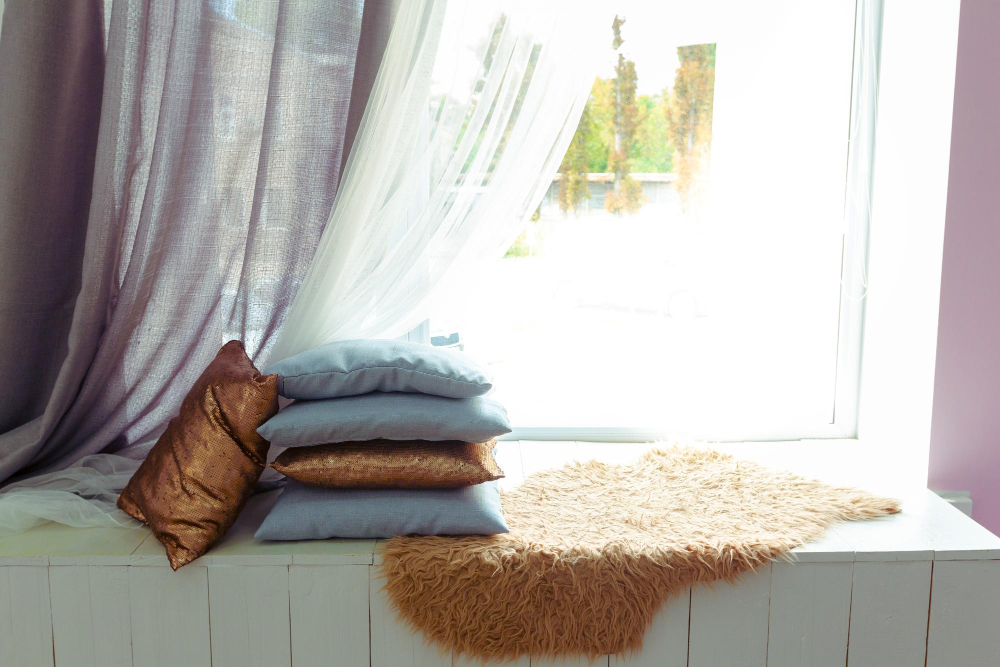 By adding trim around the seat, you can create a polished look that complements your existing decor. Consider using natural wood stains or distressed paint finishes for an authentic rustic feel, or opt for white shiplap trim to brighten up the space.
You can also add decorative moulding or beadboard detail to elevate the design of your window seat even further. Not only do trimmed window seats provide extra seating and storage space, but they also offer a charming focal point in any room of your home.
Board and Batten
It features wide boards, called battens, placed vertically over narrower boards to create a textured look. This type of trim can be made from wood or vinyl materials and can be painted in any color to match the interior decor.
Board and batten window trims are perfect for adding rustic charm to your home's interior while also providing an elegant touch. They work well with both traditional and modern farmhouse styles, making them versatile options for any homeowner looking to add character to their windows' appearance.
Cottage-style Casing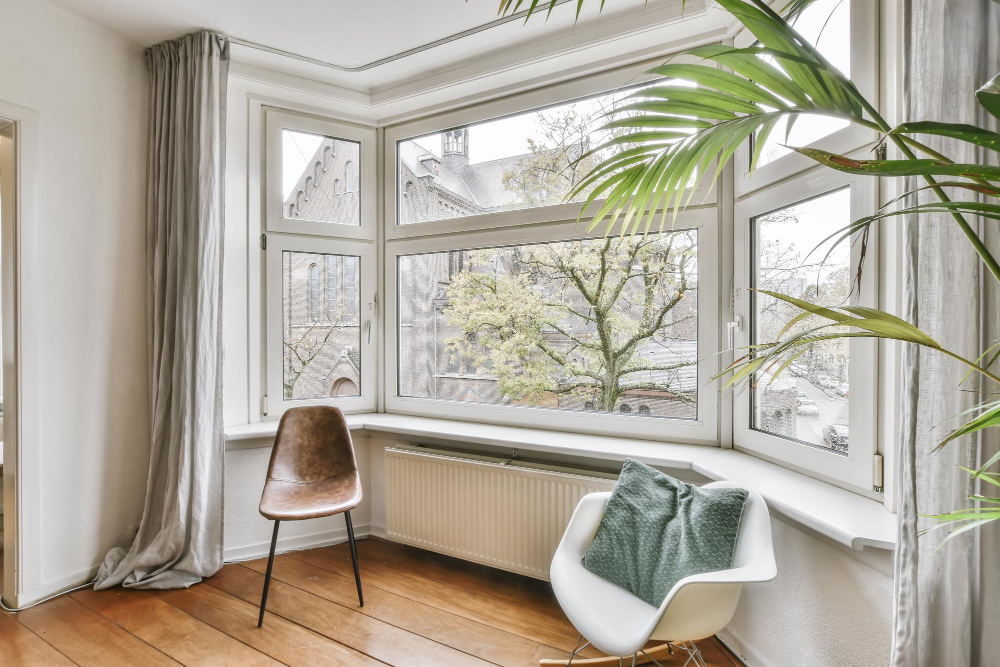 This style of casing typically features simple, yet elegant lines with rounded edges that give off a warm and inviting feel. Cottage-style casings are often painted in soft pastel colors or left natural for a more rustic look.
They can be paired with other cottage-inspired elements such as beadboard walls or vintage floral fabrics for an overall cohesive design scheme. If you're looking for an easy way to bring some country charm into your home, consider adding cottage-style casing around your windows!
Continue reading: