Last updated on December 3, 2023
Embracing metal and glass in your kitchen cabinets is transformative because they offer a perfect marriage of functionality, elegance and lasting durability.
These are my unique design concepts made using design tools. I hope you find them inspiring!
Metal and glass, an unexpectedly chic combo, turns your kitchen cabinets from drab to fab! This article will delve into an uncharted terrain of fresh, unique ideas to spruce up your kitchen appeal.
We skim the cream off the top of the internet's best-known ideas, and you'll find a handy resource list attached at the end for your convenience. But the jewel in the crown? We're turning this trend on its ear with new perspectives and original flair.
Stay tuned for a unique twist on metal and glass kitchen cabinets that you won't find anywhere else.
What's Inside
Integrating Industrial Style With Metal Kitchen Cabinets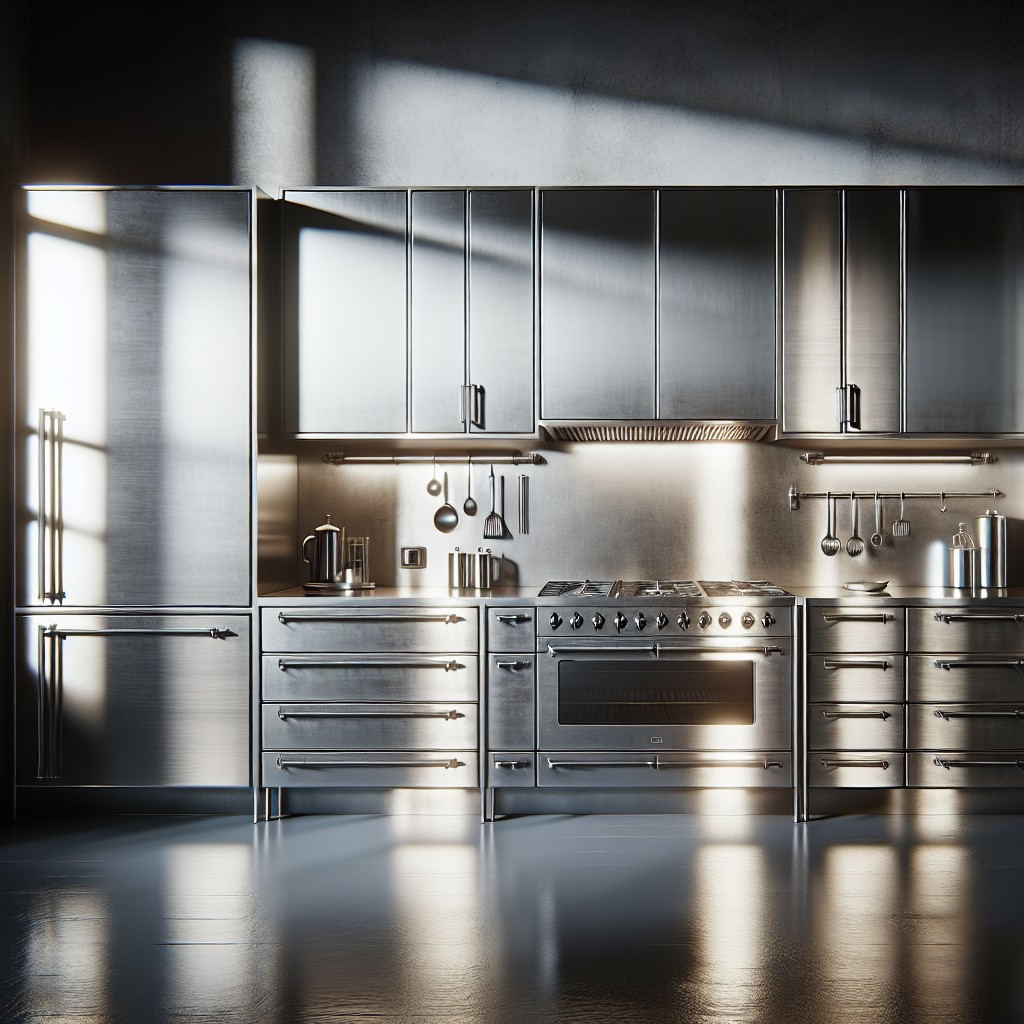 Harnessing the rawness of industrial aesthetics can give your kitchen a unique edge. Opt for carbon steel or brushed stainless to enhance that factory-like feel.
Leave the framework exposed or feature riveted details for added grunge. A key element is the open shelving concept which not only gives a spacious appearance but also showcases your chic kitchen goods.
Bold lighting fixtures, such as pendant or cage lights, complement the style perfectly. A neat little trick for a harmonious ambiance is to match the metallic tone of these fixtures with the cabinets.
To infuse a bit of warmth and reduce the starkness of metal, try incorporating wooden elements like butcher block countertops or wooden stools.
Remember, industrial style is all about striking the balance, so keep elements like paint and accessories minimal and let your metal kitchen cabinets shine.
Two-Tone Cabinets: Mixing Metal and Glass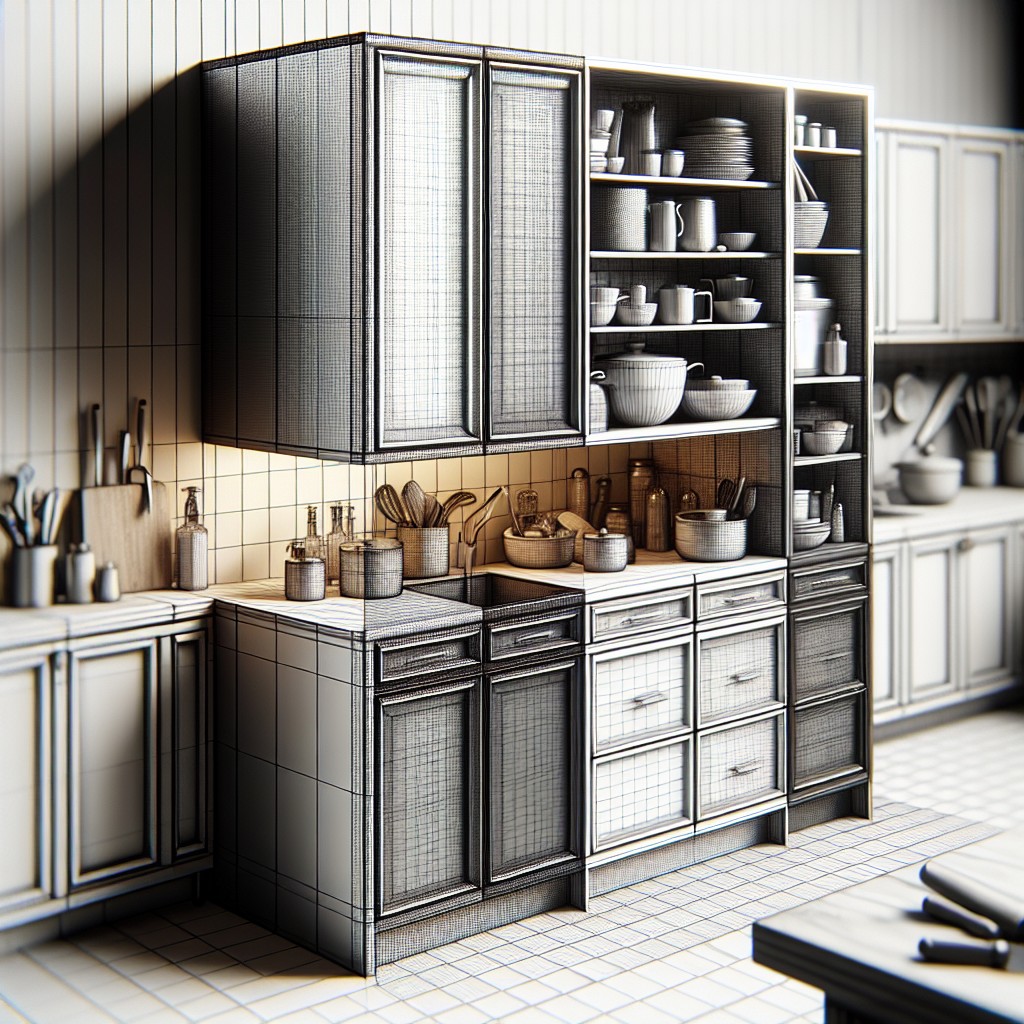 Two-tone cabinetry introduces a dynamic element into the kitchen space. One surefire method to achieve this distinct look involves blending metal and glass materials. Stainless steel lower cabinets paired with upper glass cabinets makes for a timeless combination.
Take it a step further by applying different tones to the metal and glass cabinets. The contrast between darker-hued metal cabinets at the lower level and lighter transparent or frosted glass cabinets above creates a beautiful balance. It's not just about the colours; it's also about textures. Clear glass showcases beautiful dishware and glassware, while polished or brushed metal adds a sleek touch.
When planning your layout, consider incorporating a blend of concealed and open storage—solid metal drawers for less attractive essentials and glass doors to display eye-catching pieces.
Additionally, don't shy away from LED lights in glass cabinets – this will add warmth and visually expand the space. It's a versatile concept that can be adapted to a range of kitchen styles, from ultra-modern to vintage-inspired designs.
Sleek and Modern: Stainless Steel and Glass Cabinetry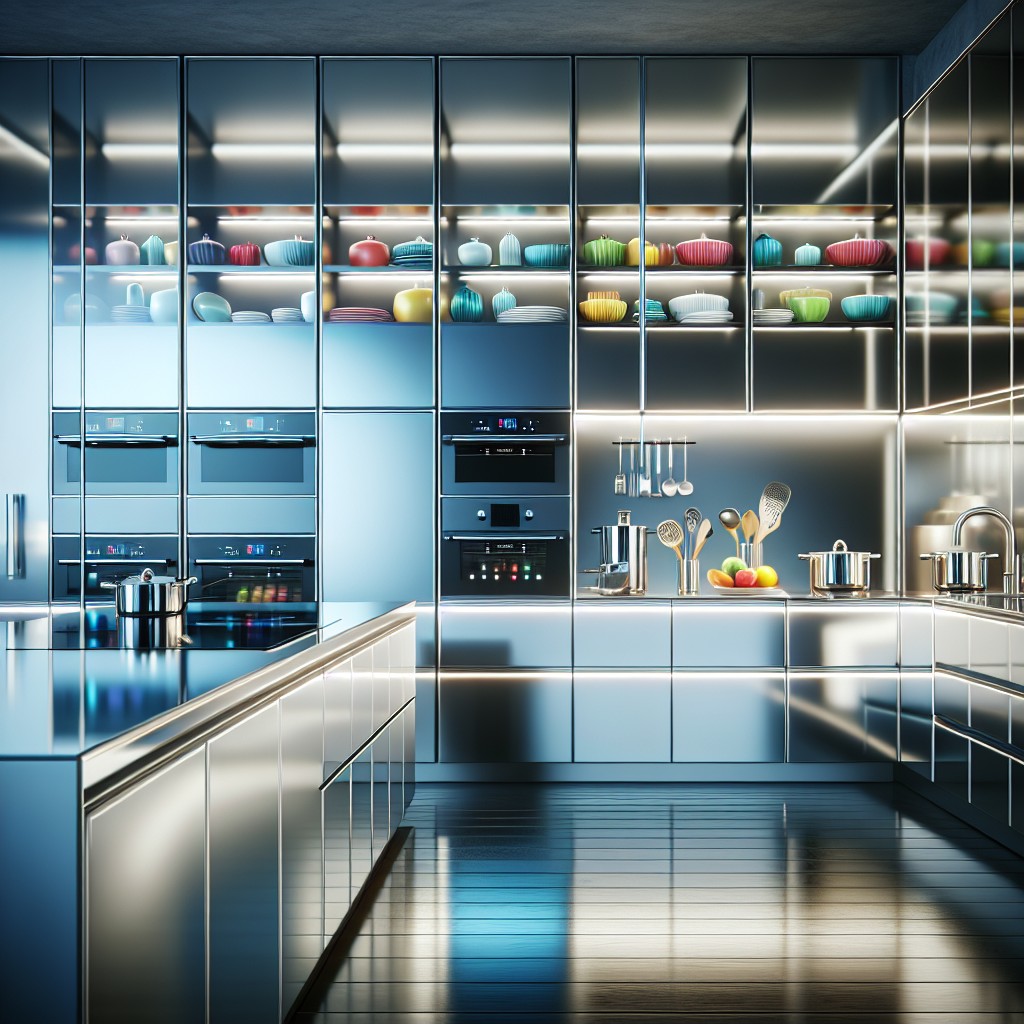 Opting for stainless steel offers durability, aesthetics, and ease of maintenance in your kitchen. Pair this robust material with lustrous glass doors, and the result is a design that exudes a refreshing sense of order and refinement. These cabinets effortlessly catapult the kitchen's style straight into the sleek 21st-century without sacrificing practical utility.
Considered for the toughened properties, stainless steel resists wear, tarnish, and corrosion, in turn ensuring long-lasting beauty. Simultaneously, the integration of glass doors introduces a visual lightness, seamlessly permitting one to showcase decorative dishes or aesthetically pleasing pantry items.
Moreover, synchronization of stainless steel with glass proves conducive to any color scheme, whether enhancing darker hued kitchens by reflecting light or bolstering brightness in light-toned ones.
Additionally, the practicality aspect shines through as both materials are simple to clean. A swift wipe down easily eliminates fingerprints and spills, maintaining the cabinet's pristine appearance.
To balance the contemporary appeal, couple these cabinets with warmer elements like wood or brass accents, harmoniously merging cool industrial aesthetics with inviting warmth. Incorporating a variety in cabinet designs might be another appealing aspect – try mixing solid stainless doors with glass-fronted ones.
Remember, allowing your personal taste to shine through ensures the outcome remains uniquely yours. Trade-off between the degree of steel's gleaming sheen and the glass's degree of transparency to achieve your desired balance between exposure and concealment. Consider also that subtly frosted glass might provide a chic middle-ground, allowing a clouded peek into your cabinet interiors. So, bring forth the mixture of solidity, transparency, light, and shadow and let it narrate the story of your kitchen.
Revealing the Interior: Transparent Glass Front Cabinets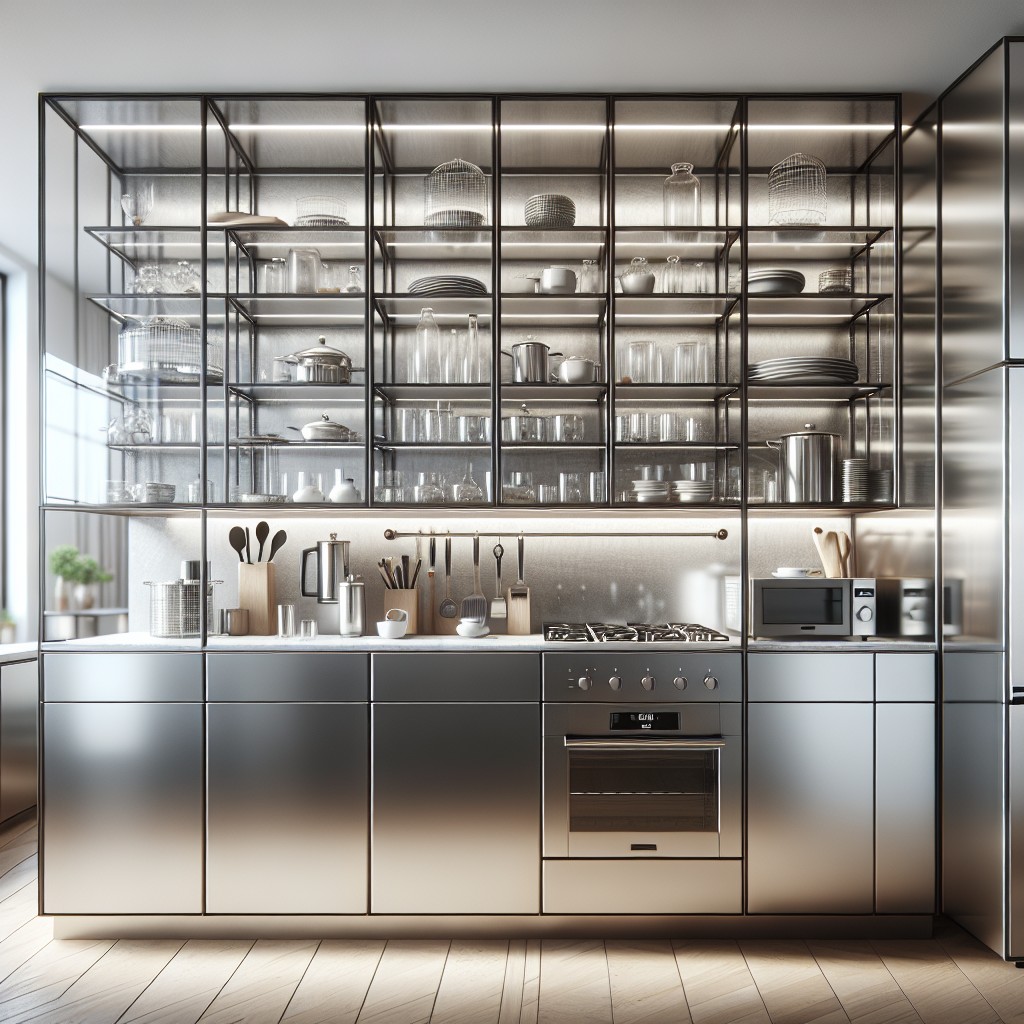 With glass front cabinets, a subtle visibility to the items inside add charm and personalization to your kitchen.
Couple this design with interior lighting, and you create a piece of accent furniture that doubles as practical storage.
For consistency, consider using tableware that complements your overall kitchen color scheme.
These cabinets create an airy feel, enhancing the perception of space in smaller kitchens.
Additionally, they encourage organization, as contents remain visible.
To break up the uniformity, vary the spacing between shelves or alternate between single and double-shelved cabinets.
The key to making this design work is maintaining a balance between display and storage.
Brass Accented Cabinets: A Touch of Elegance in the Kitchen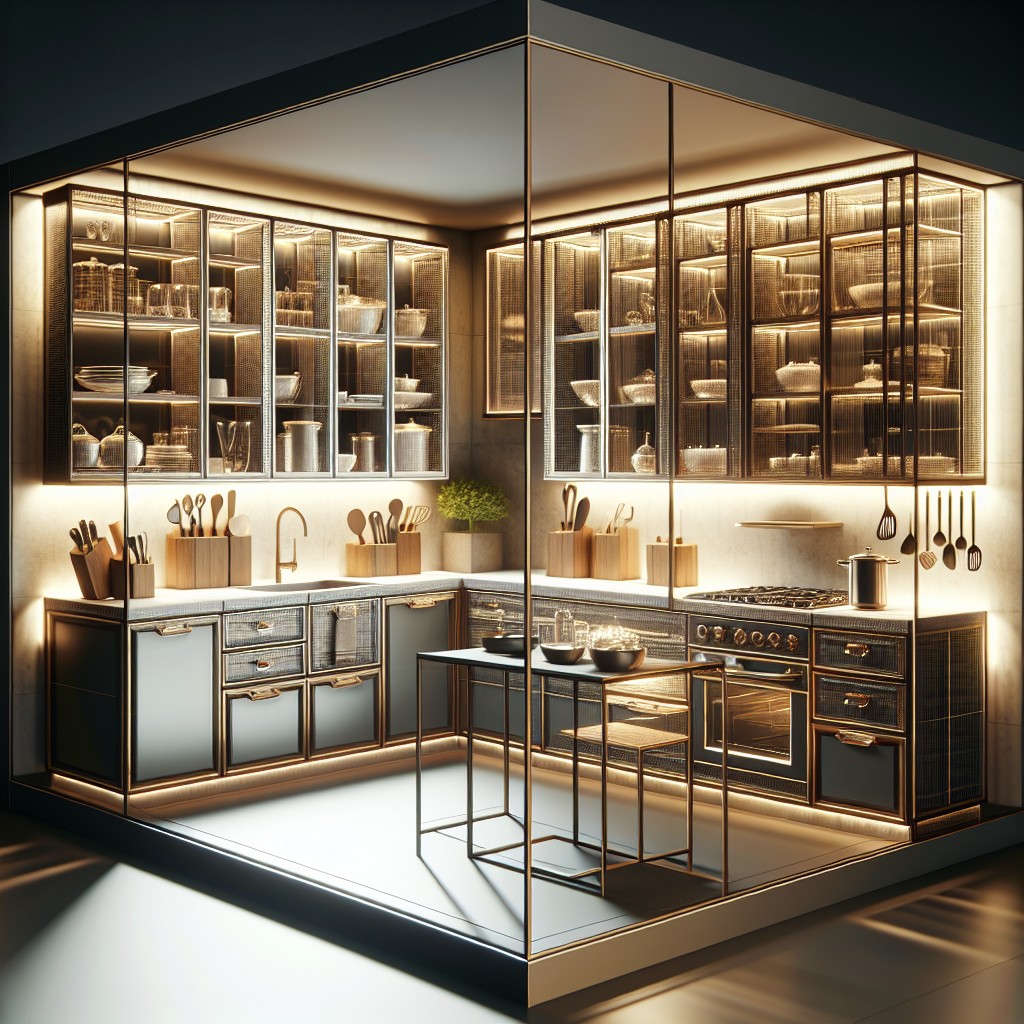 Brass accents effectively add a sophisticated quality to the kitchen. Blending seamlessly with dark cabinets, they serve as a striking contrast. They also amplify the visual interest when used with lighter cabinet versions, like whites or greys.
Leveraging brass pulls and knobs is a great starting point, which can further be matched with brass lighting fixtures and accessories for continuity. This rich metallic accent isn't confined to traditional or vintage kitchens; it works equally well in contemporary and even industrial kitchen styles.
When paired with convivial tones, brass-infused cabinets offer warm familiar vibes — a charming blend of rustic simplicity and modern sophistication. Remember, balance is key: too much brass can overwhelm, so use it judiciously to create a layer of luxury without tipping into excess.
Glass Kitchen Cabinets With Patterned Backsplash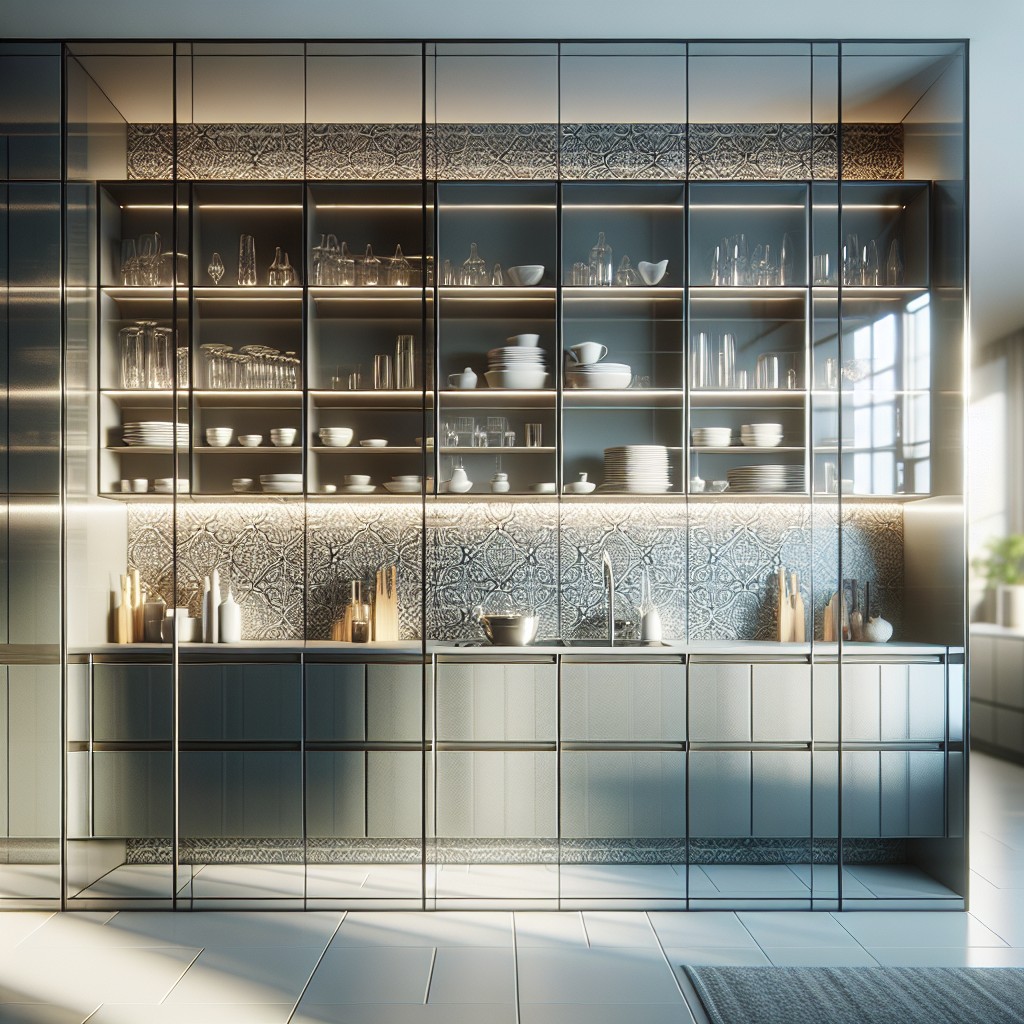 Patterned backsplashes provide a dramatic contrast to the seamless finish of glass kitchen cabinets, enhancing the overall aesthetic appeal. Choose a bold pattern to create a focal point or keep it subtle for a sophisticated look. They not only protect the kitchen walls from spills and splatters but also add interest and depth to your space.
1. Harmonize with the color scheme: For cohesive design, match the backsplash color tones to the rest of your kitchen elements such as countertops and appliances.
2. Play with sizes: By varying the tile size — large format tile for a modern look or small tiles for a classic appeal — you can dramatically change the look.
3. Experiment with texture: Adding a textured backsplash brings an additional layer of interest. It could be a classic subway tile, or something more unique like a herringbone or chevron pattern.
4. Play with finishes: Combination of matte and glossy finishes offer a varied visual interest to your kitchen and can help balance out the sleek look of the glass cabinets.
5. Use of light: If the patterned backsplash is dark in color, ensure plenty of light — both natural and artificial — to avoid a dull look. The light will catch the patterns beautifully, making your kitchen all the more appealing.
Minimalistic Metal Frame Glass Cabinet: for a Clean Look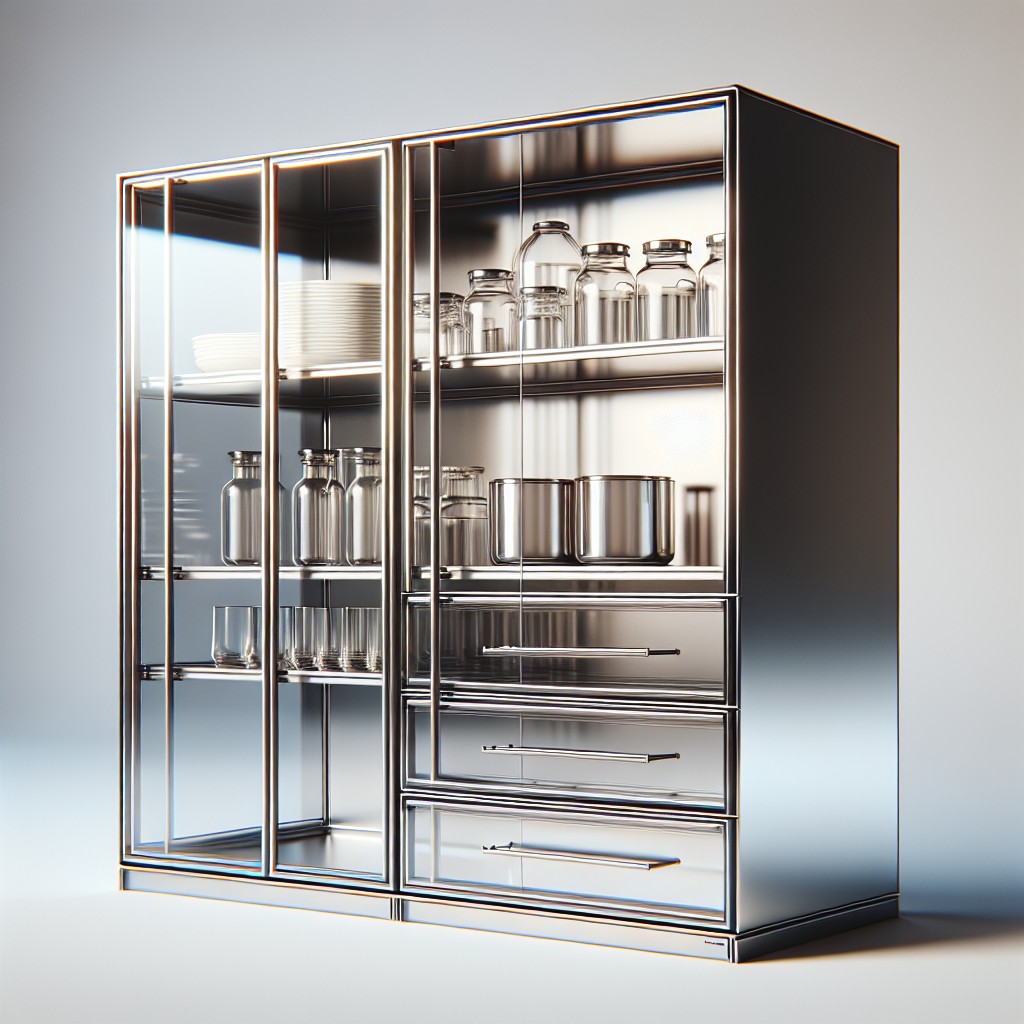 To achieve a sleek, modern aesthetic in your kitchen, consider opting for clean minimalistic designs. Metal frame cabinets with glass inserts are a brilliant way to make this happen. Their simplistic design can often make the space feel less cluttered and more open.
The metal frames provide a sturdy, durable structure while the glass adds a touch of elegance and sophistication.
These cabinets work best in kitchens that favor a contemporary look. Keep the decor minimal to let the cabinets be the star of your kitchen. Choose a metal frame in a finish that matches your kitchen's color scheme for a cohesive look – it could be a cool silver, warm gold, or a neutral black or white.
Keep in mind, the transparency of glass allows for easy viewing of cabinet contents, making organization a key consideration. Use stylish dishware, cookbooks, or even spice jars for added visual interest.
For hardware, select pieces that complement rather than compete with your cabinets. Simple pulls or knobs in a matching or contrasting finish can underscore the minimalistic theme.
Overall, minimalistic metal frame glass cabinets can bring a modern, chic feel to your kitchen, creating a space that is not just for cooking, but for living and entertaining as well.
Black Metal Cabinets: Bold and Dramatic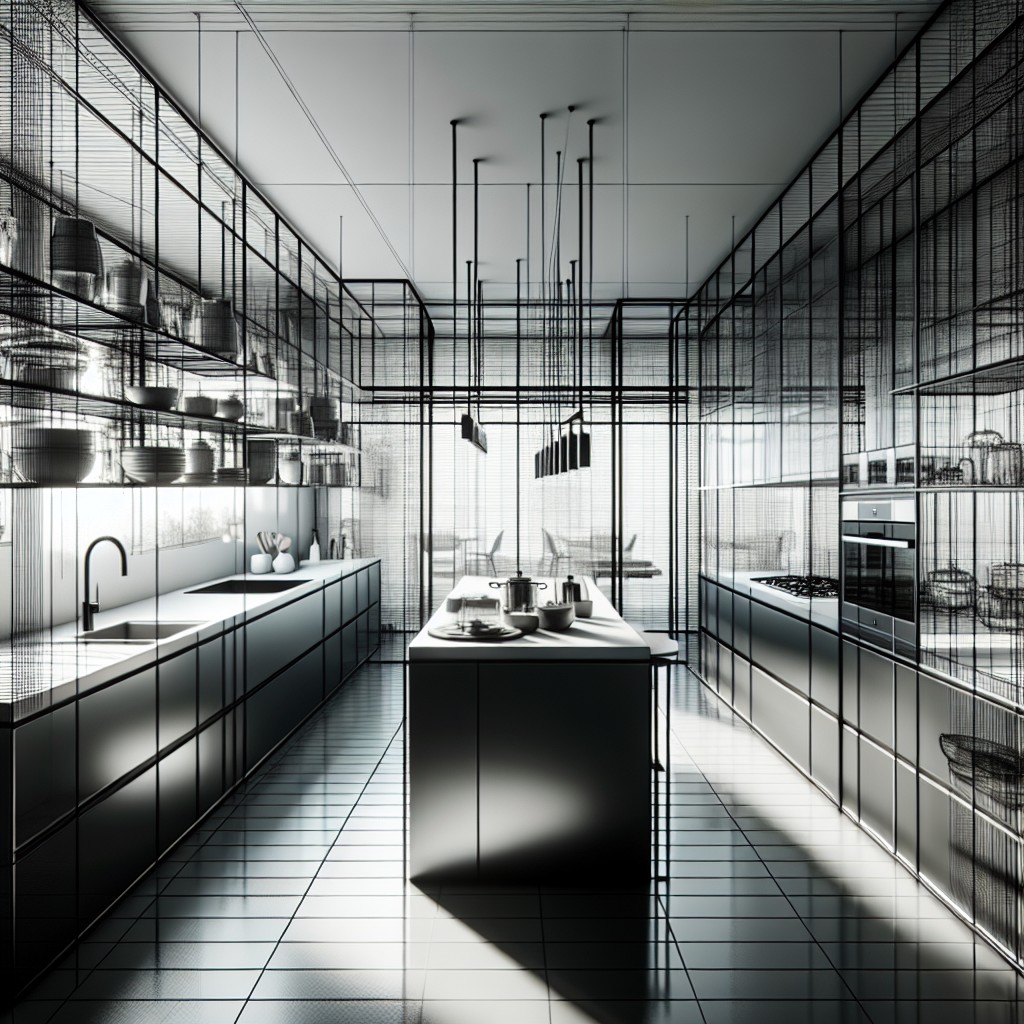 Black metal cabinetry stands out in any kitchen setting, significantly elevating its aesthetic appeal. These units are not only daring but also perfectly contrast with lighter surroundings to form a captivating focal point.
Pair them with polished concrete countertops or wood for a harmonious balance of industrial and homely styles. A smart choice for those who crave a unique contemporary look, black cabinets are both functional and chic.
To soften the look, consider coupling with a light-coloured backsplash; or go all-out bold with dark tiles. The choice is yours. Keen on the industrial loft ambience? Opt for distressed metal cabinets, providing an edgy, rustic charm.
Whether high-gloss or matte finish, black metal cabinets are a definitive means to a high-end, dramatic kitchen.
Multi-Cabinet Styles: Mix of Solid and Glass Doors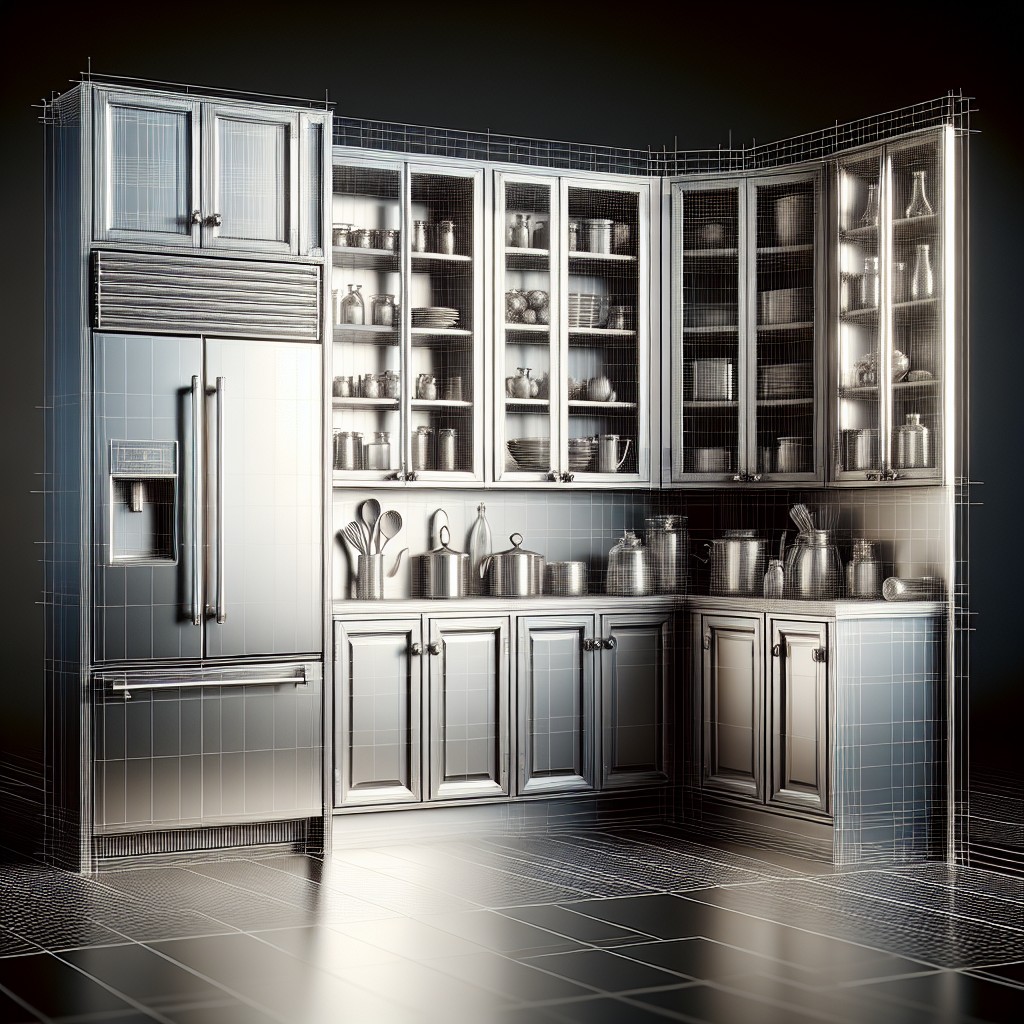 Balancing the mix of solid and glass doors can elevate the overall aesthetics of your kitchen while providing functional benefits. This combination allows for discrete storage behind solid doors, with glass being used to display beautiful dishware and decorative elements.
Consider these key points when mixing cabinet styles:
Consistent Design: Ensure that both the solid and glass-door cabinets follow a consistent design theme in terms of color, finish, and hardware. This ensures a cohesive look.
Glass Placement: Put glass doors on upper cabinets for showcasing. Lower cabinets typically serve better as solid doors for heavier items.
LED Lighting: Add lights inside the glass-door cabinets to highlight the displayed items, thus adding depth and interest to your kitchen space.
Blending Styles: Opting for a blend of frosted and clear glass can add a distinctive feature to your kitchen, offering an intriguing mix of concealed and exposed storage.
Play with Symmetry: For an appealing visual impact, ensure the glass and solid doors are well-distributed, not clustered.
Adding Open Shelves: Along with solid and glass doors, some open shelves can add a different dimension and make your kitchen look more spacious.
Remember, the aim here is to create a balance between functionality and appearance, keeping your kitchen organization in focus.
Wire-Mesh Cabinet Doors for Added Texture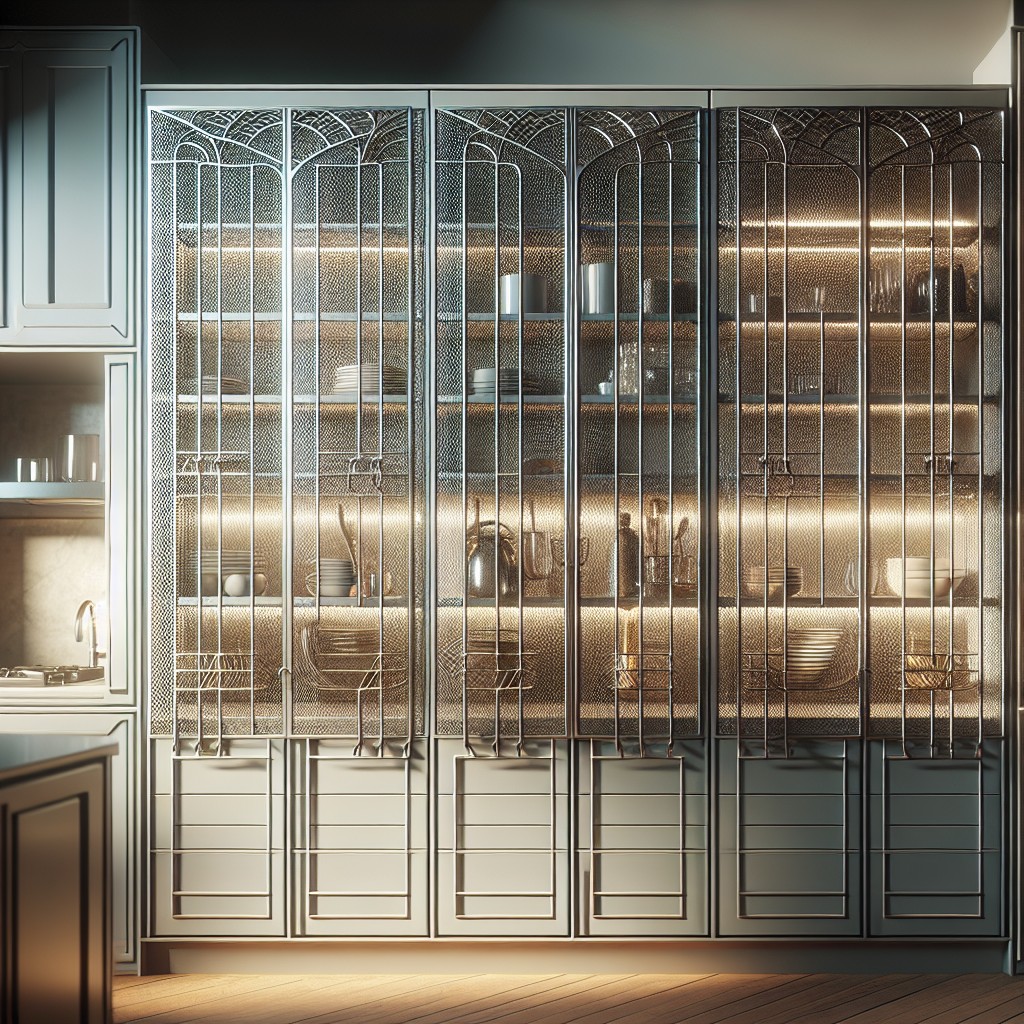 Wire-mesh doors give a distinctive, countryside feel to your kitchen. The mesh, crisscross or chicken wire patterns, adds an interesting dimension to your cabinets and gently reveals the wares within. While they provide texture, they also uphold the lightness associated with glass cabinets.
Visual Depth: The mesh pattern on cabinet doors adds a layer of visual depth without sacrificing functionality. The alternating spaces and solid wires create a textural surface that exudes a rustic charm.
Style Flexibility: While it resonates well with country or farmhouse kitchen themes, its contemporary variants could be a great add-on to industrial or modern kitchens too.
Durability: Wire-mesh cabinet doors are sturdy and resistant to wear and tear. They're a good alternative for homeowners who find completely glass doors vulnerable.
Budget-Friendly: This style is also approachable from a financial standpoint. Given the availability in a variety of materials like iron, steel or even aluminum, there are options to fit various budgets.
Glossy Red Metal Cabinets: Create a Statement Kitchen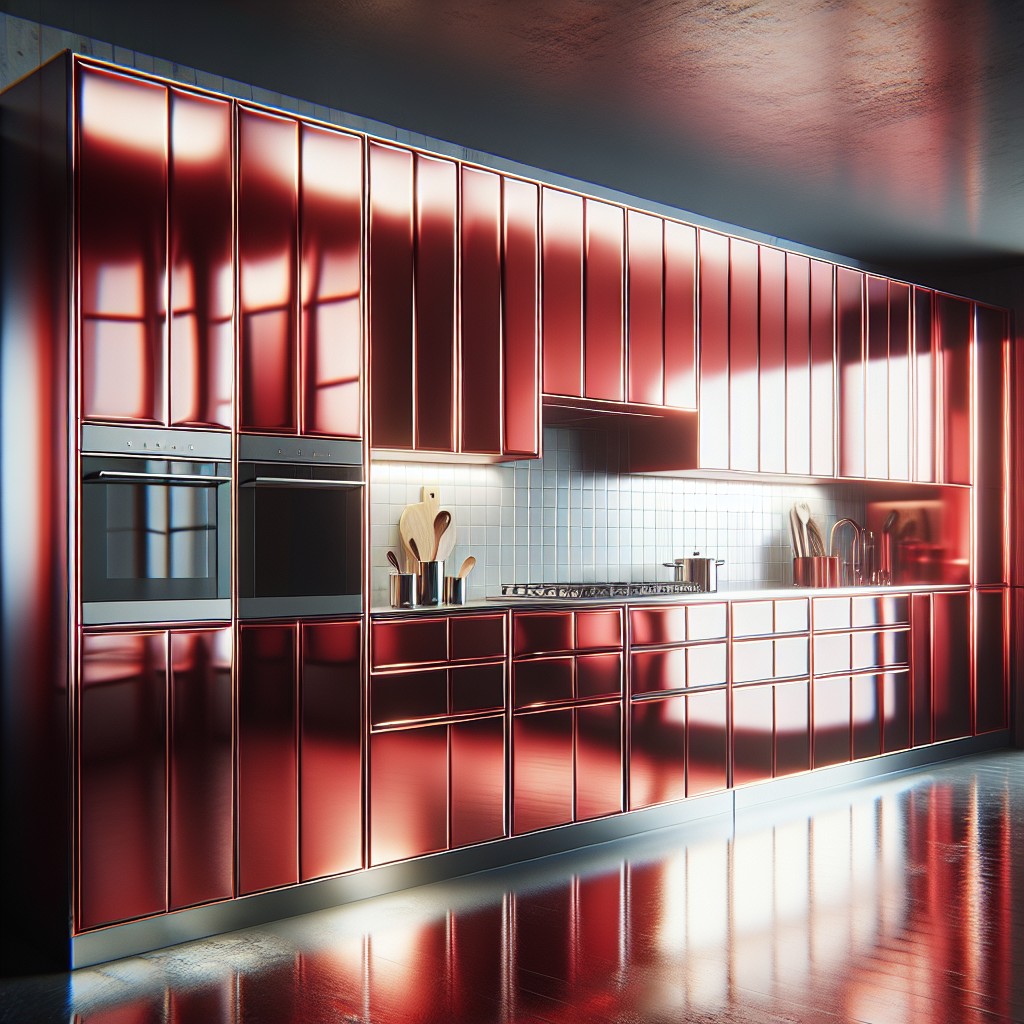 These cabinets undoubtedly catch the eye, resonating vibrancy and energy in the culinary space. A daring choice for homeowners not afraid to embrace bold trends, they make any kitchen instantly unforgettable. If you bear in mind a few key points, you'll discover how they can transform your space:
1. High Shine: The glossy finish creates a modern aesthetic that's effortlessly chic; it's reflective too, meaning it can brighten up even small kitchens.
2. Pop of Color: The red color serves as a striking contrast against neutral color schemes, injecting life into minimalist decors.
3. Mix and Match: They pair beautifully with stainless steel appliances, black countertops, and wooden details, playing into versatile kitchen themes.
4. Maintenance: Despite their bold appearance, these cabinets are easy to clean and resistant to scratches and stains courtesy of their tough metal construction.
5. Ageless: Metal is both durable and heat-tolerant, ensuring your cabinets stay in great shape for many years.
Retro Style: Mid-Century Metal Kitchen Cabinets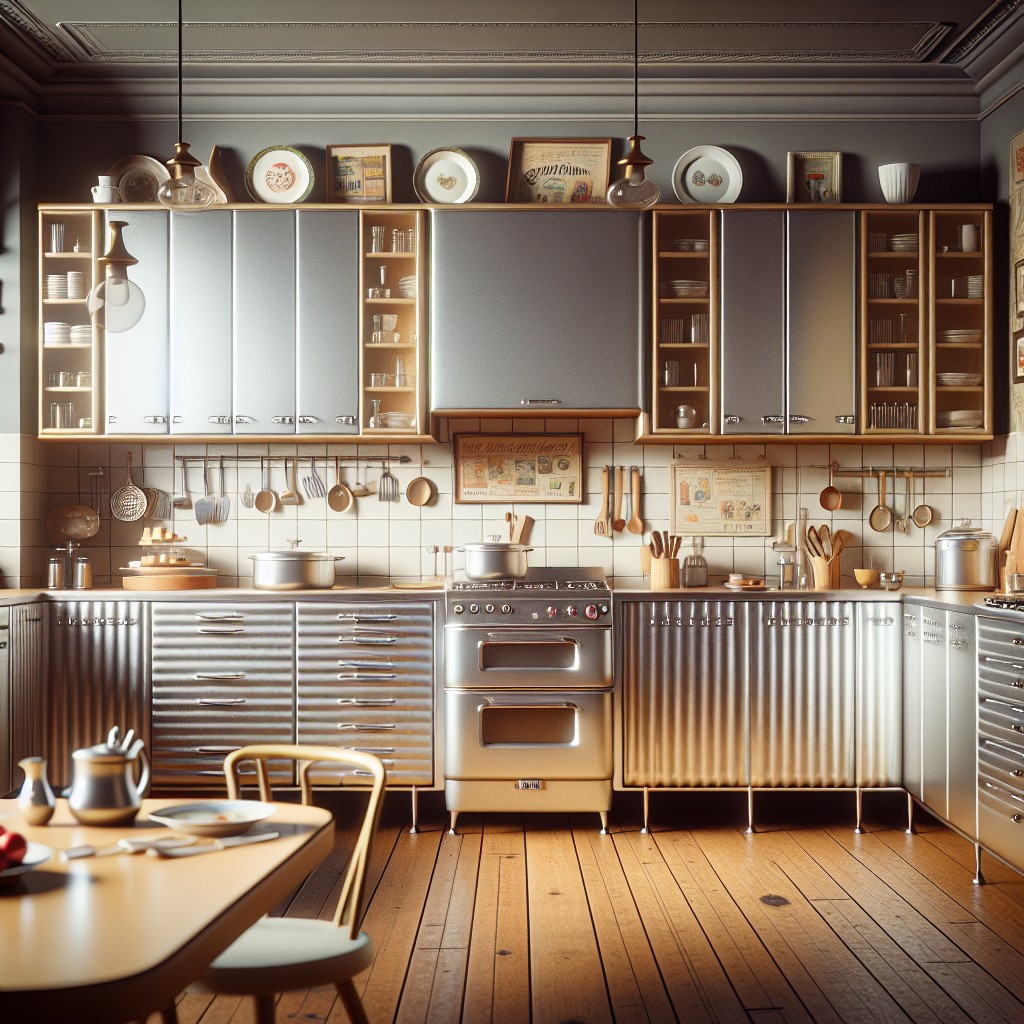 Unlike the modern and minimalist designs of today, the mid-century style embraces a more nostalgic look, filled with character and charm. Metal cabinets, in particular, make a prominent statement in these kitchens, creating an authentic retro vibe.
1. Material: These cabinets are typically made of steel, known for its durability and long-lasting quality.
2. Color Palette: Pastel hues such as yellow, green, and blue are commonly used to enhance the vintage look.
3. Hardware: Chrome handles or knobs are the perfect complementary pieces.
4. Texture: They often feature a smooth, glossy finish to reflect light and make the kitchen appear brighter.
5. Design: Clean lines and geometric shapes are reminiscent of the mid-century aesthetic.
Remember, it's all in the details. Period-appropriate appliances, a checkered floor, or patterned backsplash can elevate the mid-century look even further, ensuring your kitchen stands out with tasteful nods to a bygone era.
Reinvent With Coated Metal Cabinets for a Matte Finish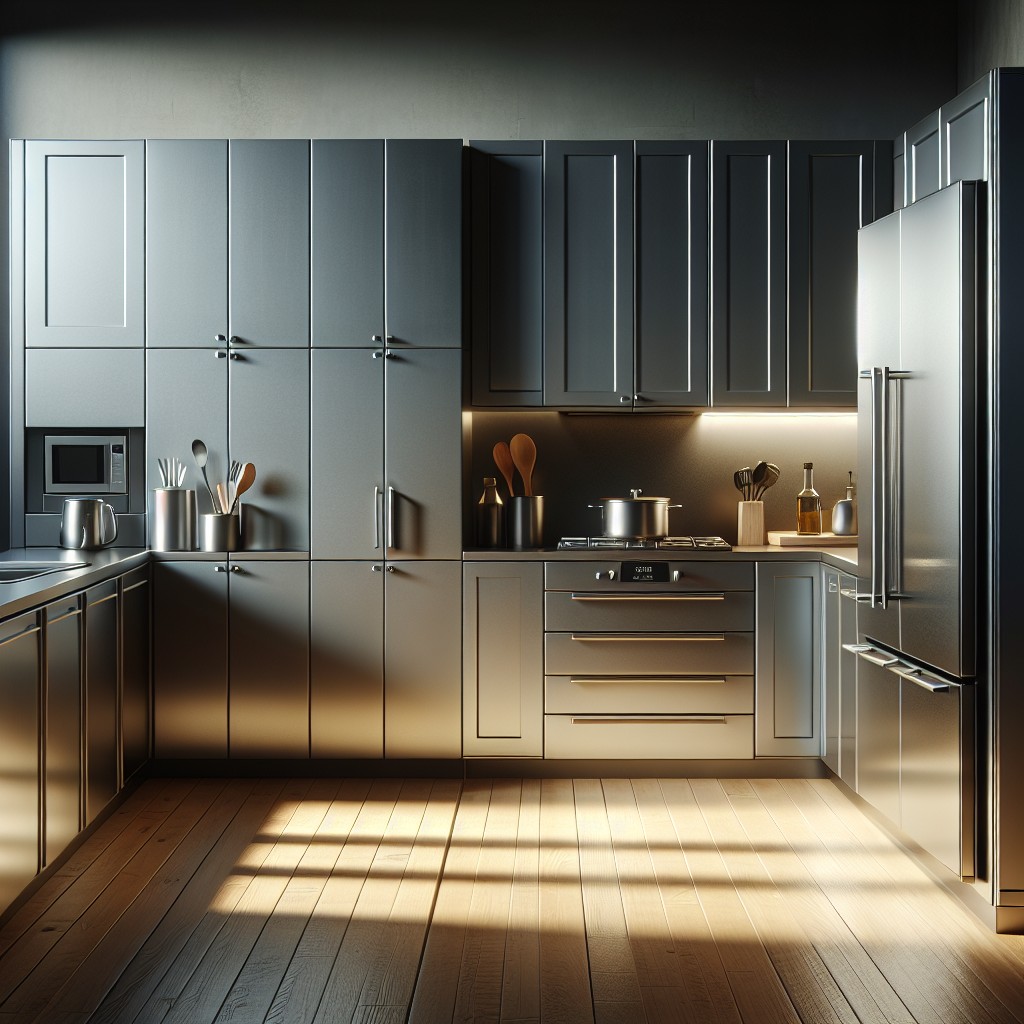 Adding a matte finish to your metal cabinets gives a smooth and non-reflective finish that leans towards the modern, minimalist design trend. Opting for this direction allows you a chance to play with bold or pastel colors without it being too shiny, thus, creating a more subtle yet chic kitchen aesthetic.
Choosing food-safe epoxy coating, apart from offering a visually appealing finish, also ensures your cabinets are resistant to harmful bacteria and other germs. It is also wear-resistant, significantly prolonging the life of your cabinets. Another viable option is to go for powder-coating, which provides a more durable and environmentally friendly alternative to traditional liquid paint. In contrast, liquid paint gives you the broadest range of color options, allowing much room for customization.
To maintain the matte finish effectively, regular cleaning is necessary. Wipe the surfaces clean with mild soap and warm water, avoiding harsh chemicals to preserve the integrity of the surface.
Finally, complement your matte-finished metal cabinets with other elements like wood for warmth or glass for an added sense of space and luxury. This approach will help strike a balance in your kitchen, setting the stage for an inviting, sophisticated atmosphere.
Classic White Glass Cabinets: Timeless Elegance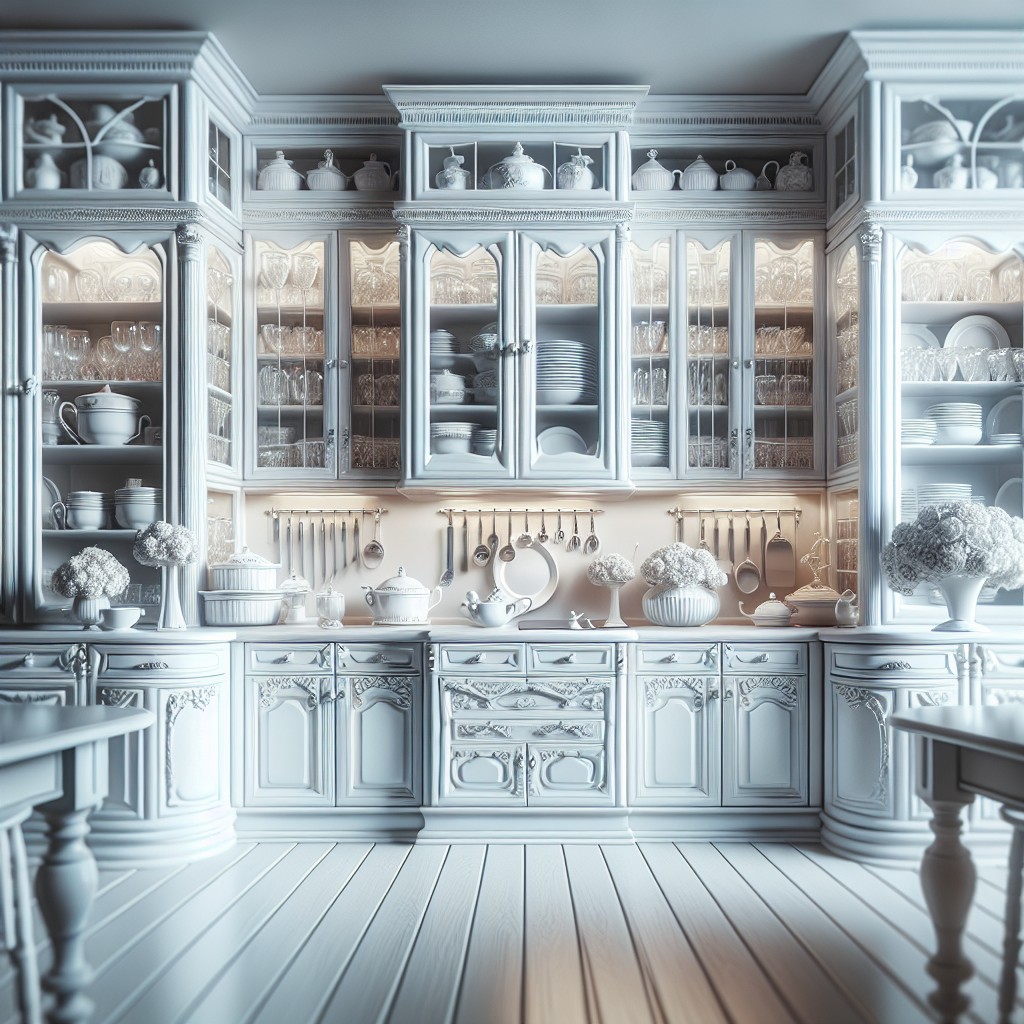 For traditionalists, it's hard to go wrong with a classic. Incorporating white glass cabinetry into your kitchen design adds a level of elegance that can transcend various decor styles, from modern to rustic.
Firstly, they can provide a bright, clean, and spacious feel to the room, making smaller kitchens appear larger. The reflection of light off the glossy glass surface will invariably give your kitchen a natural shine.
Secondly, white glass cabinets are extremely versatile. Their neutral color seamlessly blends with any color scheme you may currently have installed or plan to implement.
Furthermore, these cabinets can be customized to match your personal style, be it an all-white sleek modern design, or vintage inspired distressed edges for that cosy cottage feel.
Lastly, they are standard bearers in hiding dings, dents, and finger smudges making them ideal for busy, high-traffic kitchens.
In a nutshell, white glass cabinets are timeless, providing both practicality and aesthetic appeal to any kitchen.
Corrugated Glass Cabinets for a Unique Visual Appeal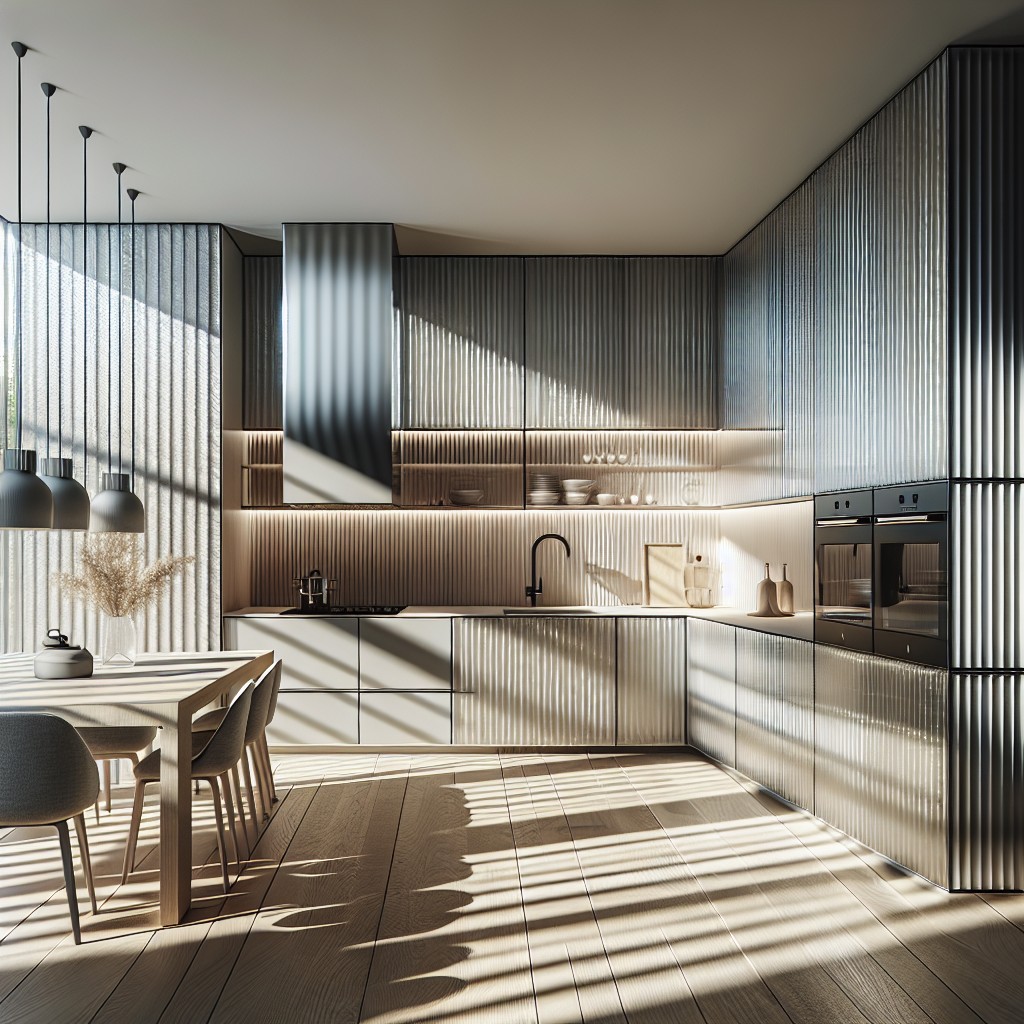 Corrugated glass, known for its textured, wavy design, provides an unexpected twist to traditional kitchen cabinetry. It adds not only a visually appealing element to your kitchen but also helps obscure the contents inside, particularly useful if orderliness is not your forte.
1. Unique Design: This ribbed pattern on glass cabinet doors strikes the right balance between transparency and privacy.
2. Light Interplay: The wavy surface diffuses light in fascinating ways, creating a dynamic atmosphere in the kitchen throughout the day.
3. Versatility: Whether paired with traditional wooden cabinets or modern metal frames, the corrugated glass complements various styles effortlessly.
4. Durability: Despite its delicate appearance, corrugated glass is sturdy, making it a sound option for high-traffic kitchen areas.
5. Customizable: You can choose different levels of transparency based on your preference, from clear to semi-opaque types.
Elevated Kitchen Style With Glass and Gold Cabinets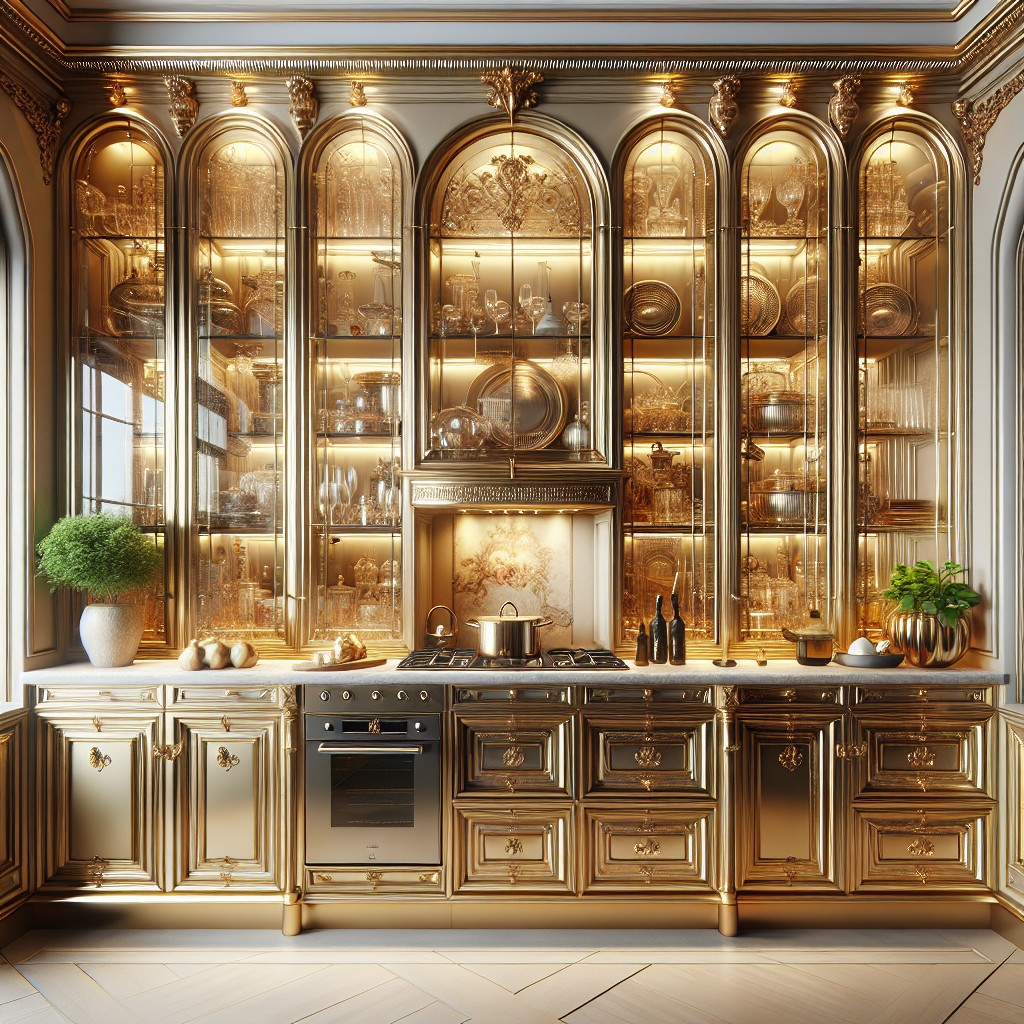 Choosing gold for kitchen cabinetry creates an elevated and luxurious feel. This often undervalued color synchronizes beautifully with transparent glass cabinet doors, promoting a lavish and sophisticated style.
Firstly, the gold finish can be either matte or glossy, depending on the desired overall aesthetic. Matte gold cabinets provide a subtle elegance, while glossy gold cabinets gleam luxuriously under kitchen lighting.
Next, transparency of the glass invites visual interplay. Clear glass doors stimulate a lighter, breathable atmosphere. For a more dramatic aura, consider smoked or tinted glass.
Finally, consider coordination. Accentuate gold cabinetry with hardware of the same hue. Complementary accessories could include gold faucets, gold cabinet handles or even gold pendant lights. For an ultra-modern twist, consider pairing gold cabinets with monochrome elements in black or white.
Thus, through strategic use of materials and colors, a fusion of glass and gold can revolutionize your kitchen into a luxurious culinary space.
Interplay of Light: Backlit Glass Kitchen Cabinets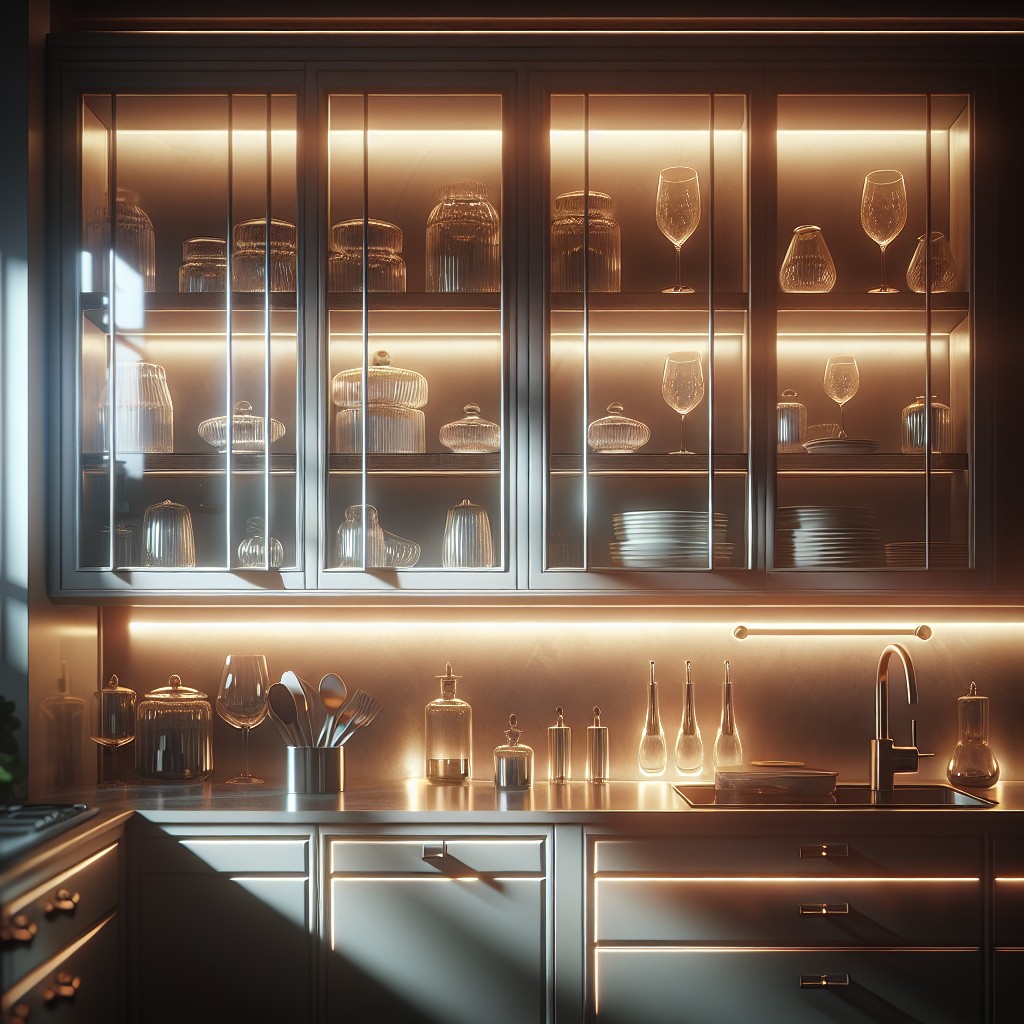 Strategic lighting can take your kitchen aesthetics to a whole new level. By fitting backlighting in your glass cabinets, you illuminate the contents, creating a stunning visual display that adds both functionality and style.
The soft radiance offers convenient visibility, particularly useful during nighttime kitchen ventures.
This design theme also provides the added advantage of transforming ordinary items into art pieces by casting soothing shadows and amplifying colors.
For a more dramatic effect, integrating colored LED lights can complement your existing kitchen decor.
Careful light placement, whether top, bottom, or center, plays a pivotal role based on the cabinet's contents.
Remember to choose frosted or etched glass to avoid directly exposing unorganized items, while still emanating a diffused glow.
This design is a beautiful way to boost the ambiance, highlighting your unique kitchen aesthetics and lending a warm, inviting feel.
Frosted Glass Doors for Partially Revealing Cabinet Contents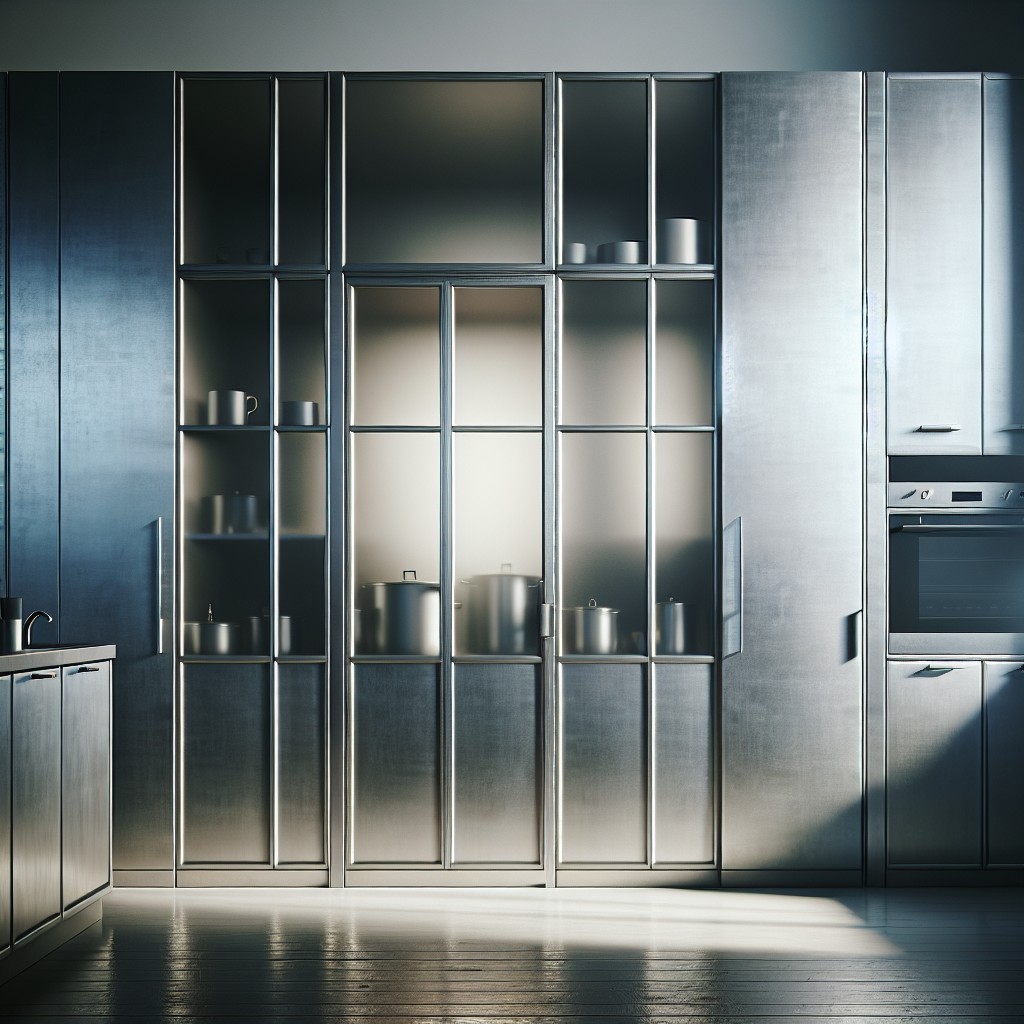 Frosted glass is an excellent choice for those who prefer an element of surprise when it comes to their kitchen cabinets. The translucent nature of frosted glass provides just the right amount of visibility, enabling you to slightly showcase your dishware or decorative items without revealing too much. Further, the light that passes through tends to soften for a pleasant visual effect.
Achieving this look is a matter of replacing existing cabinet doors with frosted glass ones. Similarly, you can modify your current doors by inserting frosted panels, provided the framework allows it.
These doors pair well with any cabinet color, from stark white and sleek black to bold and vibrant hues, or even the natural wood grain.
Some additional benefits of frosted glass include,
Enhancing small kitchens: As light passes through, it makes the space look larger and brighter.
Simple upkeep: Compared to clear glass, smudges and fingerprints are less visible.
Privacy: The matte finish ensures what's inside isn't entirely visible, helping disguise any clutter.
Overall, frosted glass doors are an adaptable option that injects style while ensuring functionality and ease of maintenance in your kitchen.
Shot Blasting Metal Cabinets for an Edgy, Rustic Look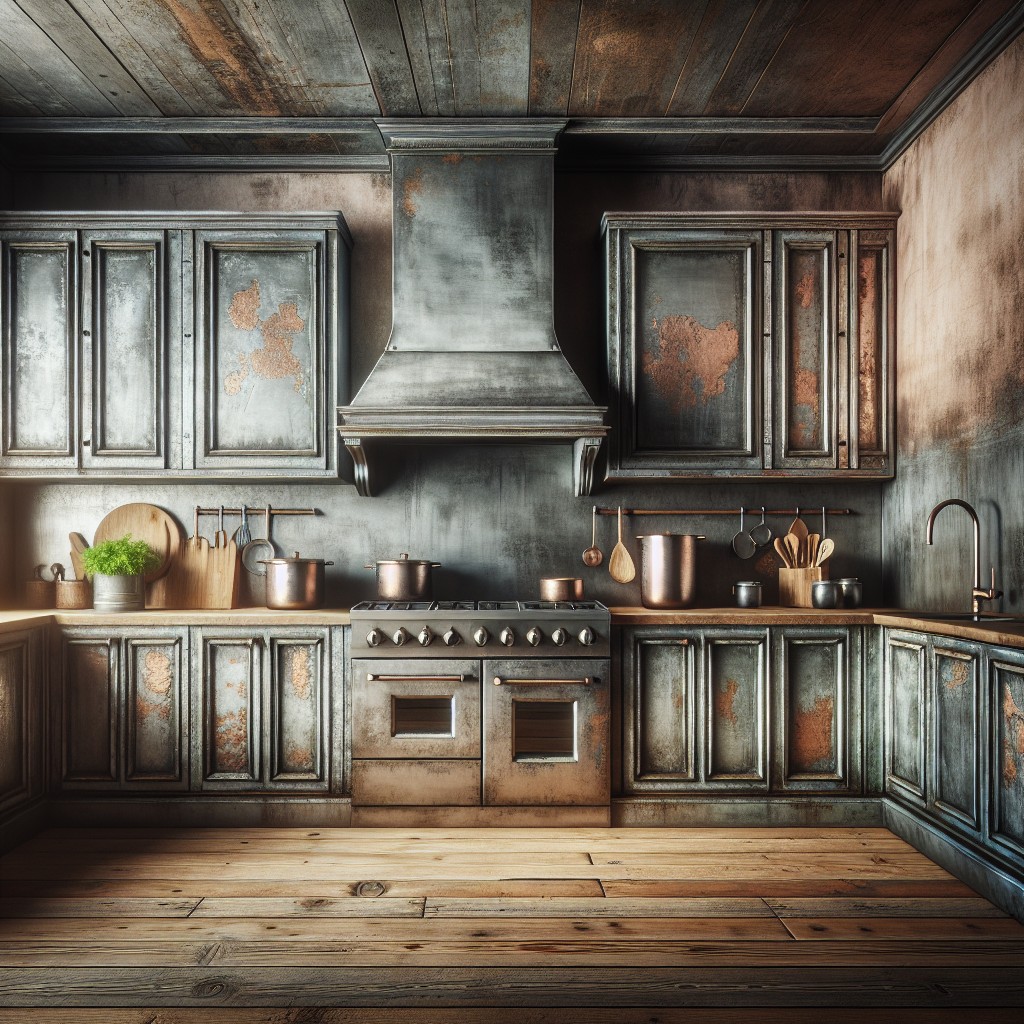 Achieving an edgy, rustic look is straightforward with shot-blasting. It involves propelling tiny steel pellets at high velocities to erode the cabinet surface. This technique brings out a unique distressed pattern, irresistibly capturing the raw charm of worn-out metals, making each cabinet an exceptional masterpiece.
Consider the following points when opting for shot-blasting:
Surface Preparation: Ensure a clean, grease-free surface before the procedure. It contributes to better adhesion and quality.
Personalization: The degree of pattern can be controlled to personalize the finish. The higher the shot-blasting intensity, the deeper the distressed effect.
Preservation: Metal surfaces tend to oxidize over time. Using a sealer or lacquer helps maintain the achieved look and longevity of the cabinets.
Complementary Elements: Blend the rustic cabinets with wooden countertops or brick backsplashes for a cozy industrial-style kitchen.
Lighting: Enhance the finishes by incorporating soft, warm light. It accentuates the cabinet's texture, creating a cozy ambiance.
Remember, shot blasting, though a messy process, often results in a gratifying rustic appeal. It's a striking choice for homeowners seeking to break away from conventional modern designs.
Add Colors: Painted Metal Kitchen Cabinets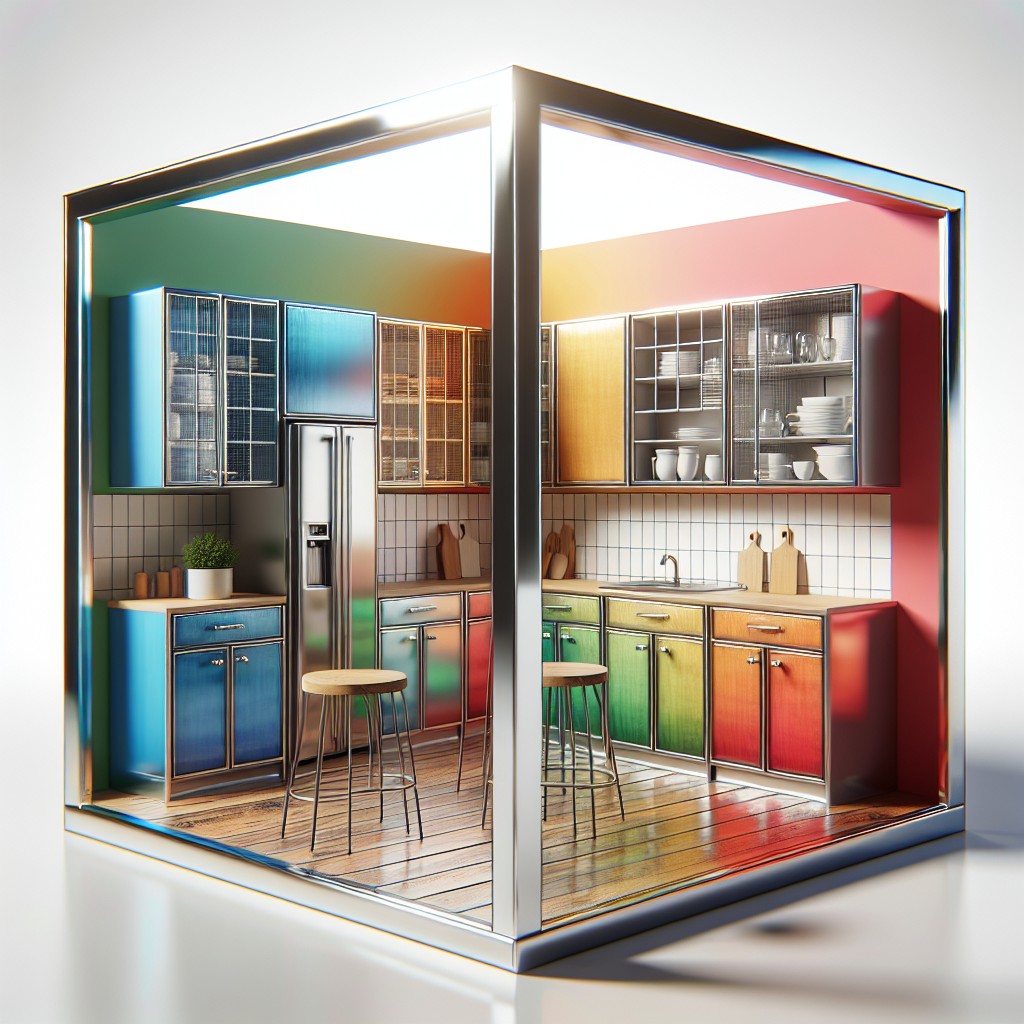 Adding a splash of color to your metal kitchen cabinets can drastically invigorate your space. Opt for shades that resonate with your personal style and the kitchen's overall aesthetic. The inherent durability and smooth texture of metal make it perfect for painting.
For a touch of classic elegance, consider pastels, such as powder blue or mint green. These soft hues can offer a sense of calm and serenity, making your kitchen a tranquil space. For those looking to infuse a vibrant energy into their area, bold colors, such as lemon yellow or bright red, can certainly make a unique statement.
Something to keep in mind – make sure to use paint that's designed for metal surfaces to ensure a smooth application and longevity. Lastly, consider a professional painting service if you're seeking a flawless finish. A well-executed paint job on metal cabinets can truly transform your kitchen, making it a masterpiece of your creativity.
Ideas Elsewhere
Continue reading: