Last updated on July 1, 2022
These transitional kitchen ideas will help you style your kitchen for a timeless look. Learn how to embrace and create this design style.
What is the transitional style anyway? It's a combination of traditional and modern styles. In other words, you take a classic kitchen layout that is designed in time-tested and trusted ways and add new trendy and bold elements. It's a mix and match that results in a contemporary look that still maintains the traditional qualities.
You can say that it's a "safe way" to design a kitchen. While you can experiment with modern decor, you are still anchored by the classic, timeless design. That's why the transitional style has seen a significant increase in interest in recent years: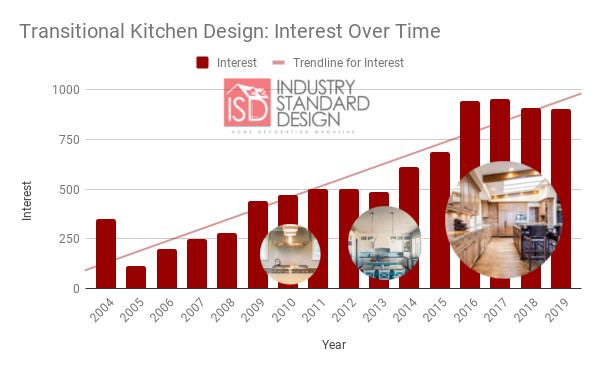 You can see how interest has grown in the past 4 years, and it has almost doubled in the past 10 years!
This can be explained in two ways. First, people want to update their old kitchen design, which usually results in a transitional look. Secondly, they purposefully choose to create this style. Other designers, like Emily Henderson, go as far as calling it the modern traditional style. In a nutshell, it's the transitional style taken one step further towards an elaborate traditional look (but still with modern accents).
What's Inside
Creating the Transitional Kitchen
If we dissect and sum up most transitional kitchen designs (such as we will see further), these are the main elements used to create this style:
Shaker cabinets give a traditional look like the ideal base for further decor
Stainless steel appliances provide an excellent modern accent
Natural wood softens all modern lines
Lighting can be both traditional and modern
Subway tile backsplash
Marble, and then more marble (Amber Lewis loves it to design her transitional kitchens)
Traditional fabrics as the window treatment
Mix and match furniture
Choose from this list to combine the different elements of both styles, and you have the perfect Pinterest/Instagram-worthy transitional kitchen.
Need inspiration? Check out the following interior design ideas for transitional kitchens.
Stainless Steel and Traditional Valances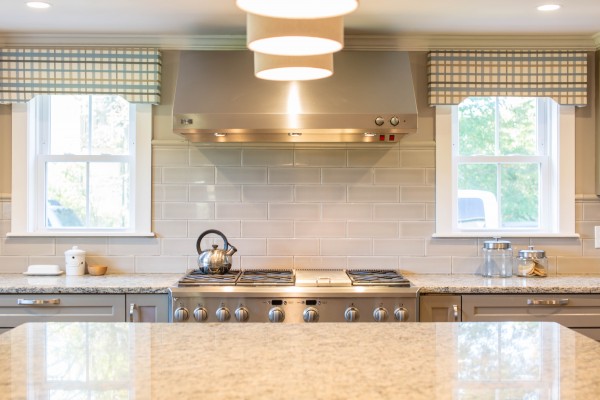 Modern elements from the sleek stainless stove and hood to the uncomplicated ringed ceiling lights are offset by the charming appeal of the multi-paned windows with sills and soft plaid valances.
Natural Wood and Modern Furniture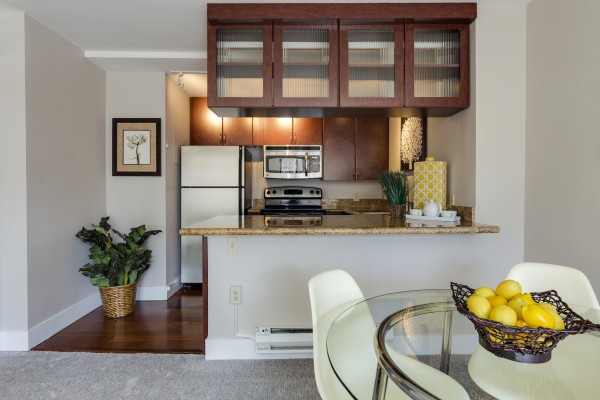 The upper cabinets, with their integration of traditional glass fronts and the minimalistic straight lines of rich wood doors sans hardware, create an eclectic focal point in this kitchen.
Modern Lighting and Shaker Cabinets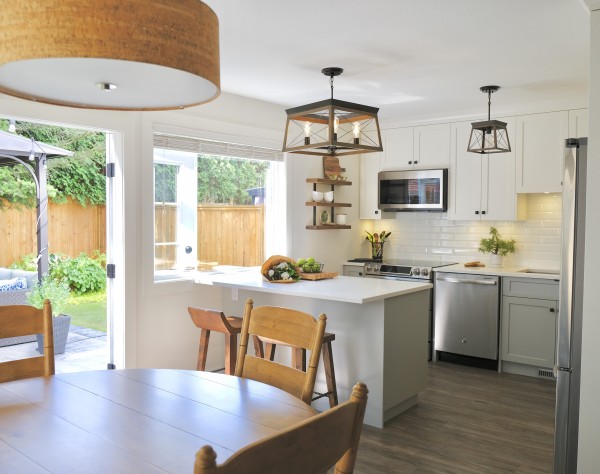 The stainless appliances, clean lines, and monochromatic appeal of this transitional kitchen are tempered by the softness of the spindled chairs and old-time grace of Edison bulbs in detailed geometric light fixtures.
Wooden Countertops and Black Cupboards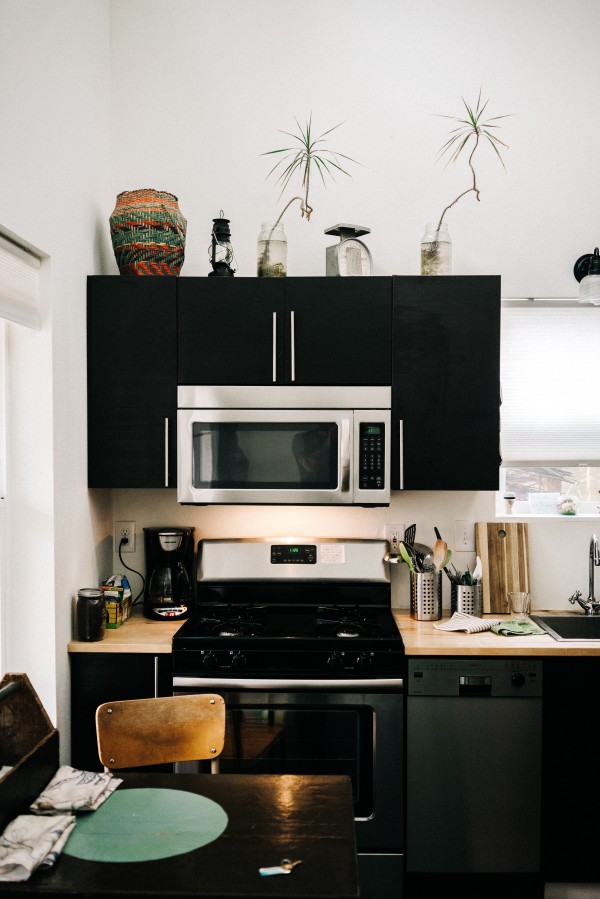 The mellow tones of wood counters and a fashionably distressed chair and table breathe warmth into a kitchen with striking lines of pure black cupboards boasting fashionable, yet no-nonsense, stainless dowel handles.
Natural Stone and Modern Countertops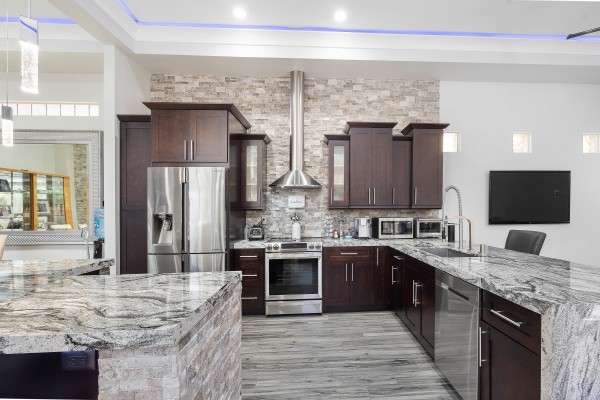 Natural stone features behind the stove and along the side of the island are thwarted from creating a rustic flair by the cabinet's straight lines, sleek hardware, and a polished waterfall countertop.
Rustic Accents and Modern Furniture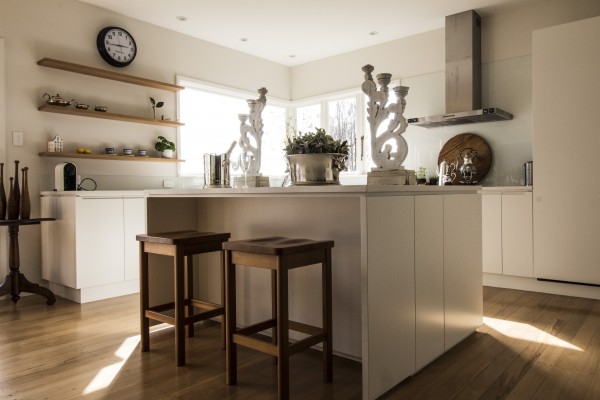 Features like the industrial clock, the unique geometric range hood, and pure white cabinet lines are balanced with the soft flowing grace of candelabras, antique furniture, and the soft curves of vintage sterling serving pieces.
Industrial Mix and Match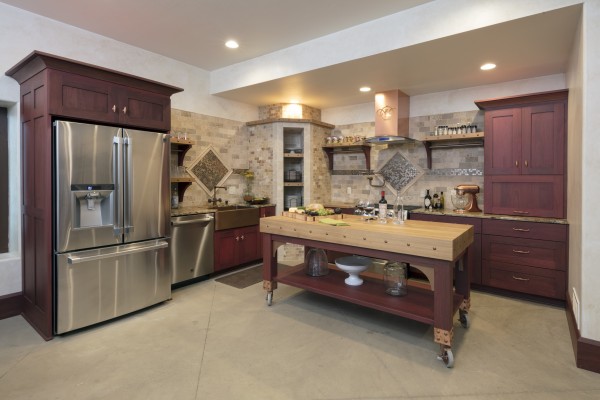 Traditional meets modern with a concrete floor, a massive stainless fridge and industrial wheels on a floating island meeting softwoods, an intricately designed tile backsplash, and elegant crown molding topping the cupboards.
Subway Tile and Marble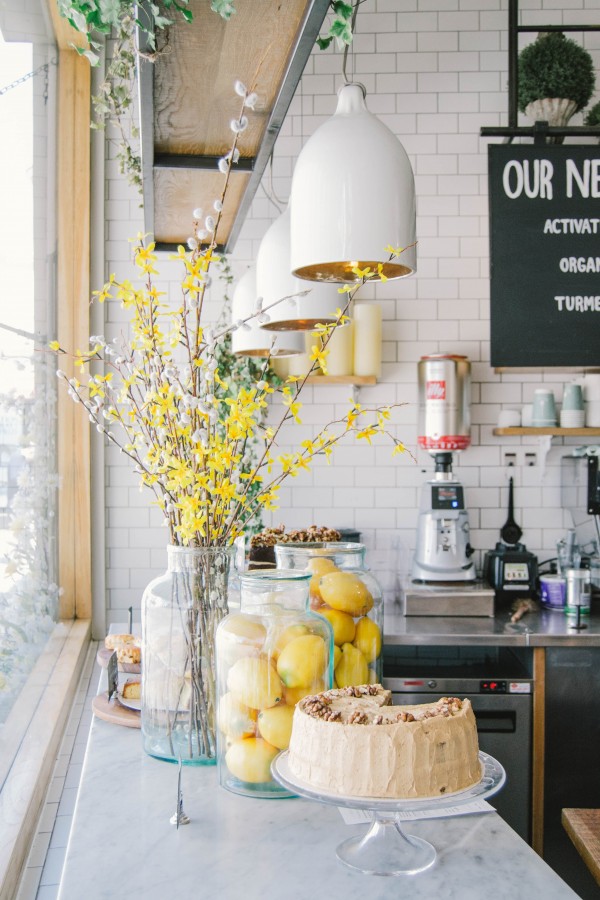 Timeless subway tiles blend with the softer, more traditional natural woods, elegant marble countertops, and greenery. It works well with the modern styling of minimalist kitchen pendant lights and a simple, unadorned picture window.
Craftsman and Stainless Steel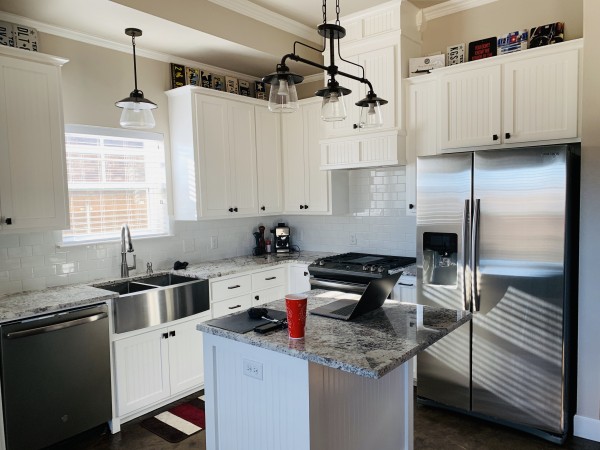 The shaker cabinets in this kitchen offsets stainless appliances for a blend of old and new, but the vintage industrial light fixture and the old farmhouse sink in stainless take the mix to a new level.
Transitional Natural Wood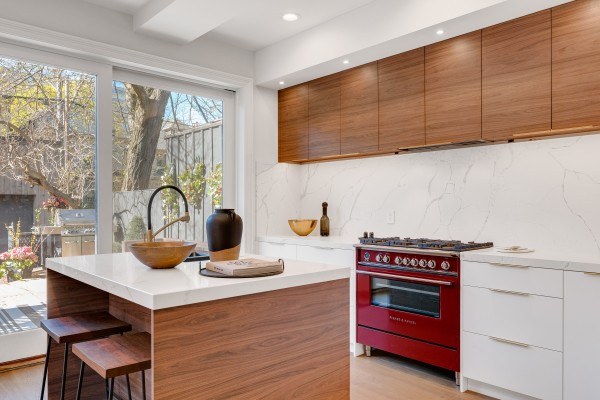 Uncomplicated recessed lighting reveals simple lines in cupboards with barely-there handles. An elegantly fuss-free backsplash and the subtle grain of wood and marble provide classic charm.
Hardwood Floor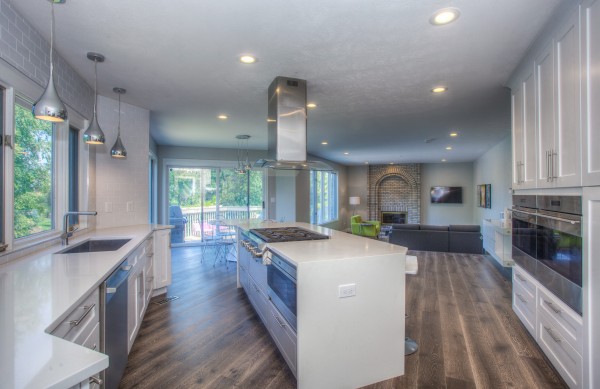 Everything in this kitchen, from the acrylic and stainless range hood to the sleek stainless pendant lights, screams modern, but the natural wood tone floor tempers the look with more traditional beauty.
Transitional Rustic Style with Modern Countertops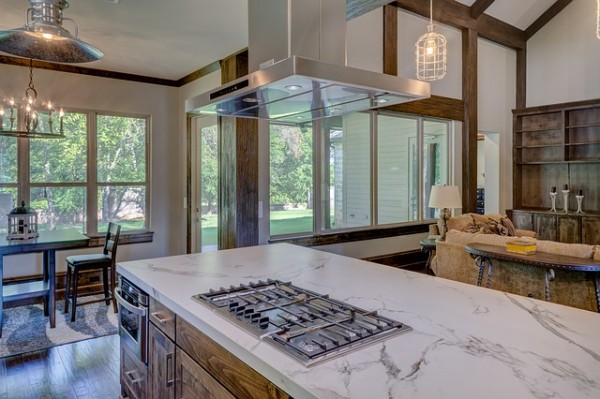 Rustic wood and a delicate chandelier over the table provide traditional elements that are countered with industrial lighting in the food preparation area and sharp modern lines in the appliances and hardware.
Modern Lighting and Traditional Furniture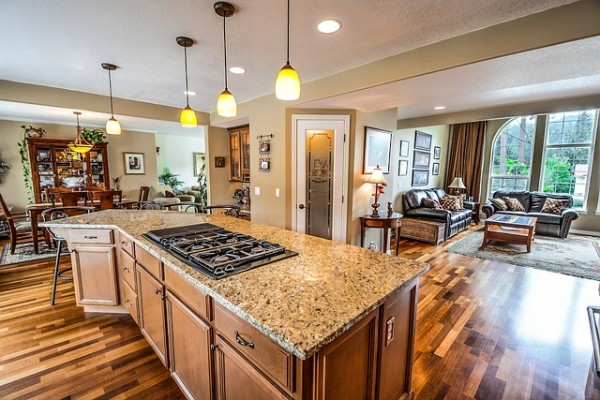 An old-time pantry door and glass front cabinets indicate a traditional tone. But a closer look reveals modern elements like recessed and pendant lighting as well as a natural stone countertop.
Ceiling Beams with Transitional Furniture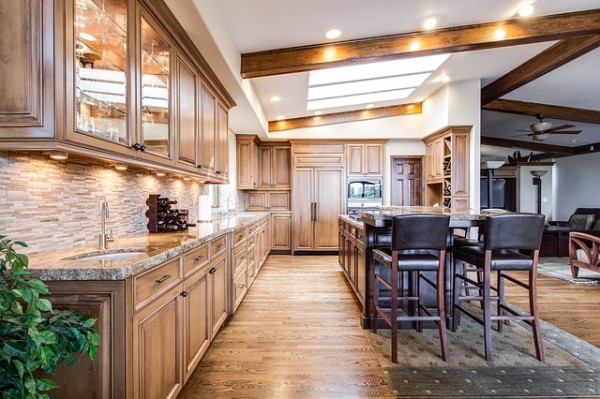 The earthiness of ceiling beams and a multitude of natural wood tones are juxtaposed against straightforward hardware, skylights, and recessed ceiling. Under-cabinet lighting breathes new life into a classic room.
Traditional Backsplash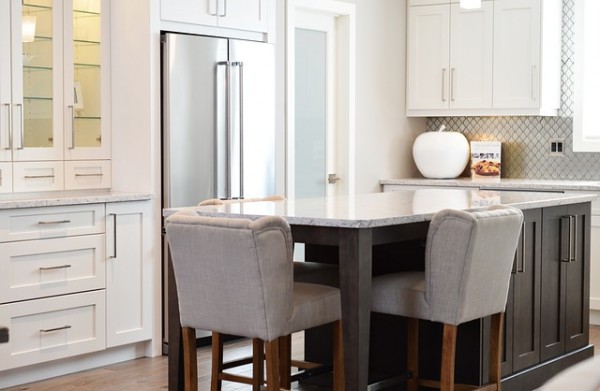 Pristine white and stainless features with geometrically simple hardware are paired with classic marble, wood tones, and soft upholstery while a tiled backsplash bridges the styles with a creative shift of a traditional tile layout.
Crown Molding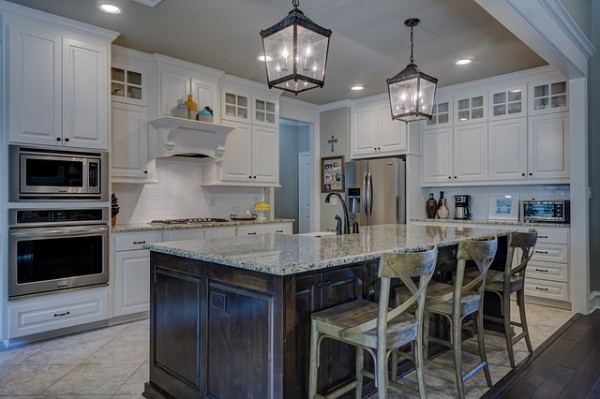 Elaborate crown molding raised panel cabinet doors, and a decorative range hood provides some traditional elements. The recessed lighting, a large geometrically tiled floor, and stainless appliances keep it fresh and modern.
Wooden Island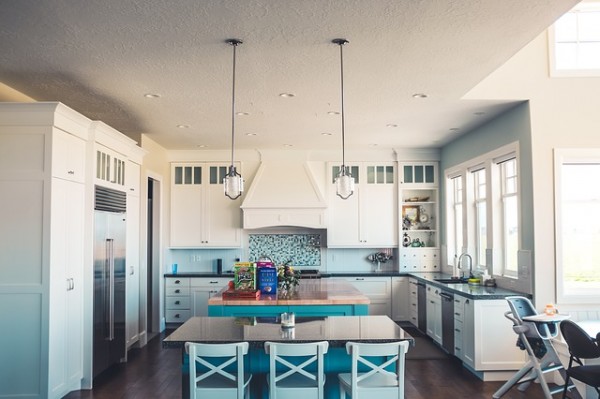 Shaker woodwork, pure white with splashes of color, and the gleam of stainless keep this kitchen edgy while the island's warm wood tones, the glass front cupboards, and pretty pendant lights keep it homey.
Old-time and modern geometric hardware set the tone for an eclectic blend. The mix continues through the simple, yet multi-paned windows, can and pendant lighting and more for more eye-catching results.
Oversize Tiles and Natural Wood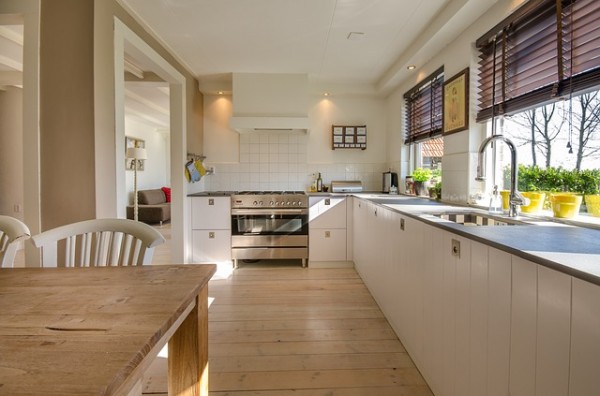 Oversized tiles, the simplicity of unadorned cupboards, and the clean lines of the hood cover pop against the natural wood floor, table, and the touches of bright sunshine from the pots and greenery in the windows.
Accent Colors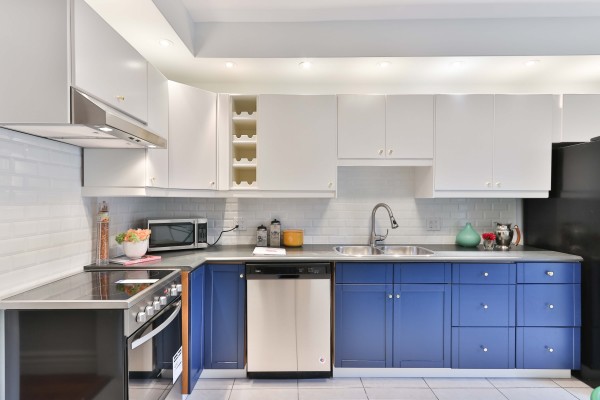 Royal blue leans towards more traditional features, as do varied cupboard handles and subway tile. The oversized geometric tiles, sleek stainless features, and simple cabinet fronts, however, give the kitchen enough modern flair to keep it trendy.
Scandinavian Influence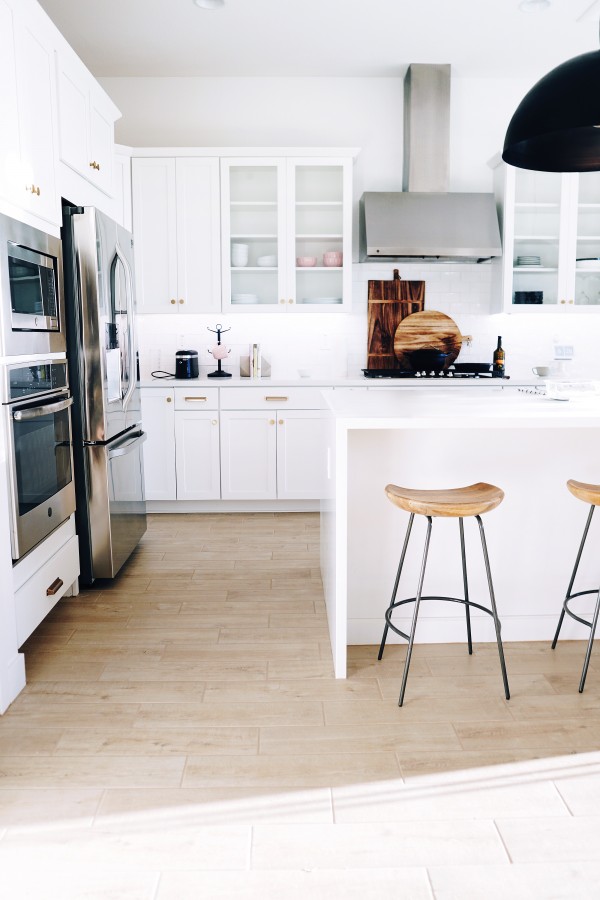 The stylized lighting and furniture, clean cabinet lines, and industrial hood contribute to the modern style of this room. The softwood grain accents and the glass front cabinets lend a softer classic touch that comes from the Scandinavian style influence.
Geometric Shapes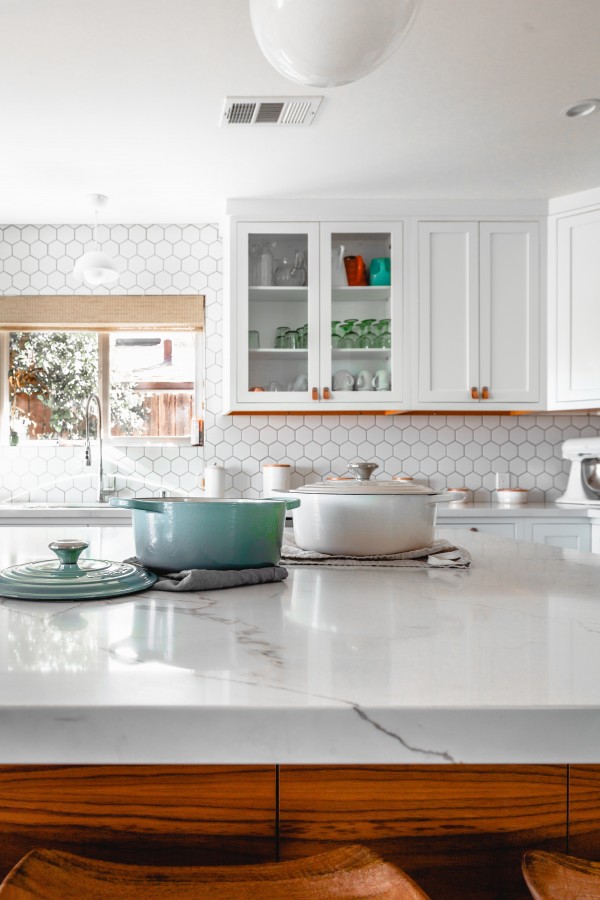 The wood grain, marble, and backsplash pattern are examples of graceful traditional style. The kitchen takes on a classic modern flair when coupled with the edgy geometric light fixtures and simple cupboard fronts.
A modern waterfall countertop of traditional marble takes center stage in a kitchen with an old-time geometric patterned backsplash and cabinets with basic straight lines softened by touches of rich, warm wood tones.
White and Gold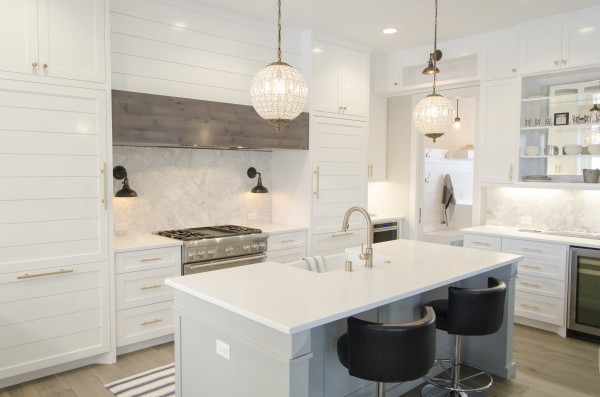 This stunning mix of styles uses of crystal and industrial pendant lights, appliances behind ship lath doors with geometric handles, and edgy bar stools facing a rustic wood range hood cover.
Mosaic Backsplash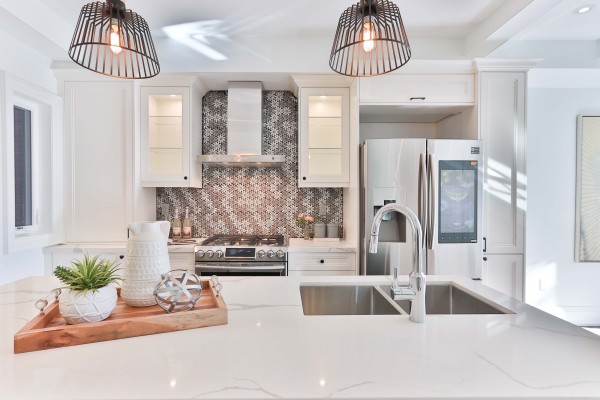 Pristine white and Stainless lines abound in this transitional kitchen but are tempered by traditional touches like a whimsical floral mosaic backsplash, subtle marbling of the counters, and brightly lit glass door cabinets.
Continue reading: