Last updated on December 1, 2023
Dive into this article because it offers innovative ideas for pre-assembled kitchen islands that can transform your cooking space instantly.
These are my unique design concepts made using design tools. I hope you find them inspiring!
Delving into the realm of pre-assembled kitchen islands? Your timing is perfect! There's an abundance of trends out there that can provide inspiration.
However, our aim here is to offer some fresh and unique ideas, not just reiterate what's already been tried and tested. Hence, while resources to the best existing ideas will be included at the end of the article, expect a new perspective that will hopefully fire up your own creativity.
Let's get those creative gears turning and find the perfect kitchen island concept that combines functionality with your personal style.
Time to explore these unique ideas. Let's get started!
What's Inside
Space-Saving Foldable Kitchen Islands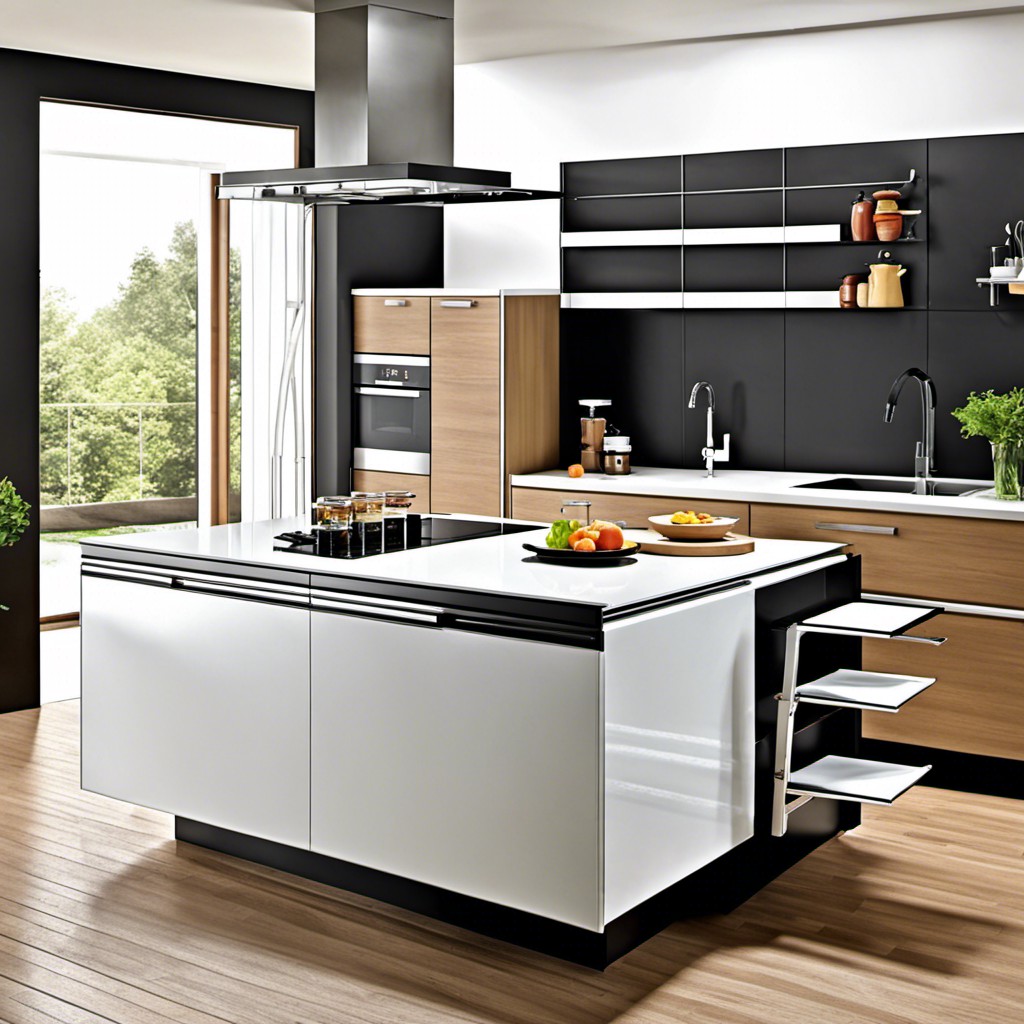 Offering the functionality of a traditional island while acting as a perfect solution for smaller homes and apartments, the practical design can't be overstated. When not in use, simply fold it neatly away, freeing up valuable kitchen floor space.
Crafted in an array of materials, from classic hardwood to sleek stainless steel, this innovative option allows for customization to blend with any interior decor. Higher end models feature locking wheels, ensuring stability during use, while base cabinets provide extra storage.
Consider integrating a flip-up countertop for quick breakfast nooks or a fast evening drinks station. Adjustable shelves can be a beneficial addition to store and organize a variety of kitchenware.
A word of wisdom: always measure your space before purchase. Make sure there's enough room for the island to unfold completely without obstructing the flow of traffic. The benefits are undeniable – optimize, improvise, and revolutionize your kitchen with this versatile piece.
Kitchen Islands With Built-In Appliances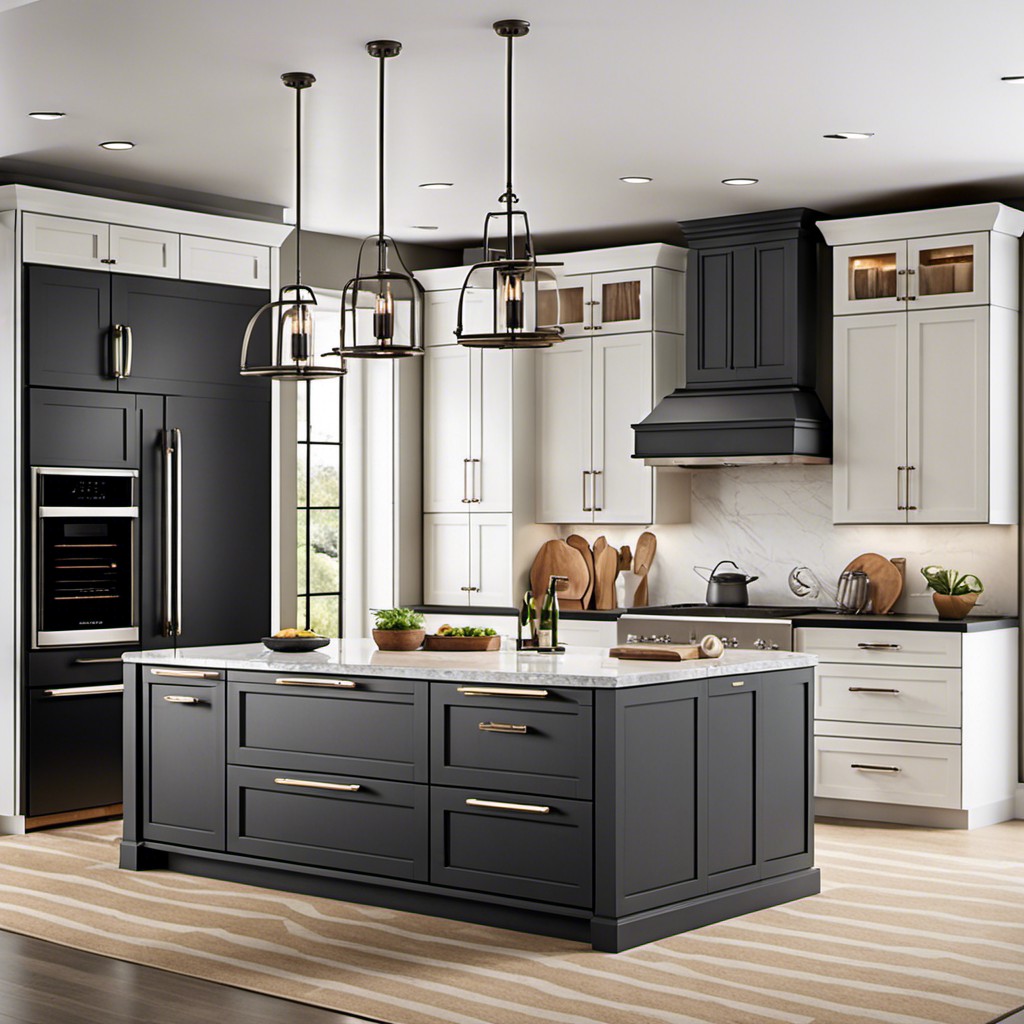 Maximizing functionality is key when incorporating built-in appliances into your kitchen island. It's all about creating a seamless point of contact for the user. For instance, a dishwasher or microwave built directly into the island saves space and adds convenience. Similarly, installing a cooktop allows the island to double as an extra cooking area, easing meal preparation.
Refrigerator drawers can offer easy access to fresh produce and drinks, ideal for families with children. Don't forget about small appliances too. A built-in coffee maker or warming drawer could elevate your breakfast routine.
Style matters just as much as practicality. Ensure that the design, color, and finish of the appliances blend with the overall aesthetics of the kitchen island. This helps to create a cohesive look and enrich your kitchen's visual appeal. Stay mindful of the traffic flow around the island when choosing the placement of these appliances. You don't want to impede kitchen activity or create safety hazards.
Remember, maintenance should be straightforward for these appliances. Consider hiring professionals for trouble-free installation and future repairs. Store warranties and user manuals safely for handy reference down the line.
In essence, kitchen islands with built-in appliances can unify the overall look and increase the multi-functionality of your kitchen. Be strategic, creative, and practical – you'll transform your kitchen island from a simple centerpiece to an efficient, built-in masterpiece.
Mobile Kitchen Islands for Flexibility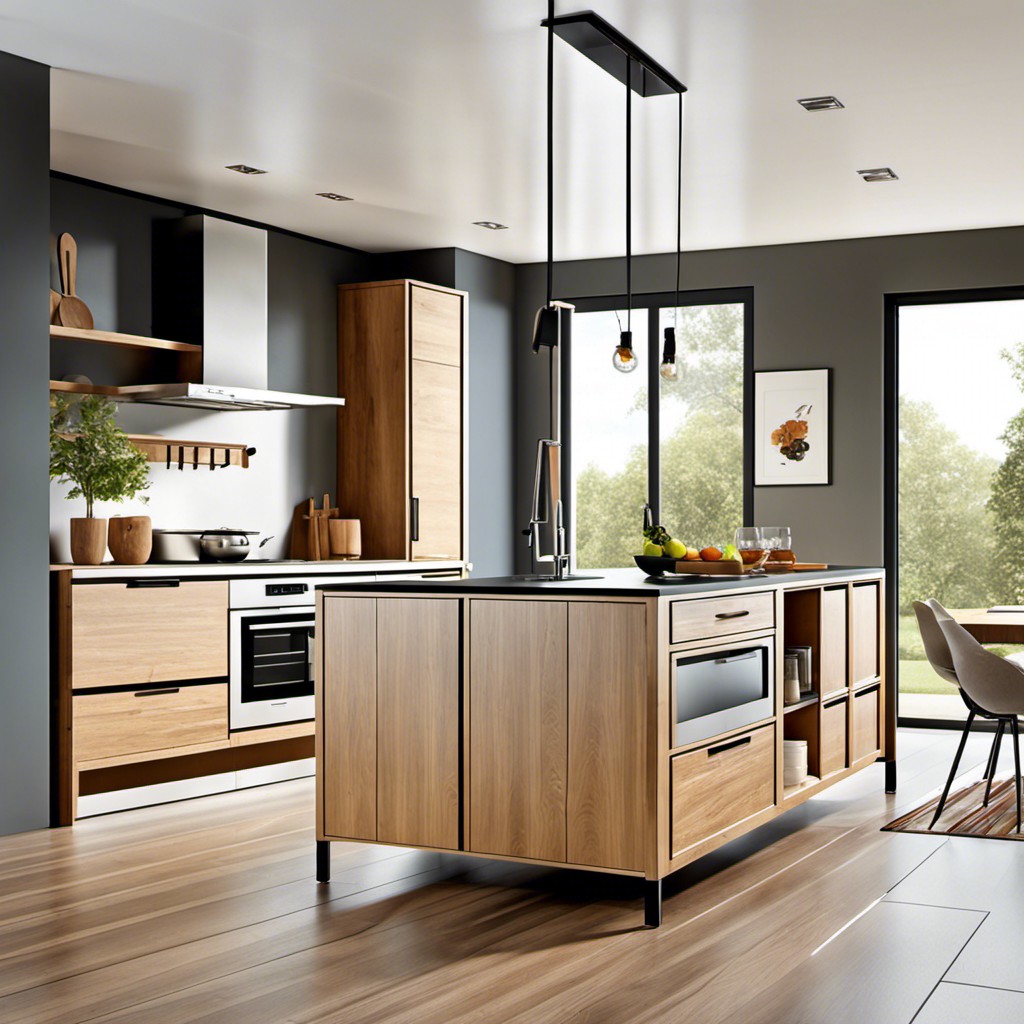 The greatest advantage of mobile kitchen islands is their versatility. With wheels attached, these islands can be moved around the kitchen as needed. This feature is incredibly advantageous for small kitchen spaces, as it allows you to create additional room when required.
For instance, during meal prep, the island can be stationed in the center of the kitchen to provide extra counter space. When not in use, it can be tucked away in a corner or against a wall.
Similarly, when hosting a dinner party, the mobility of these islands comes in handy. They can be relocated to serve as a buffet table, a bar, or a dessert station.
Even better, some models come equipped with locking wheels, which means that you can secure the island in a specific spot when stability is required.
Lastly, these islands are available in a myriad of designs and finishes to complement any kitchen decor, from classic wood-finish models to sleek, contemporary stainless steel ones. No matter your style preference, there is a mobile kitchen island to match your kitchen aesthetic perfectly.
Double-Tiered Kitchen Islands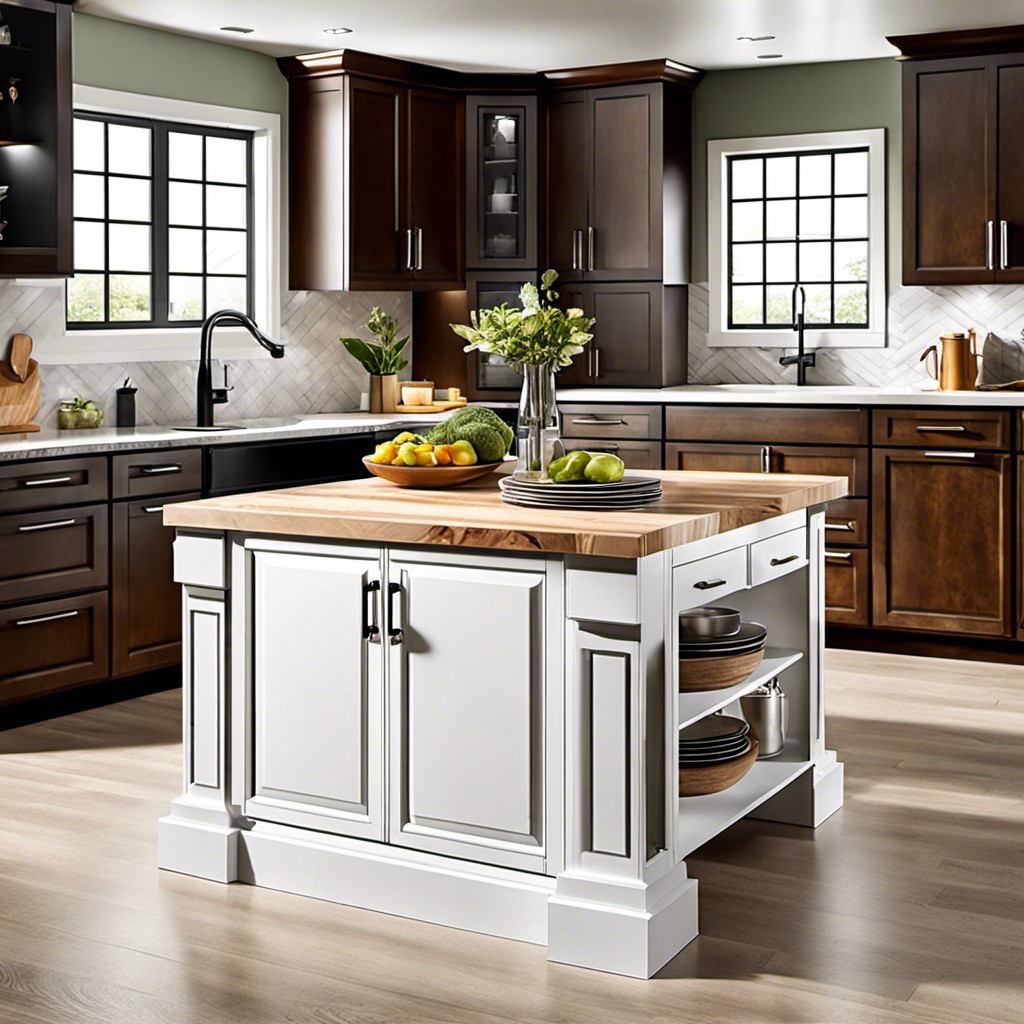 Incorporating two levels into a kitchen island can enhance its functionality and aesthetic charm. The lower tier, typically at standard countertop height, is great for meal preparations. It's where you might integrate a cooktop, prep sink, or cutting boards.
Versatility kicks in when we consider the upper tier. Raised above the standard countertop, it hides any behind-the-scenes mess from the dining or living areas. This higher level is also perfect for casual eating, doubling as a breakfast bar with the addition of a few stools.
Design-wise, the choice of materials and finishes can significantly impact the look and feel. A marble or granite lower tier offers durability and a touch of sophistication, while a wooden upper tier creates a warm, inviting ambiance. Remember—contrasting tones between the levels can make for a stunning effect too!
Think about storage as well: open shelves, cabinets, or even decorative baskets on the lower tier provide handy space for pots, pans, or cookbooks, keeping your necessities within reach, yet tucked away neatly.
Kitchen Islands With Recessed Lighting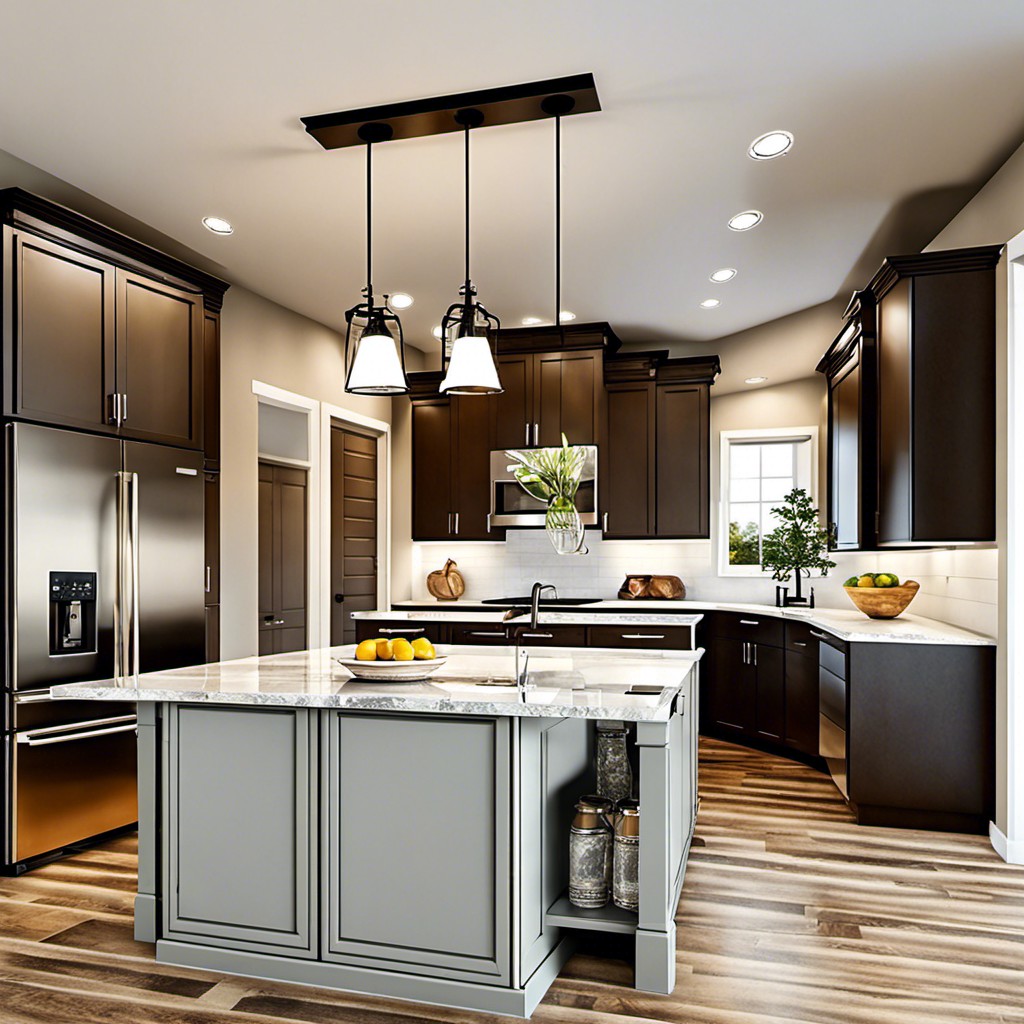 Installing recessed lighting gives your kitchen island a modern and streamlined appearance. It's a functional and stylish solution that ensures the space has ample lighting without cluttering the surface or overhead area.
1. Functionality: Recessed lights provide uniform illumination, perfect for food prep, cooking and socializing.
2. Space Enhancement: The hidden nature of the lighting helps to create an illusion of more space, making the kitchen appear larger.
3. Design Versatility: The lights can be embedded within the countertops, cabinets or ceilings – wherever you need them.
4. Energy Efficiency: Most recessed lights use LED bulbs, which are more energy-efficient and last longer than traditional bulbs.
5. Aesthetics: Recessed lights provide a contemporary and sleek look to your kitchen, blending seamlessly with most styles.
Ensure the lights are installed properly for safety and maximum effectiveness. Experiment with dimmer switches to set the mood for different occasions.
Kitchen Islands With Pop-Up Outlets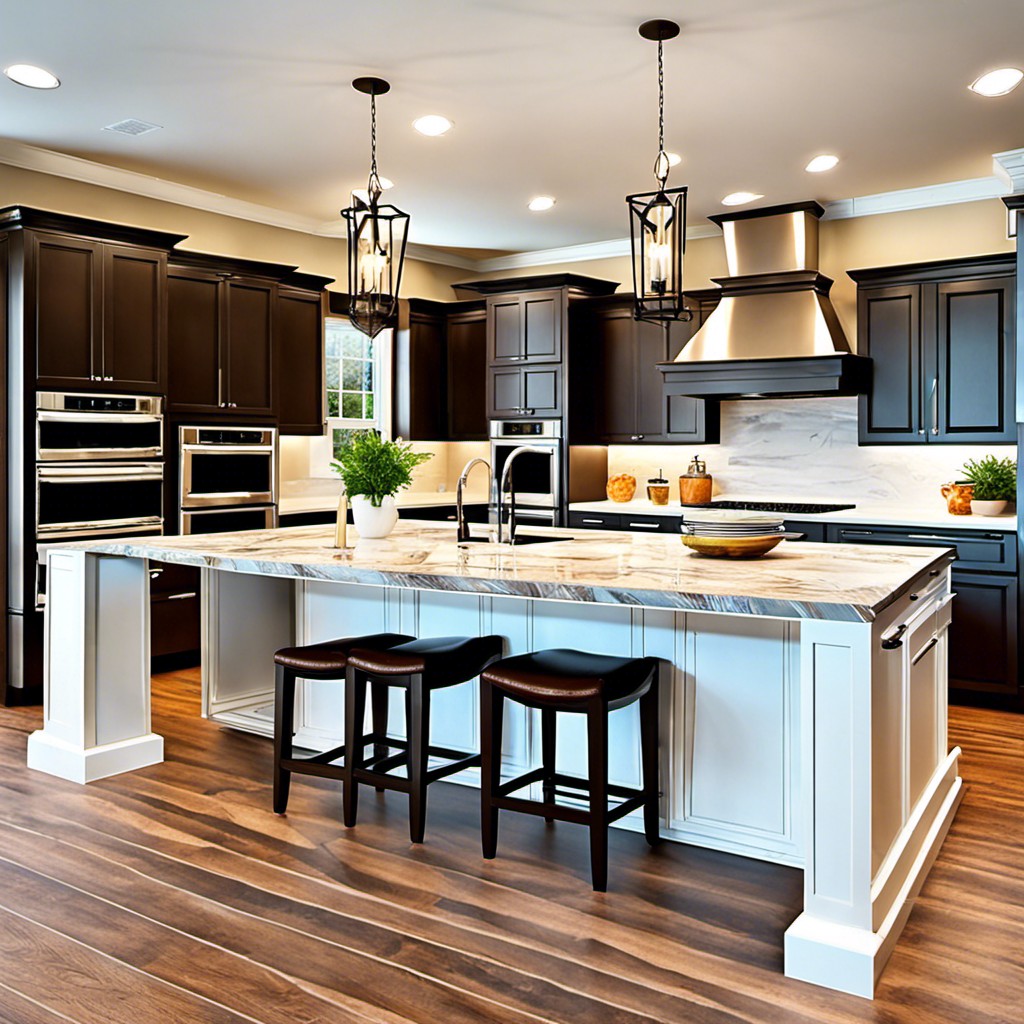 Incorporating pop-up outlets is an innovative way to boost the functionality of your kitchen island. This addition mitigates the need for cumbersome extension cords while providing a safe and convenient means to plug in kitchen appliances right where they're used.
The sleek design of pop-up outlets fits seamlessly into modern styles, and they are easy to hide when not in use, maintaining the aesthetics of your space. They are simple to install, and the outlets can be tailored to suit your specific needs, such as incorporating USB ports or accommodating larger appliances.
Bar-Style Kitchen Islands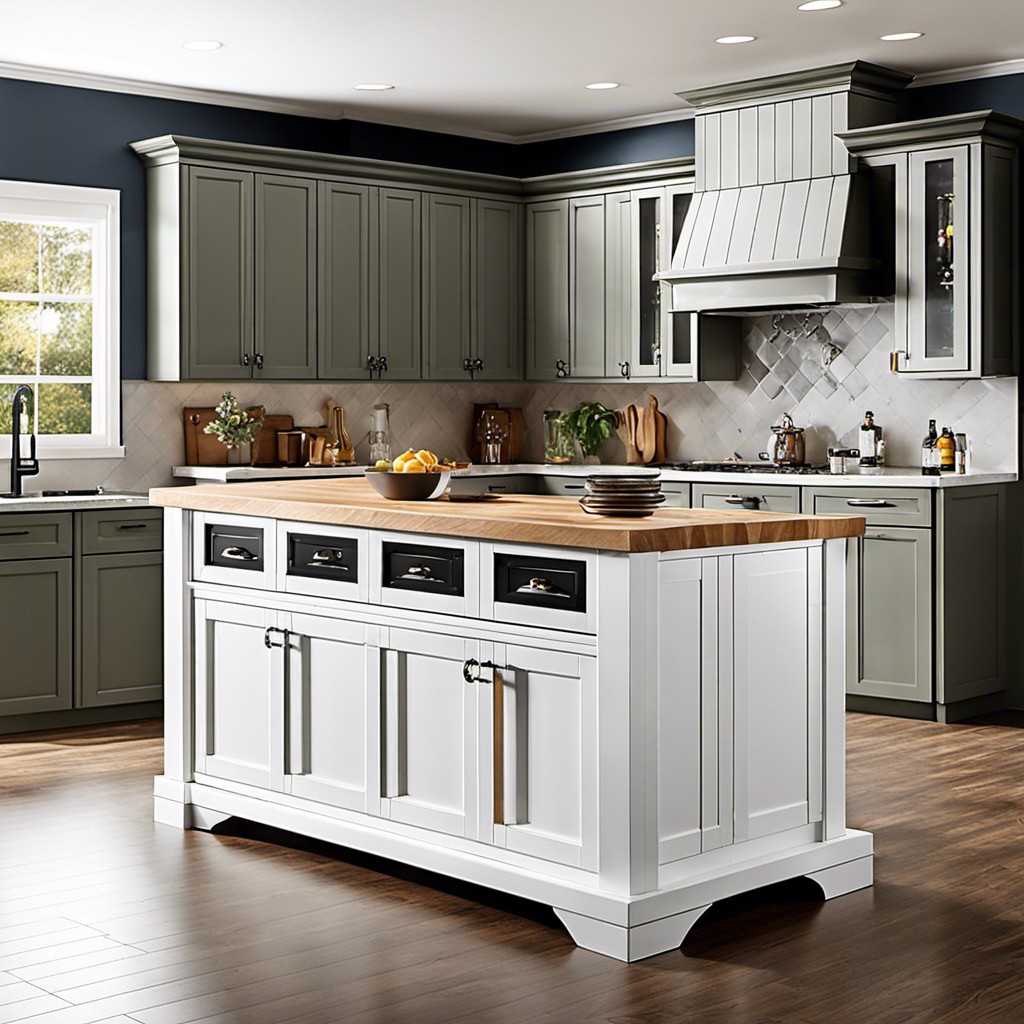 These islands are perfect for those who love to entertain. Providing both storage and a stylish, casual dining space, they often feature raised countertops to accommodate bar stools, turning your kitchen into a social hub.
Their layout effectively separates the food preparation area from the dining zone, making dinner parties and social gatherings more organized. It's essential to consider the appropriate height for the bar stools and the countertop. Noteworthy designs also incorporate additional features such as under-counter refrigerators or wine racks for easy access to beverages.
Materials and finishes range from wood to stainless steel, allowing customization to fit your personal style and existing kitchen decor. Be mindful of maintaining clear walkways for a smooth flow of movement around the island.
French Country Style Kitchen Islands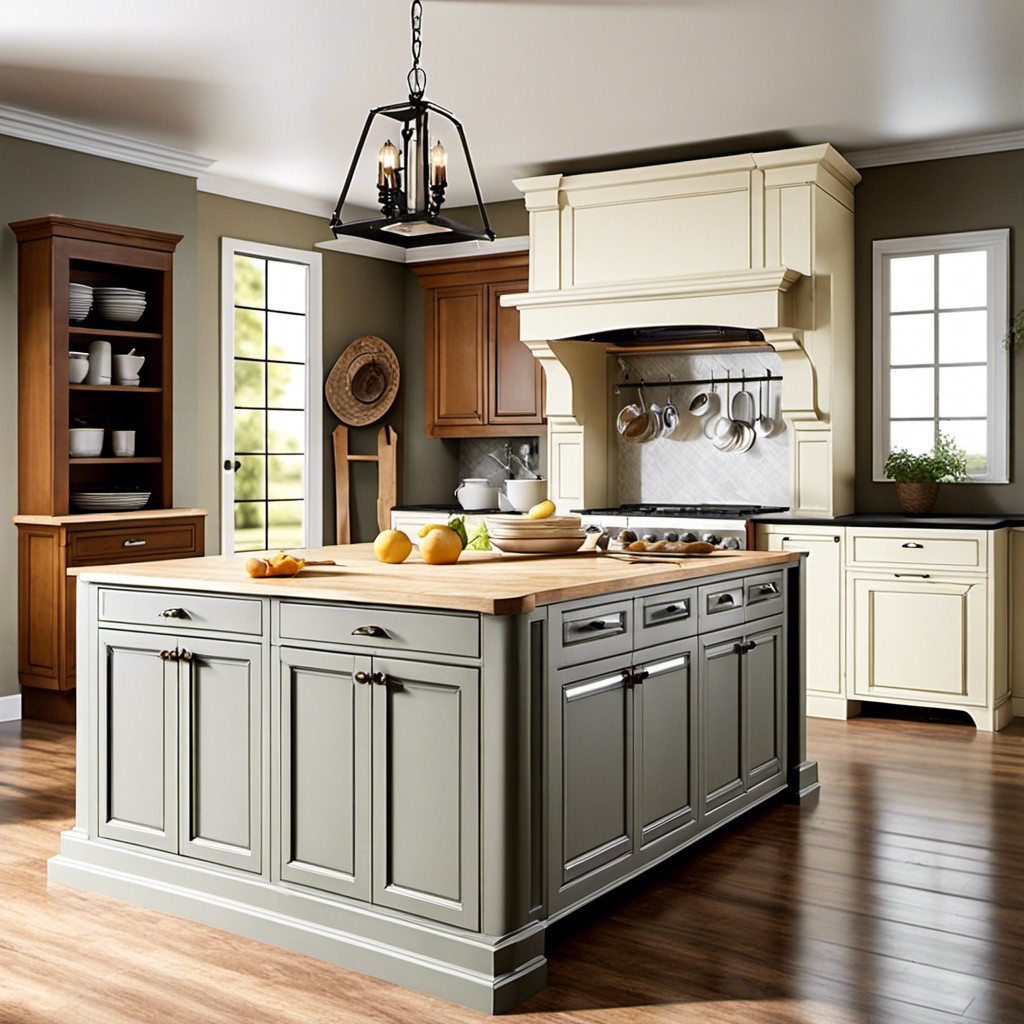 Highlighting rustic yet vibrant aesthetics, French Country Style Kitchen Islands captivate with their blend of functionality and antique charm. Generally crafted from hardwood, they're perfect for a traditional kitchen setup that reminisces about the quaint French countryside.
Some feature-worthy elements include:
Subtle Curves: Subtly curved details give a warmer feel to conventional rectangular kitchen islands.
Butcher Block Countertops: Wood, albeit aged, adds a homely appeal and is especially suited for chopping and prepping tasks.
Weathered Finishes: To enhance the look and character, opt for a distressed or antiqued finish, which lends a time-worn dimension to the island.
Open Shelving: This feature encourages display of beautiful kitchenware or a collection of recipe books, inciting a more inviting ambiance.
Hand-Painted Motifs: Hand-painted details, such as flora and fauna or checkered patterns, can offer an extra dash of uniqueness, making the kitchen island a focal point.
Decorative Corbels: Not only reinforcing the structure, but decorative corbels also lend an architectural interest to these islands.
Remember, it's the details that truly bring out the essence of a French Country Style Kitchen Island. Reflecting the harmony between beauty and utility, these kitchen islands will truly transform your kitchen into a cozy countryside haven.
Hand-Painted Pre-Assembled Kitchen Islands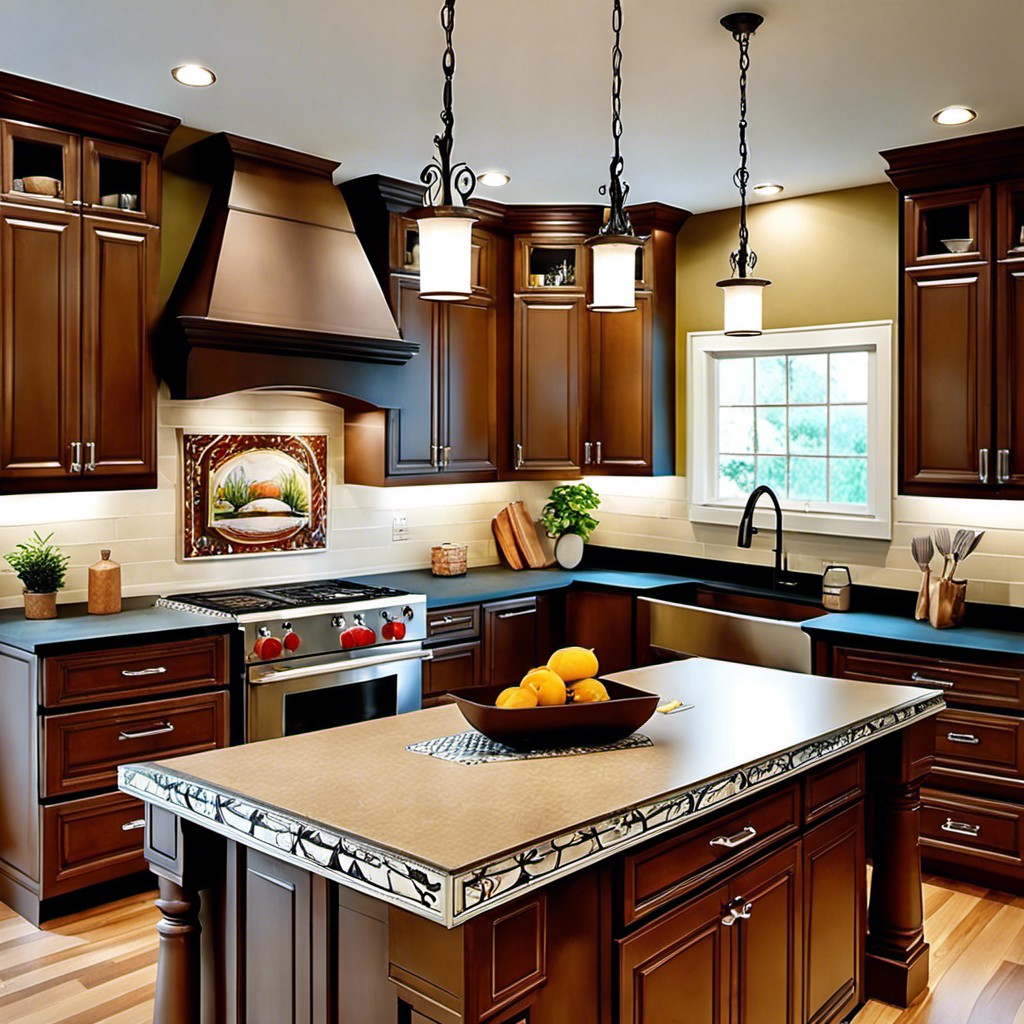 Drawing on traditional artistry, these pieces are known to bring a dash of individuality, with no two designs being the same. Usually completed by skilled artists, the paintwork enhances the aesthetic appeal while serving the functional role of a regular island.
These pieces often come with detailed motifs or intricate patterns that contribute to the overall kitchen décor. From rustic floral designs to the modern geometric art, the splash of colors makes them charming focal points.
Additionally, the paintwork can serve as a protective layer, guarding against scratches and spillages. Yet, it's important to verify, where possible, that the use of non-toxic paints has been maintained in crafting these pieces.
Remember, this design choice may necessitate additional upkeep to preserve the hand-painted details over time, so do consider such factors during your selection process.
Farmhouse Style Kitchen Islands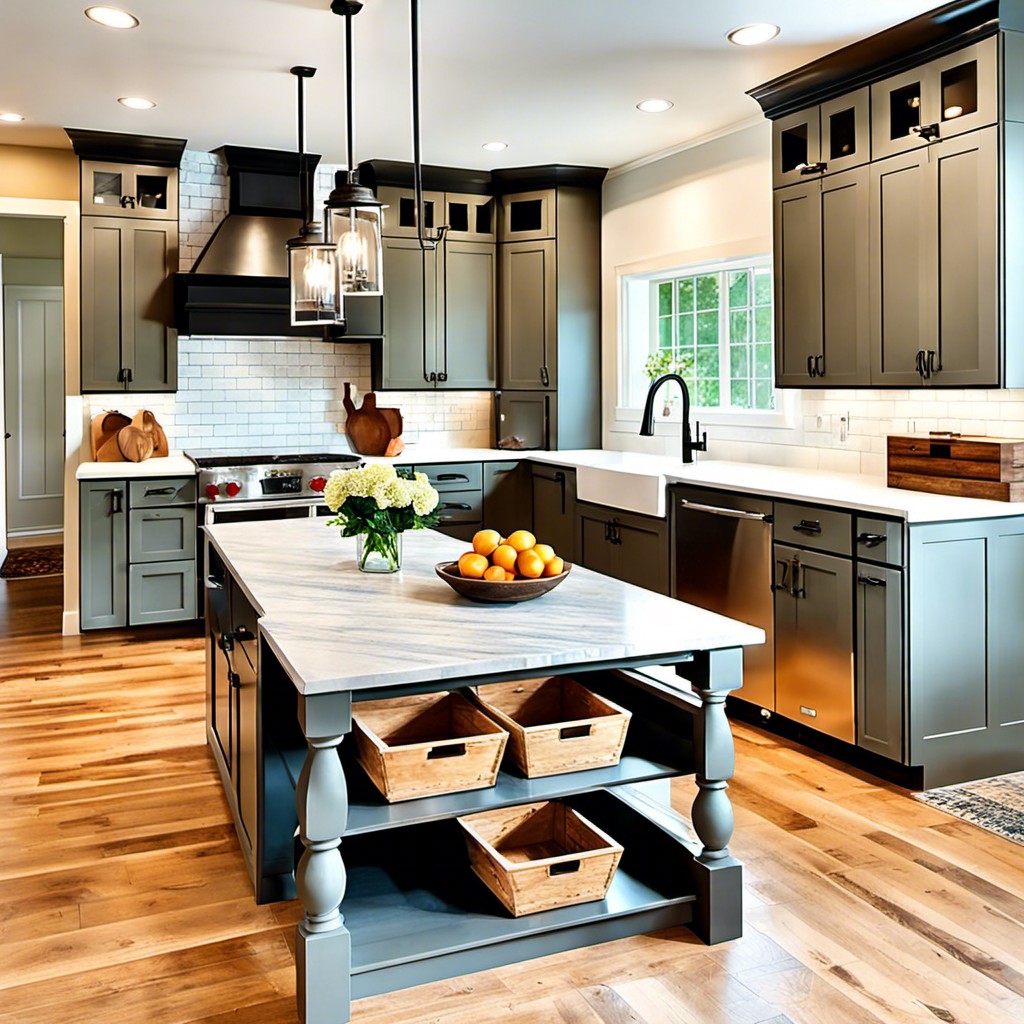 Embracing rustic elements mixed with modern amenities, these islands epitomize the warmth and charm associated with a classic farmhouse. Key features often include distressed wood or a reclaimed wood finish, accentuated by wrought iron hardware. Painted options usually lean toward muted colors such as cream, pale blue or sage green.
For a unique touch, some designs incorporate vintage-inspired features like slatted wood shelves, beadboard panels or shiplap detailing. A farmhouse island often serves as the heart of your kitchen, providing ample workspace, storage solutions and seating for family meals.
Additionally, a butcher block or a wood plank countertop is a traditional choice. It not only adds to the visual appeal but also provides a functional surface for meal preparation. Some versions may also feature a built-in sink or dishwasher for added convenience.
Remember, the beauty of a farmhouse style lies in its flexibility, allowing you to mix and match elements to suit your personal taste and kitchen layout.
Kitchen Islands With Retractable Countertop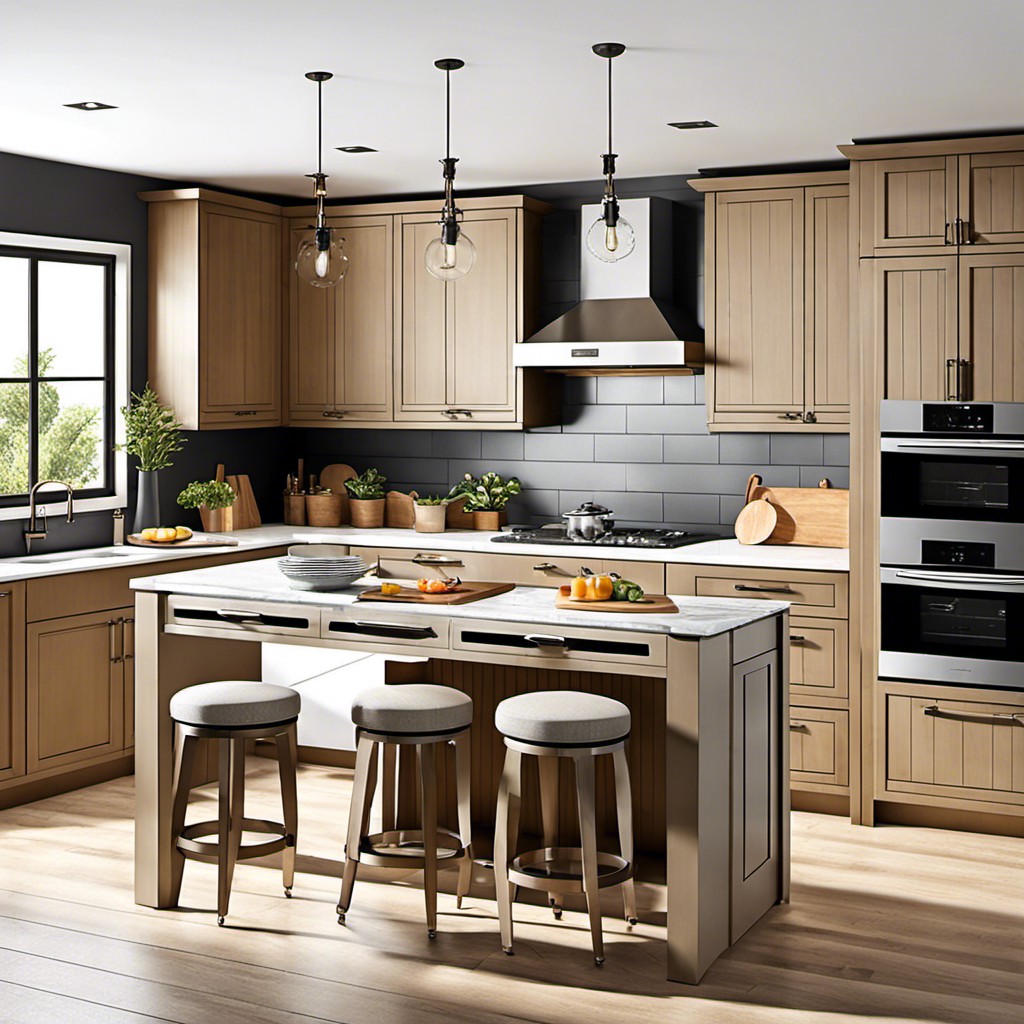 An ingenious solution for a space saving yet functional area, retractable countertops prove to be a hidden gem. When additional prep space is required, they conveniently slide or fold out, and disappear when not in use.
This feature is all about optimizing available space, making it ideal for small kitchen spaces or for those wanting an uncluttered look. Some designs even integrate cutting boards or serving trays for added functionality.
Installation usually requires professional services for a seamless look and proper functionality. The materials for your retractable countertops can match or contrast with the island base. Options range from wood to natural stone or even composite materials.
Remember, choose according to both aesthetic appeal and functionality to make sure it works successfully with your cooking routines and adds a subtle touch of customized luxury to your kitchen island space.
Industrial Style Steel Kitchen Islands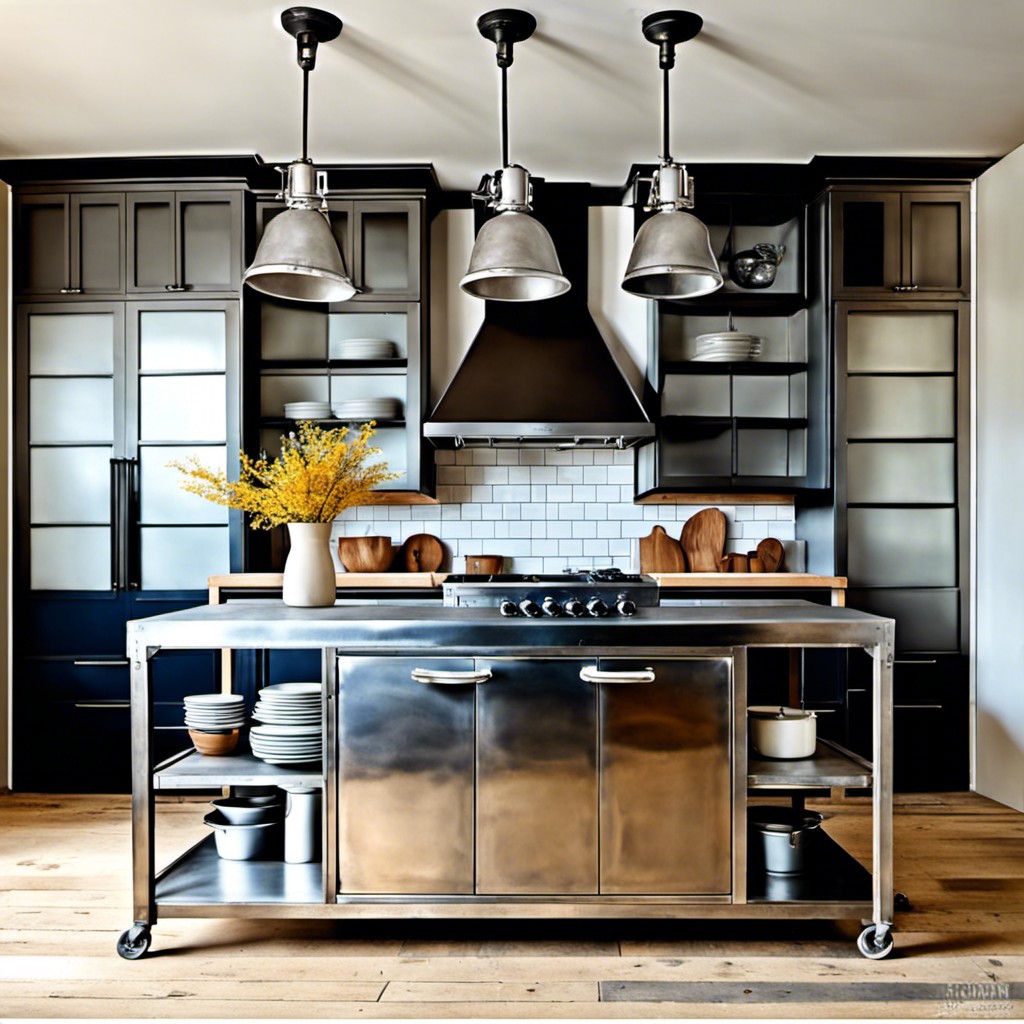 Featuring clean lines and a sleek metallic finish, these islands tap into the raw charm of industry. Their core is often made from durable materials such as hardwood or manufactured wood, covered with a sheet of stainless steel. This makes them not only incredibly sturdy but also capable of withstanding high heat and harsh cleaning chemicals.
You'll find a variety of options, anything from a basic table-style island to units equipped with features like built-in sinks, adjustable shelves, or even wine racks. Remember, the functionality is paramount in this style. Extra hooks for hanging pots and pans, or a towel rack on the side can elevate the practicality of such an island.
Another appealing detail, if it aligns with your taste, could be the incorporation of visible rivets or other manufacturing marks. These elements enhance the industrial nature of the piece. To offset the hard steel, consider softening the look with stools upholstered in leather or a material of your choice.
Remember: going industrial doesn't mean settling for cold or sterile. With your personal touch, you can harness the rough-and-tumble essence of these islands and meld it beautifully into the core of your home– the kitchen.
Multipurpose Kitchen Islands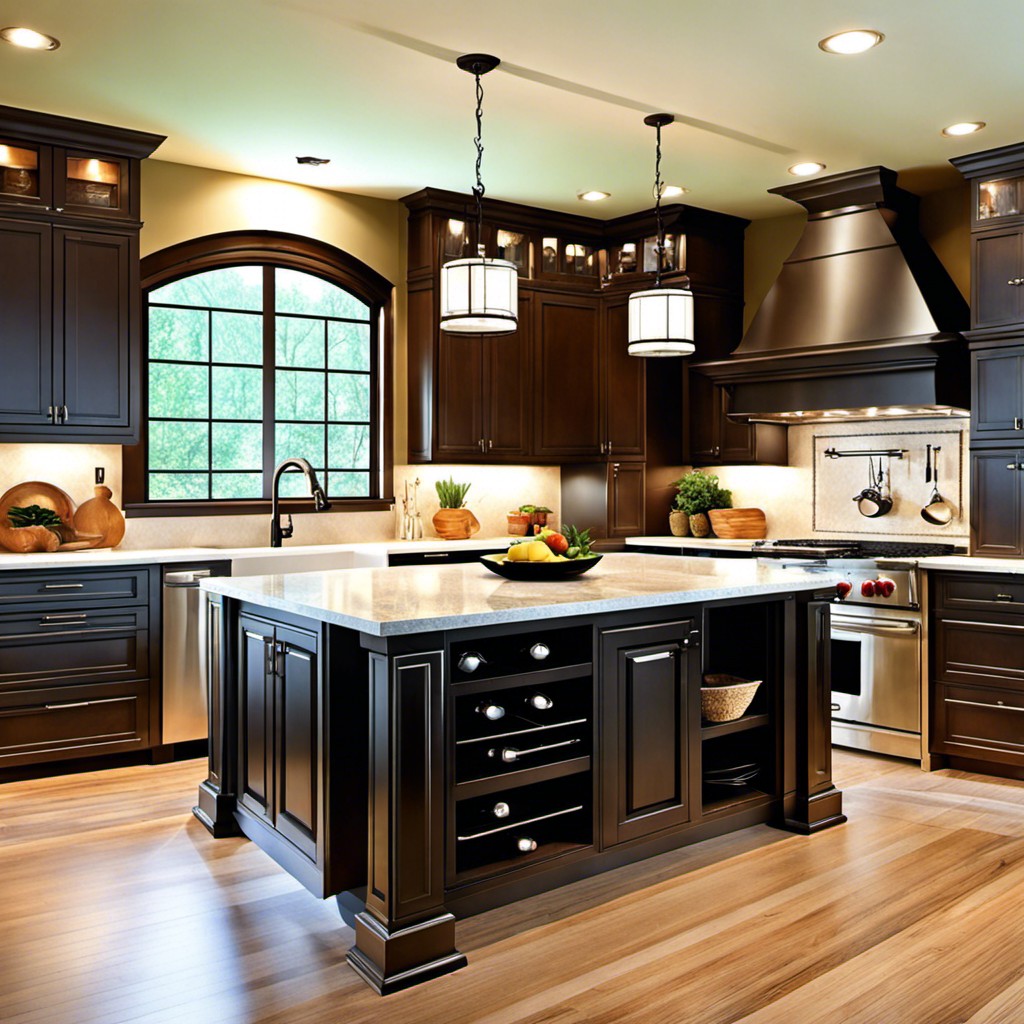 Unleashing the potential of versatility these type of islands serve various purposes. Often incorporating features of storage, dining, and food preparation, they turn the kitchen into a comfortable functional hub.
One end of the island can have drawers and shelves for cookware and utensils, while the other end could have a cozy breakfast nook. In addition, the countertop provides ample space for meal prepping, making it a favourite for home cooks.
Some designs even include built-in appliances like ovens, sinks, or dishwashers for convenient cooking and clean-up. By choosing a multipurpose island, you're ensuring that every square inch of your kitchen is utilized to its maximum potential.
Kitchen Islands Designed for Chefs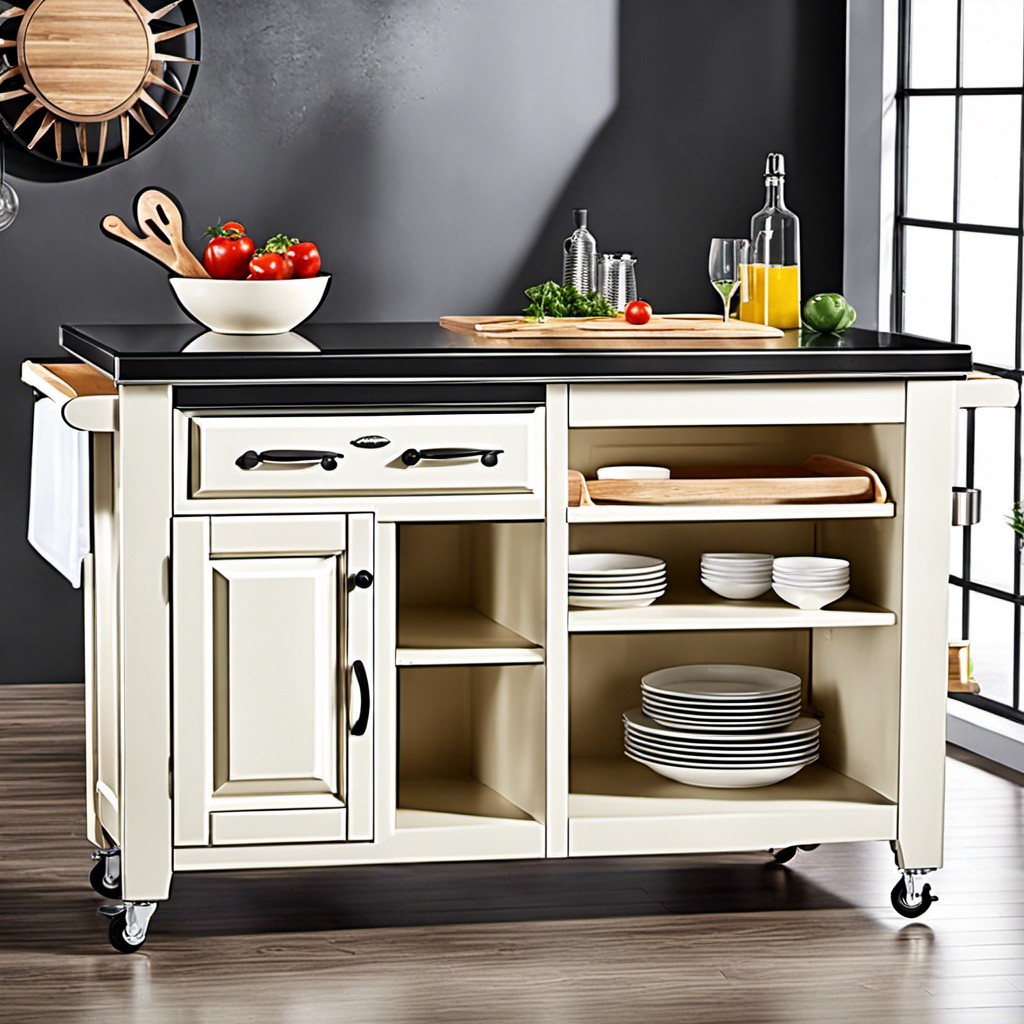 Incorporating elements of professional kitchens, these islands offer a range of features that cater to culinary enthusiasts. High-grade surfaces such as stainless steel or quartz give a nod to heavy-duty prep spaces and provide a sturdy foundation for heavy utensils. In-built storage for knives, spices, and appliances ensure each tool is within arm's reach.
They also often include features for waste management, like pull-out compartments for compost or recycling. One popular element is the integrated butcher block, which eliminates the need for a separate cutting board and brings an elevated aesthetic to your space.
A key aspect is functionality – think extra burners or a prep sink. By offering additional cooking stations, these islands allow for multitasking and make the cooking process less crowded. This type of kitchen island is definitively a step towards bringing professional kitchen aesthetics and operations into the home environment.
Kitchen Islands With Glass Countertops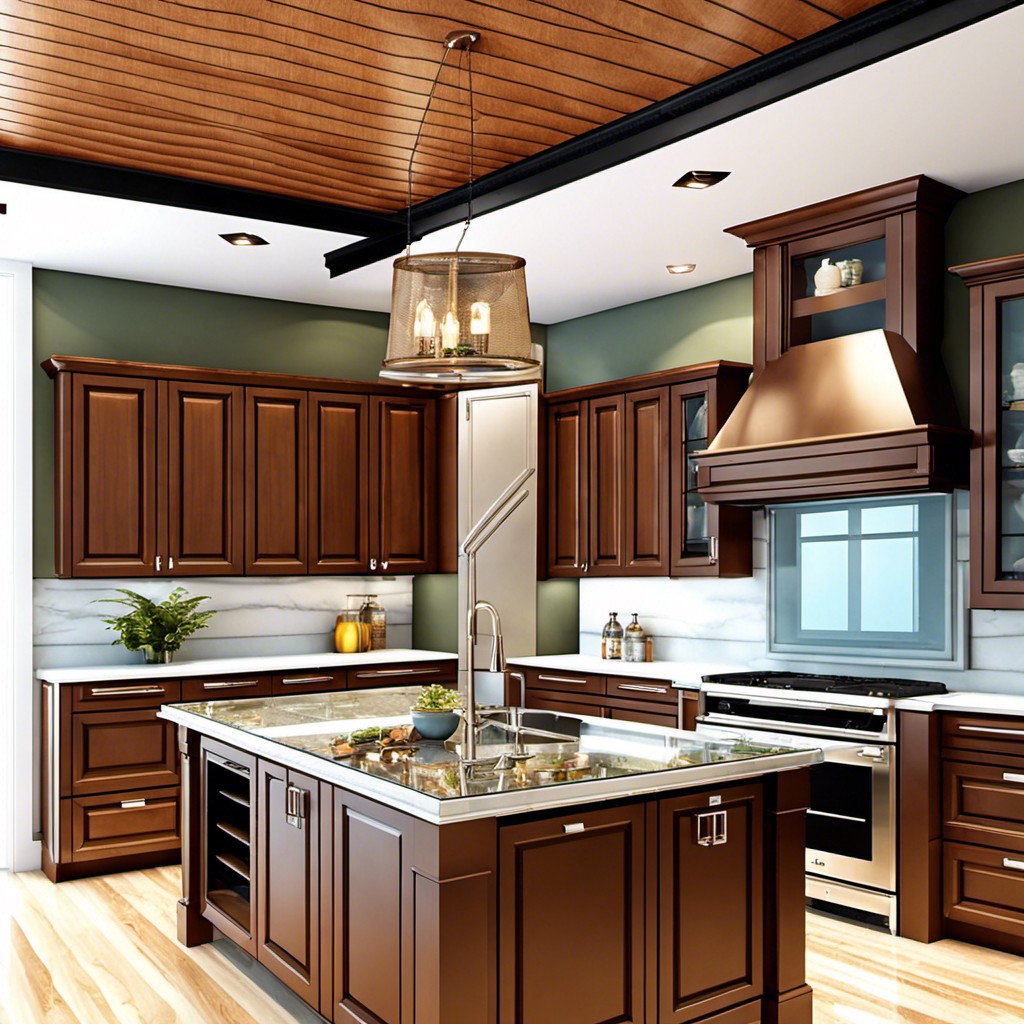 Opting for a glass countertop elevates the design aesthetics and also provides a sleek and modern feel. It's not only attractive but is also sensational to touch due to its smooth surface. Besides the visual appeal, it offers several practical advantages as well.
The material is non-porous which makes it resistant to stains and odors – a significant advantage in a kitchen setting. It can withstand heat well, so it's not a problem if you decide to place a hot pan directly on it. The smooth surface also makes for easy cleaning, keeping maintenance concerns in check.
If you're looking to inject some variety, you'll be pleased to know that glass countertops come in a multitude of colours. They can be back-painted to match the rest of your kitchen decor or left transparent for a visually light and airy feel. This implies that a glass countertop can blend with almost any kitchen style, from traditional to ultra-modern.
Lastly, glass countertops are environmentally friendly as they are often made from recycled glass, making them a fantastic choice for those looking to create a green home. This not only makes your island aesthetically appealing but also a symbol of your commitment to the environment.
Eco-friendly Bamboo Kitchen Islands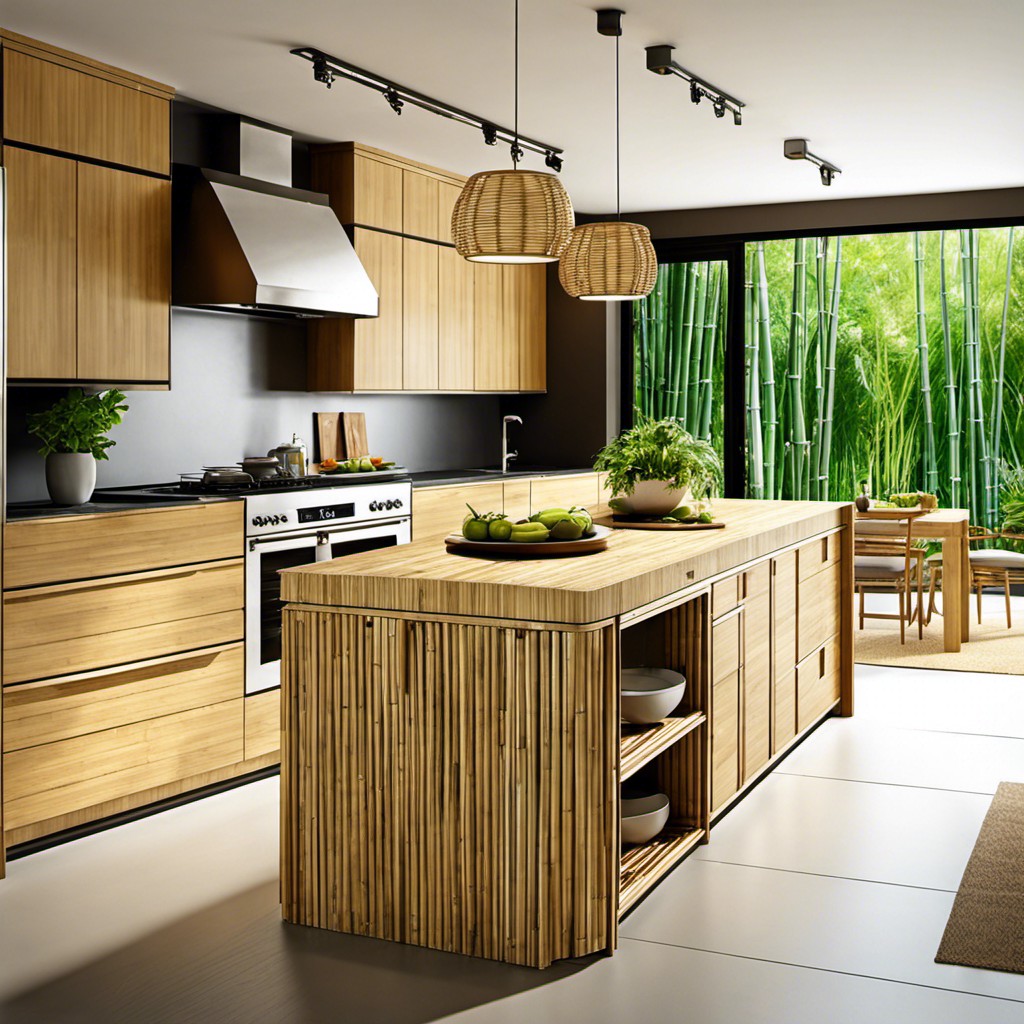 Bamboo, known for its durability and resistance to water, makes an excellent choice for kitchen islands. It's a renewable material; bamboo forests regenerate in just 4-5 years. This makes it an eco-friendly option for homeowners looking to minimize their environmental footprint.
A bamboo kitchen island can effortlessly blend both traditional and modern kitchen decor thanks to its neutral color and streamlined grain. Complementing it with stainless steel fixtures or a marble countertop can create a chic, contemporary look.
Moreover, it's naturally antimicrobial, adding an extra layer of hygiene in your kitchen where food is prepared and served. Its strength-to-weight ratio rivals that of steel, ensuring the longevity of your kitchen's center point.
Maintenance is quite straightforward – simply wipe clean with a damp cloth and mild detergent. Occasional application of mineral oil can enhance its natural shade and protect the surface. Remember to always use trivets or pads to avoid heat damage.
Kitchen Islands With Built-in Wine Rack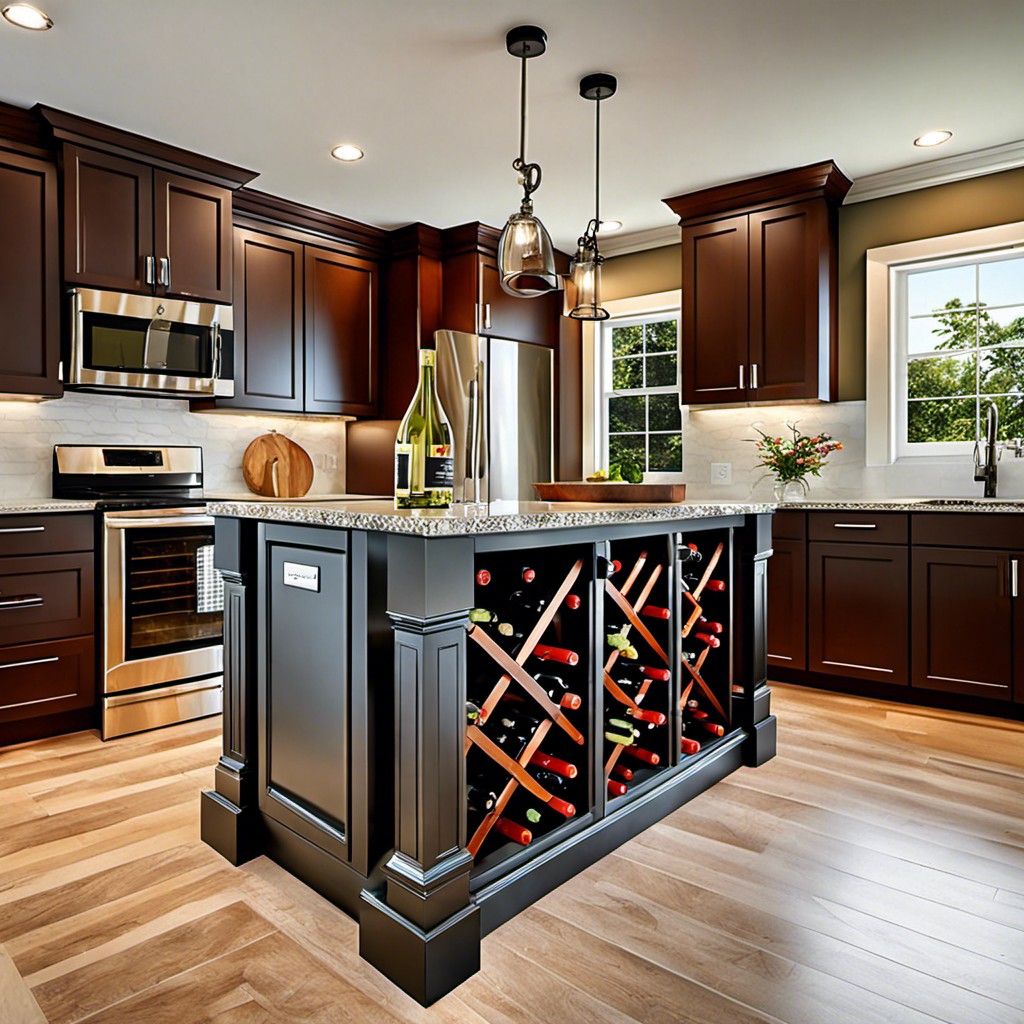 Accommodating wine enthusiasts, this style integrates a wine rack within the island design – a smart and chic solution for storage. By integrating your collection, you save space, keep bottles within reach and display your vintages stylishly.
Look for designs with vertical slots for proper bottle storage, ensuring the cork stays wet. For larger collections, consider units offering side-by-side racks.
When planning, remember the temperature-sensitive nature of wine and install away from heat sources. This will save your wine from spoiled flavors and wastage.
For visual appeal, a glass-fronted rack showcases your collection, while wood-fronted racks provide a subtle and traditional look. Metal accents add an industrial touch.
By selecting a style that corresponds with your kitchen design, the built-in rack provides both functional and aesthetic benefits.
Marble Top Kitchen Islands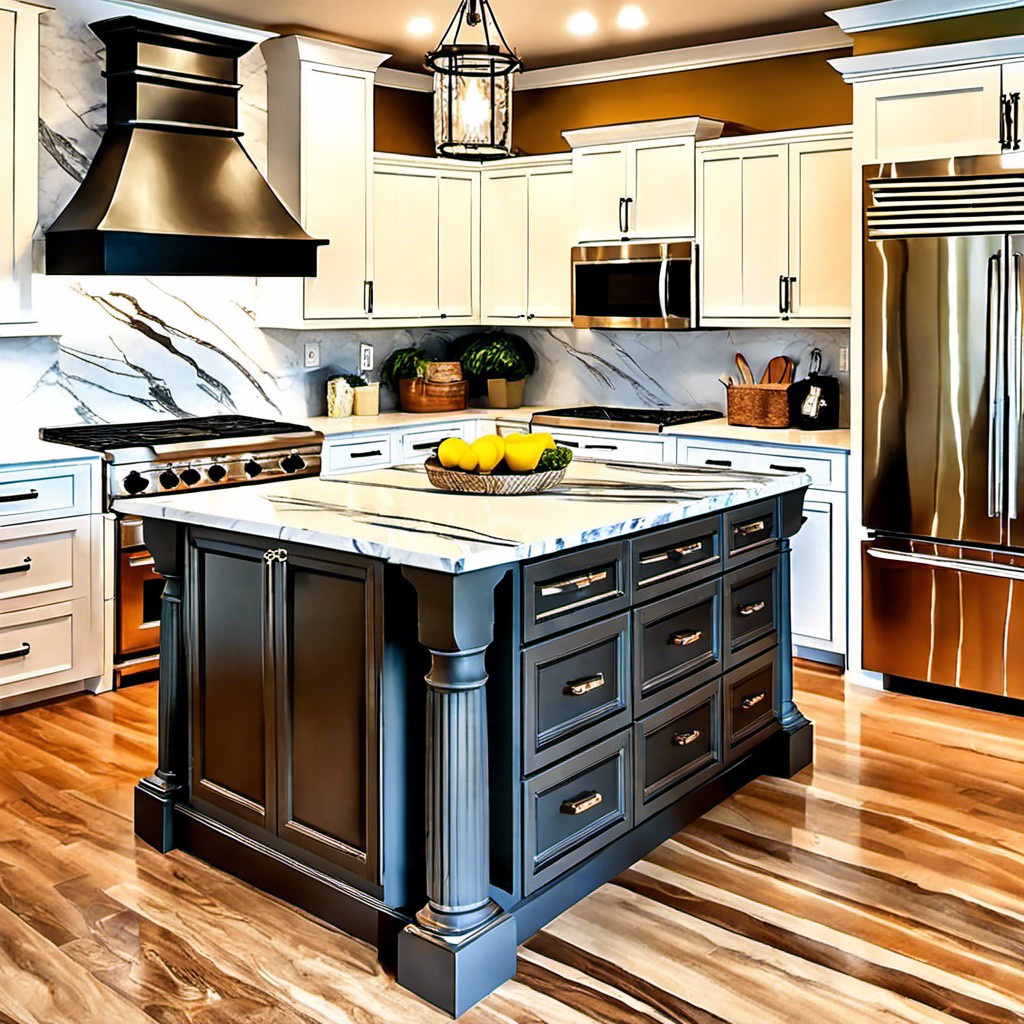 Marble, an elegant and versatile material, brings a luxurious touch to your kitchen island. The lustrous surface not only adds visual richness but also provides a durable and cool surface for preparing meals.
1. Luxury Aesthetics: With the unique veining patterns of marble, each piece commands attention and elevates your kitchen's aesthetic.
2. Versatility: Whether your kitchen leans traditional, contemporary, or somewhere in between, a marble-topped island is a classic addition.
3. Durability: Marble resists heat, allowing it to withstand warm pots and pans better than other common countertop materials.
4. Adaptability: Choose the perfect size and shape that fits your kitchen. Different edge styles can further influence the island's overall feel.
5. Maintenance: While marble requires sealing and careful cleaning to keep it pristine, it can last for decades when properly cared for.
Consider these points when selecting the optimal marble top for your own kitchen island.
Granite Top Kitchen Islands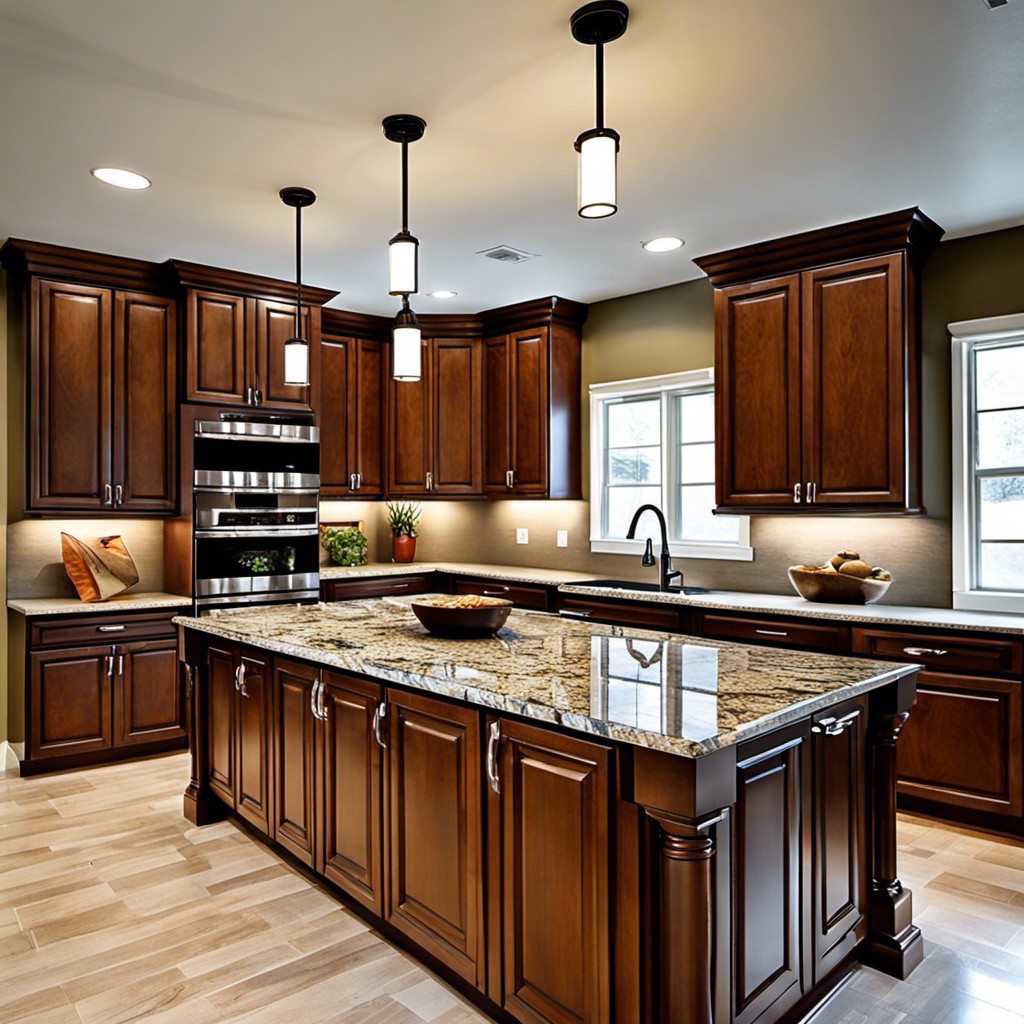 Exuding an air of sophistication and timeless appeal, a staple feature of granite top kitchen islands is their durability. As a naturally occurring stone, granite is incredibly resistant to heat, scratches, and stains, making it an ideal material for the kitchen environment.
A major asset of these islands is the unique pattern each one bears, no granite surface is identical. This ensures each kitchen island offers a distinct, almost bespoke character to the kitchen area.
They require minimal maintenance. Simply wipe down with mild soap and a soft cloth to maintain their glossy sheen. However, it's always a good idea to use coasters for acidic drinks like wine and coffee to avoid potential staining.
The granite top kitchen islands come in various colors and patterns, from light speckled whites and creams to deep blacks and baltic brown, offering flexibility in complementing various kitchen styles and cabinetry.
An important factor to consider is that these kitchen islands tend to be on the higher end of the price range due to granite's premium nature. However, the stunning aesthetic appeal and high functionality it offers can be worth the investment.
Steel Top Kitchen Islands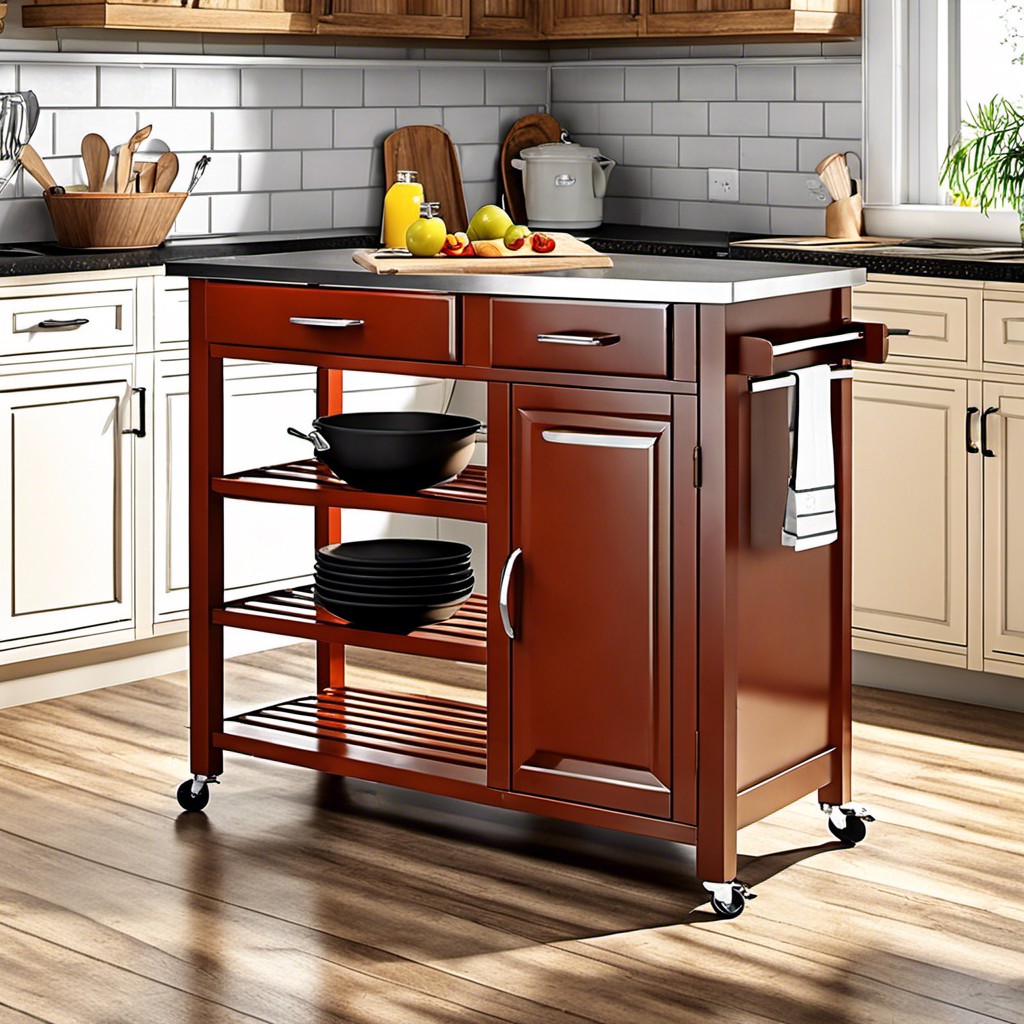 Featuring a very strong and sturdy surface, steel tops provide a modern, sleek look that matches well with a variety of kitchen designs. Their biggest advantage is undoubtedly their durability. Unlike granite and marble, steel can take a lot of abuse without scratches or cracks. Steel tops also boast exceptional heat resistance, meaning you can take a hot pan off the stove and put it directly on the surface without worry.
If you're a fan of baking, another great point is that steel tops are excellent for rolling out dough – they're cold and don't stick, giving you perfect results with minimal flour needed.
Additionally, the ease of maintenance is another selling point for steel. Simply use a mild detergent to clean the surface, and it's good as new. Hygienic and bacteria-resistant, they are fantastic option for cleanliness-conscious cooks.
However, bear in mind that steel surfaces can be noisier than their granite or solid wood counterparts. They can also show fingerprints and smudges more easily, but the trade-off can be worth it considering other benefits.
In terms of design aesthetics, steel top kitchen islands pair well with industrial and minimalist styles, but can also provide a striking contrast in a more traditional kitchen. Consider pairing with contrasting wooden cabinetry for a well-balanced, modern look.
Ideas Elsewhere
Continue reading: