Last updated on December 10, 2020
Can your kitchen knife cut tomato slices so thin they become see-through? No? You know you need the best sharpening stone for your kitchen knives.
Our top choice: Sharpal Dual Grit Diamond Sharpener
Who else finds thick tomato slices disgusting? They should be thin enough to be translucent! Same goes for the cucumbers. Needless to say, it's the blade of the kitchen knife that turns gross into a delicious delight.
Even if you don't care for slicing your veggies to paper thin bits, a sharp knife is the only right kind of knife. And you need the best sharpening stone to keep it that way.
Did you know that professional chefs spend on average 10 minutes to sharpen a blade on each side? It's not easy feat — the right technique and the right sharpener is a must.
Sounds tough? Not really — you only need to know these three things:
The grit required for the blade. It depends on how blunt it is and ranges 400 (or less) to 8,000 (and above). The higher the number the finer the grit. Blunt blades need lower grit number, while high grits are reserved for honing. Most sharpening stones prove multiple grit options.
The type of sharpener. It comes down to only two basic types – water or oil lubricated stones. Sharpening with a stone needs a lubricant, it can either be a special oil or simple water.
The sharpening technique. While it's straightforward, it takes time to get the hang of it.
So what on earth is the BEST sharpener stone then? There are a few more things to consider to get it right — the material (natural stone vs. manufactured), the grip, the base, the sharpening guides, the durability, the quality. We take all that into account.
It's quite an adventure discovering something as simple as a knife sharpener, it turns out. We had a lot of fun! Want to have fun too? Check out our picks with shopping links (we may get a commission for them if you purchase – no expense to you).
See if you can get your kitchen knife cut a hair in half in mid-air.
What's Inside
Whetstone Dual Sided Water Stone Sharpener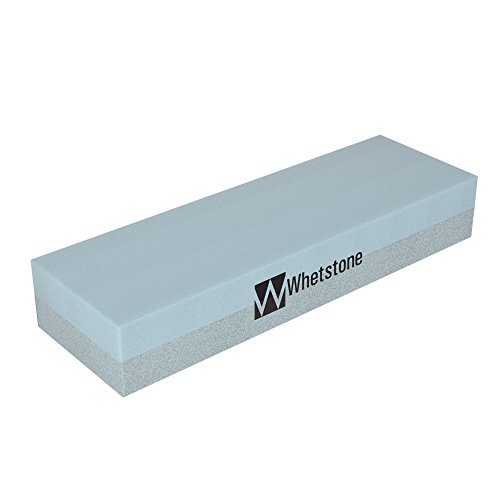 This whetstone sharpener is a good starting point, perfect for training, it works well. The 400/1000 grits tend to be accurate. The 400 is only if the blades have poor shape. Using the 1000 then stropping is enough to get it extra sharp. There is no booklet or anything else and the grains are not labeled — the darker part is 400, the lighter part is 1000 grit.
If you just use it on each side for a couple of minutes, the results won't be stellar. But if you take a hint of pro chefs and sharpen your knife for ten minutes on each side of this stone it will work just great.
Professional Sharpener Stones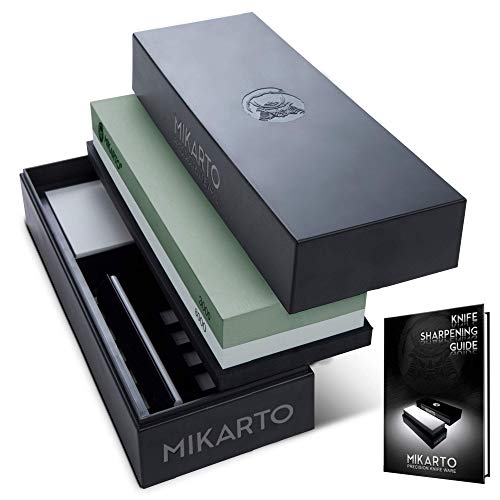 This stone is beautifully packed and while it could have a nicer bridge, the rubber gaskets are good for anyone to get started. The box is a high precision plastic, not a carton; over the entire thing there is just a carton sleeve, and once it comes off, consistency is seen in every aspect.
The instructions in plain English are simple, detailed, and not a bad translation which leaves a person scratching his head. Not only is the two-sided waterstone color-coded, but it is also numbered very clearly on the side (3000 or 8000 grit). There is a cast urethane slide that cradles either side of the stones, prevents tearing, and provides an extremely handy non-slip surface if used on a workbench or countertop. You can remove the sleeve from the hand you are using and leave the other one on.
We would say this is closer to 2k/5k grit, but it's a lovely stone and it has lovely reviews. Consider this one if you are looking for a value finishing sharpener.
Sharpal Dual Grit Diamond Sharpener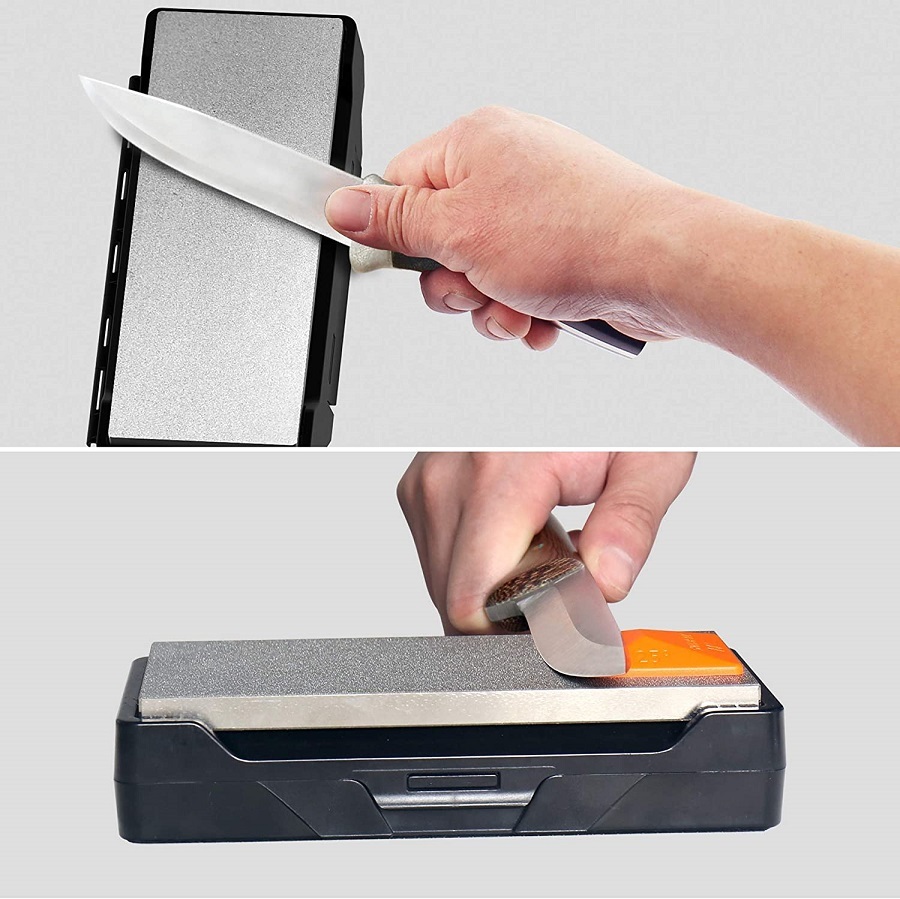 It's a beast to sharpen your knives! It won't dish out anything like ordinary whetstones (no flattening need). No fancy whetstone holders are required (it's rigid). This thing will not come about at all when you sharpen. This is because of the heavy metal weight and outstanding rubber padding below.
It has a very useful sharpening guide for consistent angle sharpening, perhaps the main factor for sharpening. Very handy grits for sharpening. Efficient sharpening is around 1000 grains, 300 when broken. That's what this whetstone does. Excellent emphasis on sharpening.
Sharp Pebble Stone Set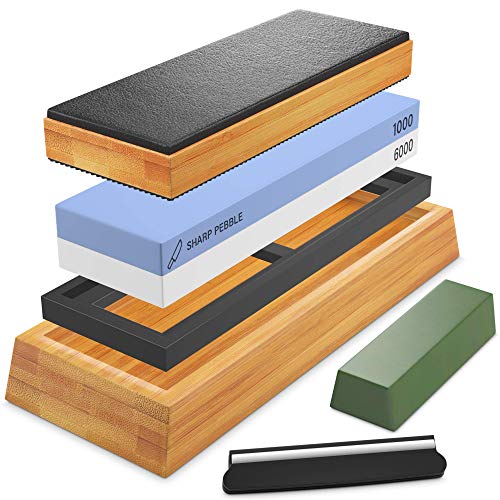 Notably, this package does not come with a flattening block, which you must hold straight. For especially challenging reprofiling activities, you may look to have 400 grit stone, but the usual needs are 1000 and 6000. This set provides the complete sharpening package for all stages of sharpening and honing a blade.
You'll have a pretty good edge on your knives with some practice. You may use the angle guide included if you think the knives on which you work will benefit from it.
There are couple of reports on the difficulties of fitting the stone to its rubber shoe and base. Although it takes very little fiddling, you shouldn't really have any trouble with it. The rubber under the base of the stone and the leather is not especially influential, but you shouldn't push it too hard to slip around.
The leather strop seems to work pretty well with the finishing touches. The used leather feels a little harder.
Sharp Pebble Waterstone
If you do not know how to sharpen a knife, this is a very good introduction because of the angle guide, and whetstones are much easier than a sharpening stand, so this is what you should get. If you're on the fence about sharpening your knives, you do need it. Get one, and it will make cooking much easier and honestly much better, as a knife is likely to slip off something you are trying to cut (and it's much less so if the knife is sharp enough to cut instead of sliding.)
Whetstone Sharpener for Safe Honing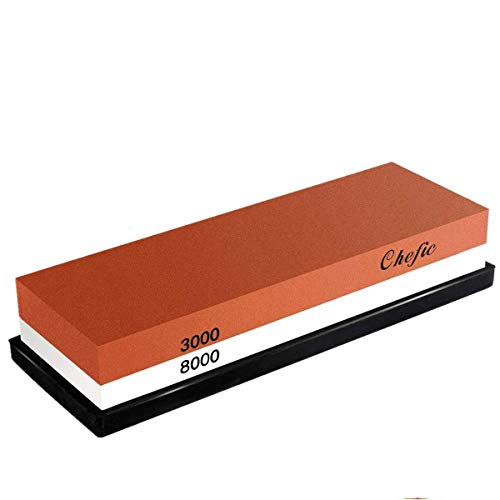 You will enjoy this stone's 3000 side. It is enough to sharpen at a reasonable pace, and is high enough to start polishing. 8000 grain is very high, and for 99% of knives it is not really required, but it's good to have it and I use it for stropping before you move on to your leather strop. The 3000 grain will eventually become your favorite grain for knives that are not in rough shape.
Knife Sharpening Whetstone Set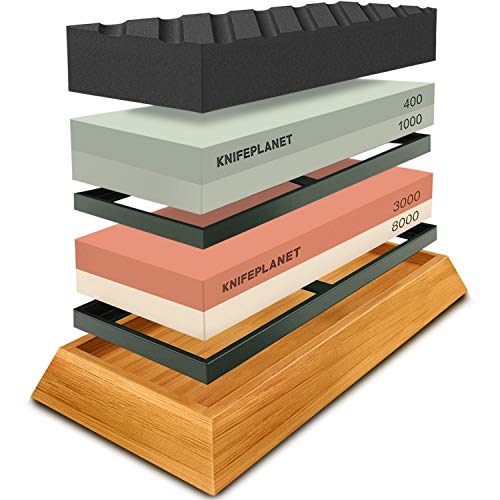 You can sharpen any knife to such a degree that it can cut through newspapers once you have the technique that works for you. Make sure you count the number of times you move the stone on one hand and do the same amount on the other.
What you should normally do is if you know that the knife is really dull or chipped, use 400 grain to make 100 passes on each side. Test the blade on thick paper and a newspaper. Do another 50 passes on either side if it doesn't break through the newspaper. Repeat until the blade can cut the newspaper. Afterward, make 50 passes on each side on the 1000/3000 grit and then the 8000 stone. This should smooth the blade down and polish it.
Get a strop or piece of leather to polish the blade further. The only thing we don't like about this is that this kit isn't supplied with a dressing block, so you can flatten the stone after using it.
Diamond Whetstones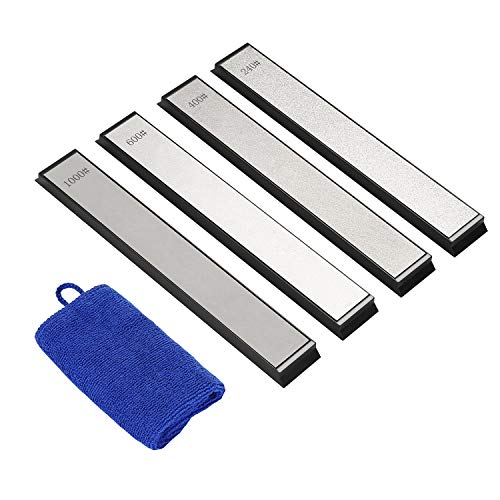 These are truly powerful. After some people use the 240 grit stone begins to lose its rigid feeling. It is also much more aggressive than the other stones so look out for it on your blade. Make sure that the stones are labeled with their grain to keep track of which is what grit.
Arkansas Sharpening Oil Stone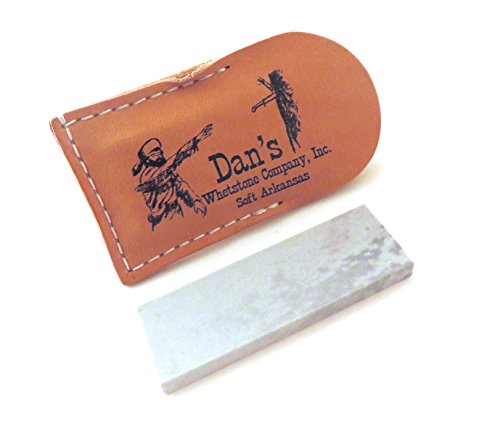 It's very small. It's a kind of smaller and cheaper stone to try before you pay for a bigger one.
Some people swear to never go back to the plastic stones except to put a new bevel on blades that have absolutely lost their edge. A little Lansky oil, some experience, a steady hand, and in no time, you will be proud of your new blade.
Shapton Kuromaku Fine Sharpening Stone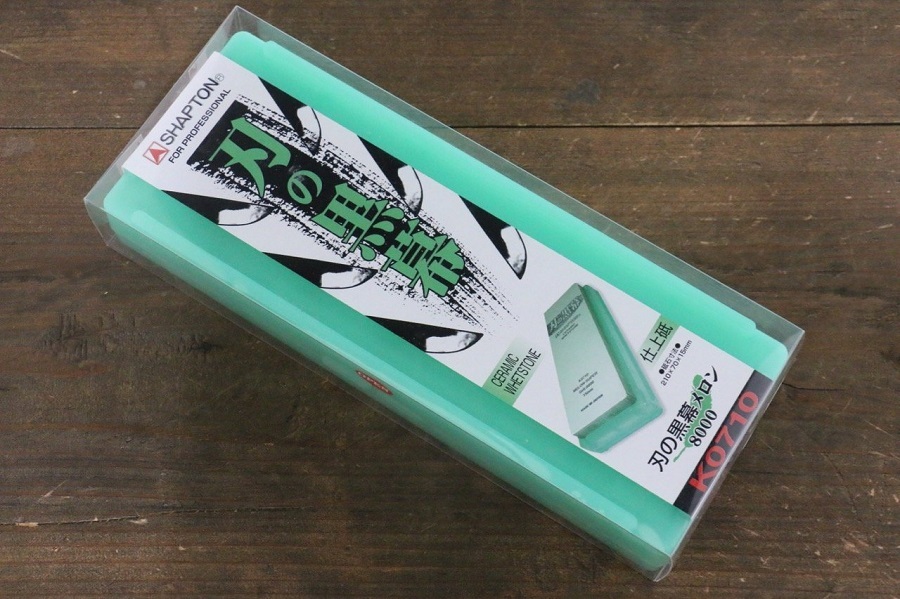 This stone does not have to be soaked. Only sprinkle a little water as you sharpen. Never soak stones in the water of 3000 grains or more. Let the stone dry thoroughly after use. Shapton Japanese water stones manufacturer in Nabatame, Tochigi, are renowned for their sturdy and tough sharpening ability.
Continue reading:
Disclosure: As an Amazon Associate we earn from qualifying purchases.