Last updated on March 25, 2021
Looking for extra storage in your kitchen or dining room with decor value? These are the best sideboards and buffets that will give you everything you want.
Which one is the best? It's this stackable sideboard buffet.
More storage in the kitchen and dining room is always a premium. And you can use the floor and wall space efficiently. That's why sideboards and buffets are so popular. It's your cabinet addon without having to renovate the counters.
While there are some differences between the traditional style buffets and sideboard cabinets, we've bundled them up because they serve the same purpose in the kitchen. You can choose the way you learn more — serving or storage.
Without further ado, here are our best picks. We've included the shopping links for you (they earn us a commission and cost you nothing extra.)
What's Inside
Go2buy Antique White Stackable Sideboard Buffet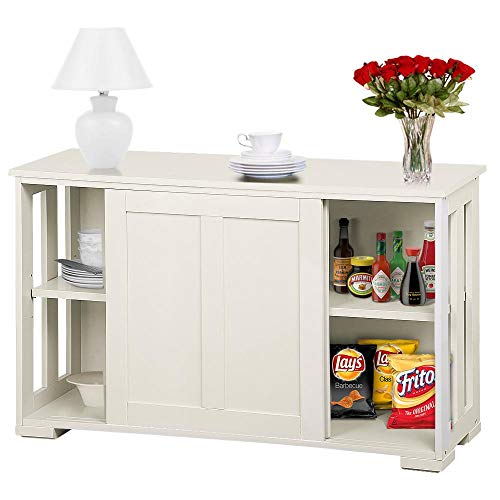 This product is our editor's choice.
This sideboard has a minimalist design that will complement a variety of different styles and tastes. An all-white finish allows you to match it with other pieces easily. Shaker-style doors have both functional and aesthetic value, offering the user two storage spaces while also adding visual interest to space. Keep your items safe inside, as there are two shelves and a sliding door to cover storage.
Quick facts:
Shaker style.
Two large shelves and sliding doors.
Stackable units.
Made of natural wood.
HOMECHO Sideboard Storage Cabinet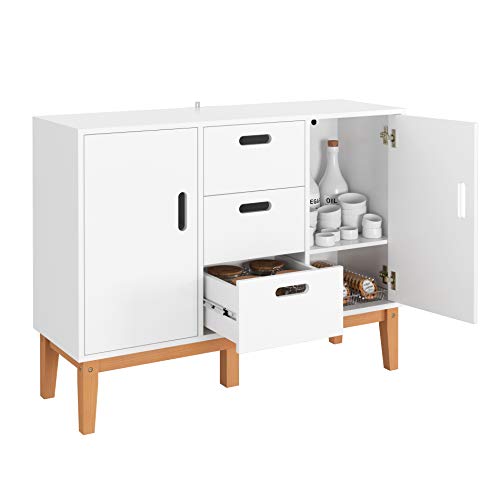 This white storage sideboard cabinet features a lacquer finish and a smooth surface that is durable and scratch-resistant. It provides a spacious tabletop for you to store daily necessities, tableware, products, and everything else. It has two closed cabinets and three large drawers to keep things organized within your home.
Quick facts:
Lacquered MDF board.
Modern white design.
2 cabinets and 3 drawers.
VASAGLE Storage Sideboard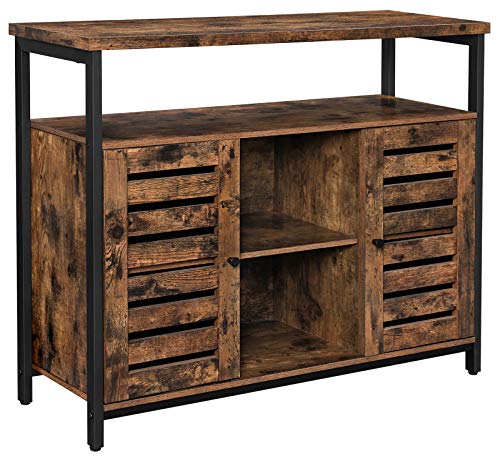 Add an industrial, rustic feel to your kitchen with this charming storage cabinet. With a large tabletop, a shelf underneath, 2 open compartments, and 2 shelves that are hidden behind two classic louvered doors, you'd have plenty of space for decoration and kitchenware.
Quick facts:
Made of particle board and iron frame.
Rustic industrial style with louvered doors.
1 open shelf (two compartments) and 2 closed shelves.
Costzon Kitchen Storage Sideboard and Dining Buffet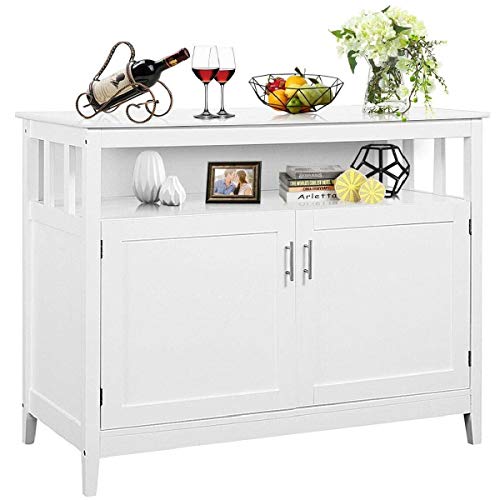 Made with real pine wood and MDF, this Costzon cabinet is super durable and won't deform after years of use. It has two large doors that open easily, giving you easy access to all of your stuff. The bottom layer has storage space for baskets of essentials — or other stuff — and the top layer has a shelf where you can put items for display.
Quick facts:
Made of MDF and natural pine.
One open shelf and two compartments behind closed doors.
Shaker style cabinet.
Giantex Buffet Server Sideboard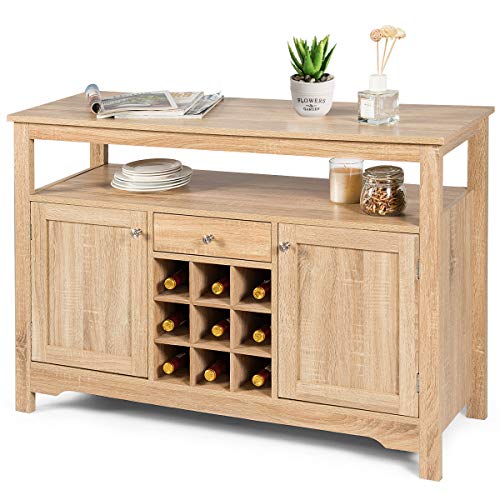 Spacious storage solutions are necessary for everyday use. Wide tabletop and open shelf lend themselves to storing crucial items and daily necessities. The open frame is also ideal for some display purposes. A convenient utility drawer alongside two bottom cabinets helps you organize everyday cutlery, dinnerware, and snacks. And don't forget about that wine grid! It's perfect for storing wine bottles. It's stunningly beautiful, with the only drawback that it's hard to put together.
Quick facts:
Made of engineered wood and iron frame.
One open shelf, 2 cabinets, a small drawer, and a wine grid.
Shaker style look in natural finish.
Walker Edison Mid-Century Modern Sideboard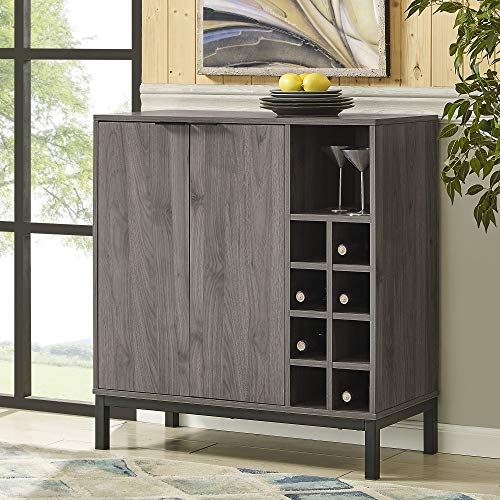 Put this modern buffet cabinet in your home for added storage and style. It features 8-bottle wine storage as well as open storage cubby and three rows of glass hangers. The sturdy piece is made from high-grade metal and MDF and has a beautiful powder-coated frame exterior.
Quick facts:
Made of MDF (wood veneer).
Two-compartment fixed shelf behind doors, 8-cubby wine rack, a shelf for glassware.
Mid-century modern finish.
Giantex Rustic Buffet Sideboard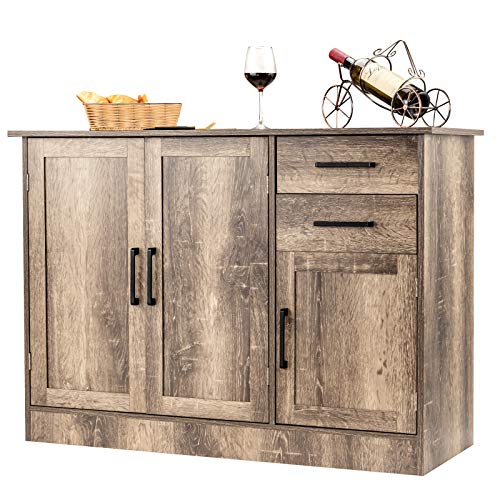 This large storage cabinet is constructed of high-quality MDF in rustic finish and reinforced shelf support to prevent the sideboard from directly touching the floor. Its smooth, elegant finish enables it to stay looking fresh for long time (classic shaker style). The design gives you enough room to organize your cutlery, utensils, and plates. It includes two cabinets and two drawers for storage.
Quick facts:
2 drawers and 2 closed cabinets.
Made of MDF.
Shaker style in rustic wood finish.
Walker Edison Wood Accent Buffet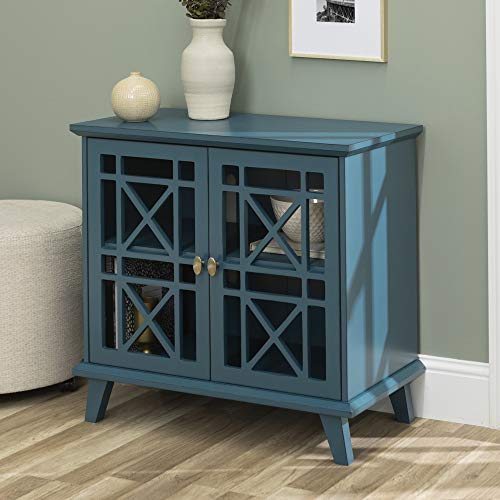 This decorative accent sideboard with a unique fretwork door design is made of solid wood for a classic look and a high-grade MDF veneer that improves durability. It features an adjustable open shelf that can hold your display items and decor. This unit is a combination of practical and ornamental for a beautiful accent and useful storage in your home.
Quick facts:
Made of wood and MDF.
2-compartment shelf behind fretwork doors.
Small accent cabinet.
Home Styles Buffet
This buffet has 3 utility drawers, 2 wood framed cabinet doors with an adjustable shelf, and a center storage area for storing wine. The entire unit features brushed steel hardware.
Quick facts:
3 drawers, 2 cabinets, wine cubby.
Solid wood top in butcher block style.
Brushed steel hardware.
Kings Brand Buffet Server Sideboard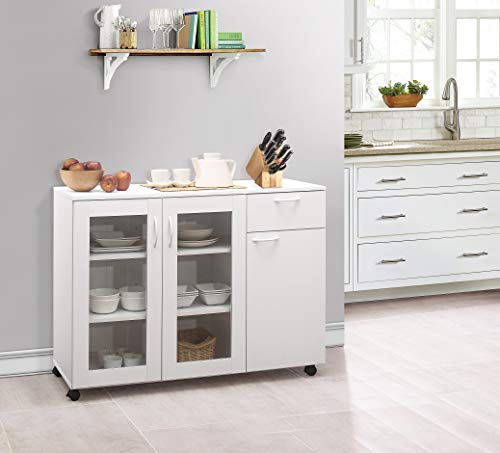 This sideboard buffet is perfect for your kitchen. It has lots of space with its wide surface area, drawer, and two cabinets. Its glass doors give it a touch of class, while its versatile white finish goes with any decor. Since it has wheels, you can move it around quickly. It is definitely beautiful, sturdy, and has a lot of storage.
Quick facts:
Made of wood with glass doors. The unit is on caster wheels.
One closed cabinet, three shelves behind glass doors, and a drawer.
Contemporary style.
FAQ
What is the difference between a sideboard and a buffet?
Opinions vary as it's essentially the same piece of furniture. We differential between the buffet and sideboard by its purpose. Sideboards are mainly used for storage while buffets are used for serving.
Whats the difference between a credenza and a buffet
The main difference between a credenza and a buffet (or sideboard) is that the former is a simple storage unit with shelves, whereas a buffet may have cabinets and wine racks.
How do I choose a sideboard?
To choose a sideboard, think about the purpose and space available in your room. Are you going to use it for storage, serving, or decor? Think about how it will integrate in your interior and other furniture. A well-chosen sideboard will not only give you more storage but make a decor accent too.
Continue reading:
Disclosure: As an Amazon Associate we earn from qualifying purchases.