Last updated on May 6, 2021
Looking for the best pot and pan organizer for your kitchen? These top 10 options will help you save space and organize your kitchen better. Read on!
The best rack: this adjustable pot rack.
If you had a large kitchen with ample roomy cabinets, you wouldn't be thinking about a pot and pan organizer. But maybe you should? Finding and getting a pot or a pan from a dedicated rack is much easier and faster than looking for one in a cluttered cabinet (if you can remember where you put it in the first place.)
In a small kitchen, a pot and pan rack might be the device you've been missing all along. It helps you save a lot of space and make your pots and pans easily accessible. In some cases, they can make display shelves too. This gives you all the more reason to be interested in getting a dedicated rack for your kitchen (regardless if it's small or large.)
What to look for in the best pot and pan organizer? We suggest having a look at your inventory first. Consider what cookware you have, what's its dimensions — these things will determine what type of rack you will need. Then consider the space where you will set it up — countertop, wall, cabinets, or even the ceiling. Here's what to look for:
Adjustable racks.
Hooks for hanging pots and pans.
Shelves for pots and lids.
Weight capacity.
Decorative accents.
Not every product will tick all the boxes, and that's ok. Every person's needs are different. But we can make an objective choice (check out our editor's choice below).
We have included links that you will like. They earn us a commission at no expense to you.
What's Inside
Adjustable Height Pot Rack Organizer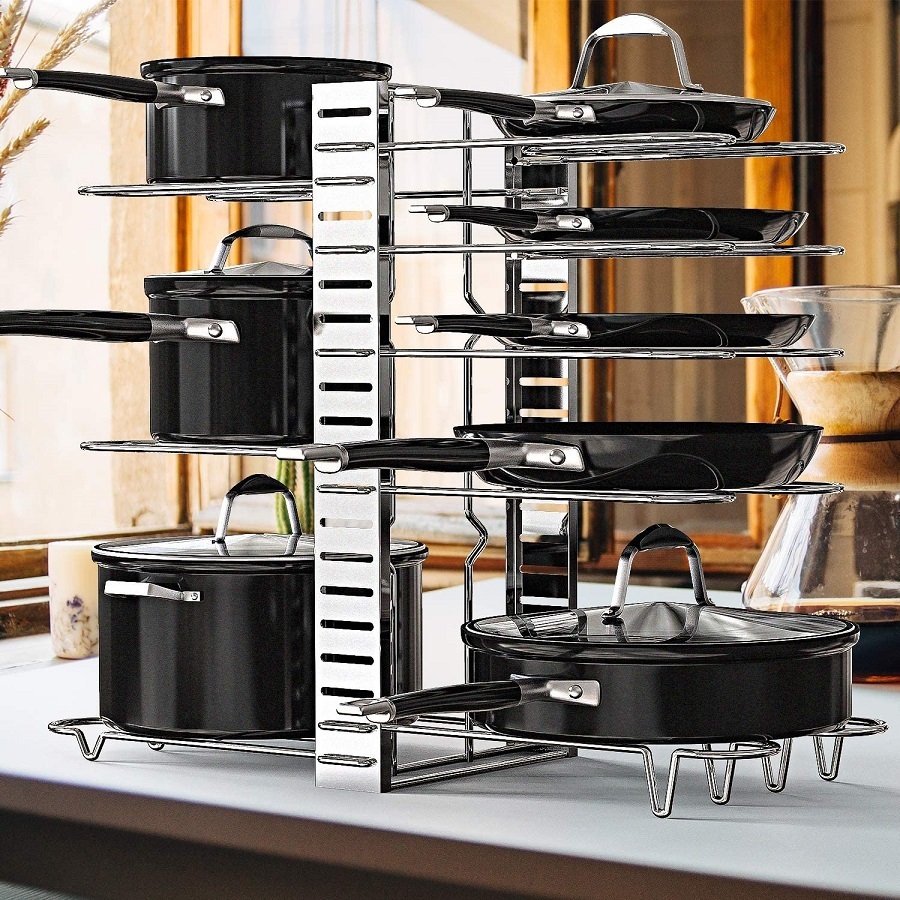 This is our editor's choice.
Great for: storing pots and pans in cabinets or on the countertop.
The GeekDigg Pot Rack is one of the best-selling kitchen organizers on Amazon. You can put every pot and pan you have onto the rack, making a great (but cheap) decoration piece sitting up high on your cupboards. No tools are necessary for installation due to the easy assemble instructions. Some complaints say the welds on the pots make some of them difficult to put on.
So this is a robust, attractive, versatile pot and pan organizer made by heavy-duty iron. This product is perfect if you have limited space for cookware because it saves you lots of room on your cabinets because the pot rack could hold up to 9 individual pots or pans in 8 adjustable tiers.
Pros:
Made of iron.
3 ways to install it.
Up to 9 pots and pans.
8 adjustable height tiers.
Cons:
Sags with heavier weight.
Not fit for larger pans.
Adjustable Pan Organizer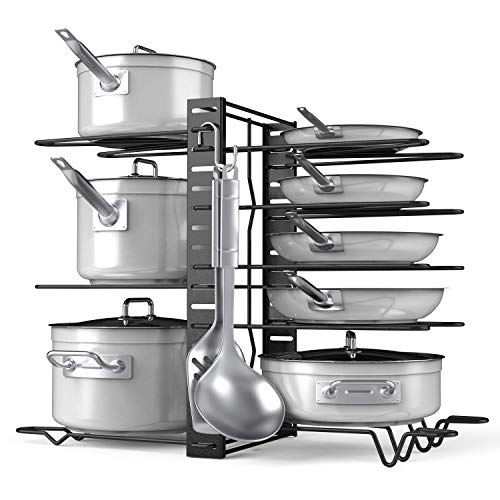 Great for: storing pans and pots on the countertop.
We found this pot and pan organizer to be a an easy way to organize the pans. We like that the dividers in this pan and pot organizer are adjustable. The instructions with how to adjust the divider sizes are included but many customers preferred doing it by eye or as needed when no similarly sized pans are used right side to side, increasing or decreasing handles clearance for thicker handles.
You will be able to fit eight pots plus the various sizes of utensils when done with four racks spaced out evenly side-by-side on one rack because of its vertical orientation. The dividers come with three height settings.
This pot and pan organizer is excellent for holding pans in the kitchen. There are 8 adjustable tiers, and 6 S-shaped hooks included can secure pot lids securely on the tier. Anyone looking to create kitchen space should consider purchasing this cabinet organizer because it can help stop pots from cluttering your countertop.
Pros:
3 ways to assemble it.
8 tiers for 8 pots and pans.
Hooks for utensils.
Cons:
Not for cast iron pots and pans.
Some pans can slide off.
Hanging Pot Rack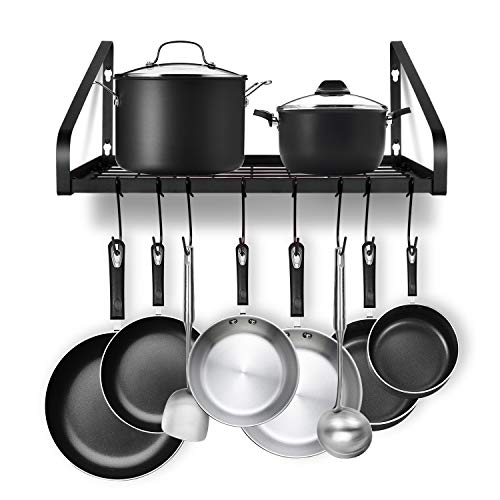 Great for:
The G-TING Pot and Pan Organizer are made from thick iron that allows you to store things such as pans, baskets, and other kitchen props. It has a total of eight hooks for storage of these types of utensils. This product is durable because it's made of iron with some coatings to protect it against wear and tear. However, it might be hard to clean the material, which might malfunction sooner than expected because of struggles with getting rid of food particles stuck in the coating.
This pot and pan organizer comprises hand-made welding, with a weight capacity of 35 pounds and the size dimensions being 17 inches x 12.2inch x 7 Inches. With relatively low price, this pot and pan holder hangs neatly under a cabinet ledge for convenient storage. Made of strong wrought iron, it is safe to use and durable with 8 adjustable clips so that pans without lids can be hung too if desired as their size will not pose much of an obvious hindrance in hanging spacing distance from accompanying pots on the rack.
Pros:
Made of durable iron.
A shelf with 8 hooks for pans.
2 installation options.
Wall mounted rack.
Cons:
Confusing instructions.
Hanging pans prop up against the wall.
Kitchen Cabinet Pantry Pan Rack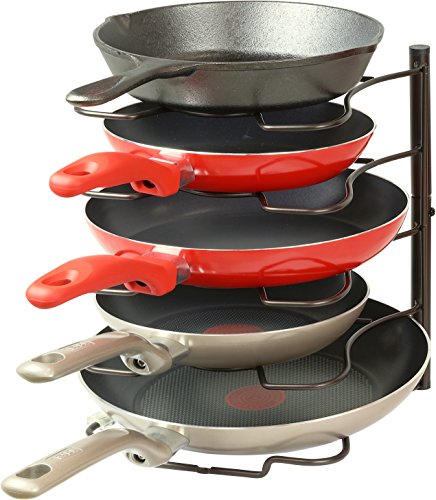 Great for: stacking pans in small cabinets.
This is a pot lid and pan organizer containing 5 pans (or pot lids). It is made in a bronze finish, so it's unlikely to rust. The height of the compartments is about 3 inches, enough space for pot lids or other items no larger than a pan. This pantry organizer has various installation positions (vertical or horizontal), making it simple to install, which means less time spent on putting this item together while at home from retailer purchase.
The SimpleHouseware Kitchen Cabinet Pantry Pan and Pot Lid Organizer are among the best kitchen aids we have seen in a long time because it stores pots and pans in such an ingenious design frees up space in cabinets and on countertops. It can be put into a vertical or horizontal position when installed without any trouble. This versatile pot organizer may be mounted to walls with screws for permanency or use cabinets with slide-outs.
Pros:
Stores up to 5 pans or lids.
Bronze finish.
Vertical or horizontal position.
Cons:
Can be screwed in position only vertically.
Doesn't fit deep pans.
Wall Mounted Pot and Pan Rack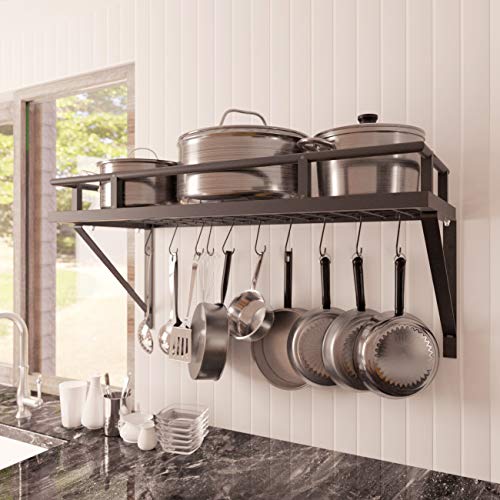 Great for: small kitchens.
This pot and pan organizer is great for a small kitchen where space can be hard to come by. It can hold up to 44 pounds of weight on the hooks at once and includes 12 hooks and two sets of mounting hardware that is easy to install into both drywall or a solid concrete wall. The main shelf has a lot of space, which would make organizing all your pots and pans on one single surface more efficient. It is made from durable metal in a matte black finish, making the rack strong and rust-free. These special features make this product great for storing pots, pans, dishes, or bowls.
The most important part of this product is that it's easy to assemble as described in the instructions. All that needs to be done before starting the installation process is taking measurements. We would recommend utilizing this rack if kitchen space is limited.
Pros:
Matte black finish.
Sturdy construction.
Holds pots and pans on hooks.
Can withhold 44 lbs.
Cons:
Cheap nuts and bolts included.
Included anchors are for concrete only (you need to get them for drywall if you need).
Two racks aren't identical so you can't fully match them if you want to use multiples.
Kitchen Pot and Pan Organizer Set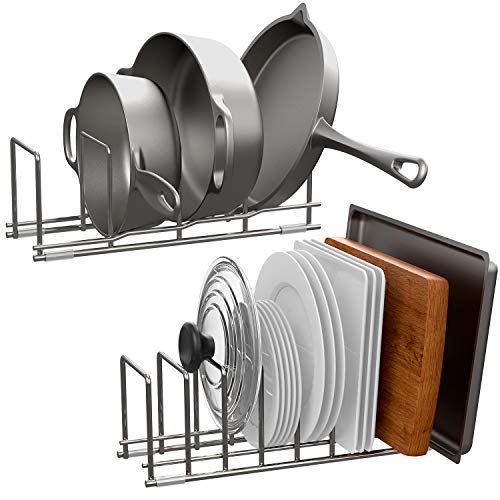 Great for: cabinets and deep drawers.
This is a pot and pan organizer set of two racks, each rack with 12 pockets for lids, plates, etc. It is made of metal and has non-slip silicon at the bottom to keep it stable on any surface. The racks are designed to be easy to use by sliding out one item easily without bothering another in that compartment or knocking items together manually which can cause scratching on surfaces it housed in other compartments.
It is made of steel with a silver finish. This product, intended for home use or light-duty commercial use, organizes racks in a storage closet or kitchen cabinets. It saves space and time, with it only needing to be doused with water and wiped clean every so often. It can hold thicker pans, plates, and cutting boards too.
Pros:
12 compartments.
Silver finish.
Set of two racks.
Cons:
Wall Mount Pot Pan Rack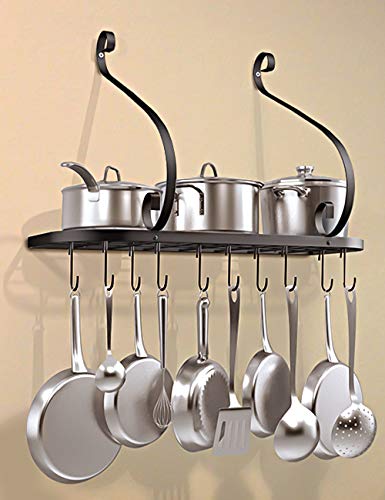 Great for: adding extra storage space for pots and pans.
The Vdomus Wall Mount Pot Hanger is an interesting pan organizer. It is made of hot-rolled steel and can comfortably hold up to 10 pots and pans of various sizes, making it a space-worthy investment for anyone with a busy kitchen. It is made of durable materials, and it stores many pots in one place, reduces clutter from being spread around on countertops.
With 10 hooks made of durable wire in an asymmetrical design, there's enough space to hang a number of cooking utensils and pots without taking up too much space. The simplicity also lends its wall mount to match any kind of interior decor, and it can be mounted at different heights on the wall which is nice layout flexibility as well. Aesthetically, this rack is a winner because it not only accents whatever style it's mounted on but it does so with a maximum of 24″ long by 10″ wide by 15″ high storage capacity.
Pros:
A shelf for pots.
10 hooks for pans.
Two ways to install it.
Made of durable hot-rolled steel.
Cons:
Vague directions — you need more tools than it says.
Light-duty.
Ceiling Pot and Pan Rack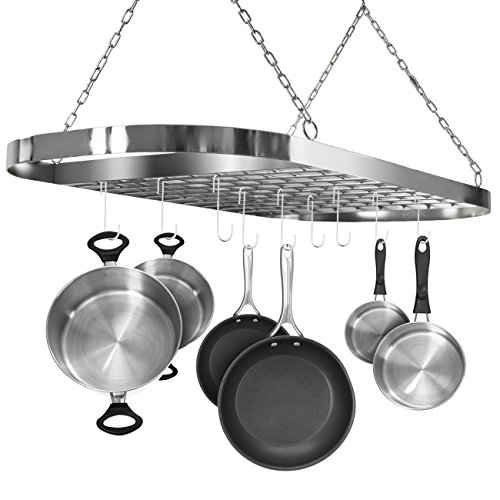 Great for: ceiling mount rack.
The Sorbus Pot and Pan Rack for the ceiling is used to store, organize, and clean pots, pans, utensils, cookbooks, bakeware, plants in a compact modern style. You can use the rack against a kitchen wall or on the ceiling. This compact space is the best way to save time and energy searching for necessary items. Organizes pots/pans/utensils providing easy access. Secures hooks when not in use, so they do not touch each other. You may rearrange hooks as well.
Pros:
You can install it from the ceiling.
10 hooks.
Chrome finish.
Cons:
Need to hang pots and pans balanced so it doesn't tilt.
Pegboard Organizer for Pots and Pans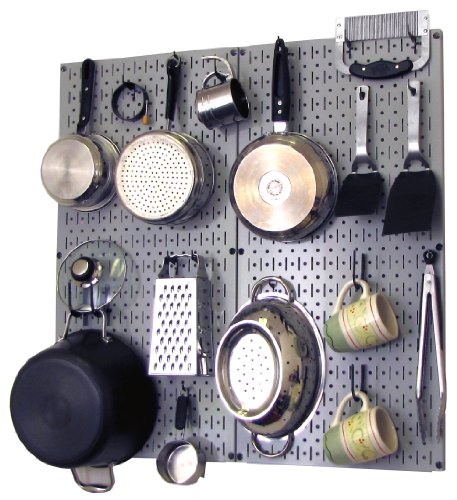 Great for: wall rack in small kitchens.
Since it can be mounted on the wall, many people who don't have a lot of room in their house often buy this product since they can save space and use that for other purposes. The rack will hold all the pots and pans you'll need, and it makes cutting down cleaning time. On the flip side, it's maybe challenging to figure out how many pots or pans can fit on the board and how much room is left for any other things. It could not be compatible with certain types of pots or pans because they won't work on it no matter what.
Pros:
Magnetic pegboard.
1/4" pegs.
Cons:
Won't fit heavier pots and pans.
2-tiered Wall Mounted Pot Rack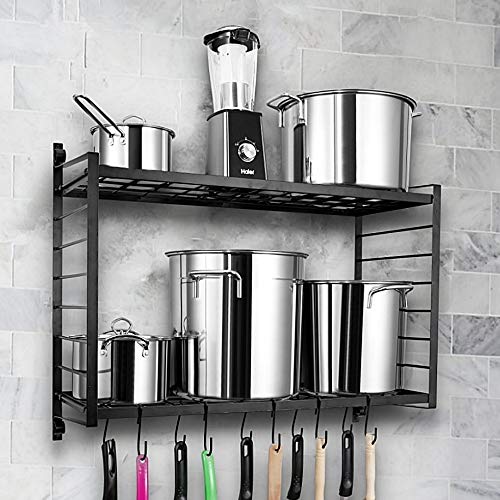 Great for: storage and display of kitchen utensils.
This double-tiered pot and pan organizer is perfect for storing large pots and pans while displaying keepsakes, decor, and much more. The rack mounts pleasantly on the wall using the enclosed mounting hardware, which leaves your sink area free or use while still getting ample versatile storage. This thing can handle up to 60 pounds. It measures a manageable 30 inches long by 12 inches wide by 25 inches high, so it can easily be switched from being a pot and pan organizer to an oven mitt holder if you ever so desired.
The BestVida Pot and Pan Organizer are a simple yet elegant way to store your large pots and pans. There are two removable trays that you can use for various purposes — free up more kitchen space by putting spices on them as they give an extra spot to hold items without taking up drawers and offers to expand storage possibilities by placing baking sheets inside.
Pros:
Metal frame.
Two shelves.
40 hooks.
60 lbs weight capacity.
Cons:
A bit wobbly.
Needs better hardware for drywall.
Continue reading:
Disclosure: As an Amazon Associate we earn from qualifying purchases.