Every year interior design styles change and we can see new trends emerging each and every time. They don't change dramatically, the changes are usually subtle, evolved from previous trends. It also doesn't mean that you have to remodel your interior every year, but if you like staying on the cutting edge of the latest design styles it's worth keeping an eye on these trends.
Today we're looking into kitchen decor trends with 38 stunning examples and we're looking for something to take home out of each of them.
What's Inside
Mixed Materials
Instead of a sleek modern look with a choice of one or two materials, we expect to see more mixed materials that make the kitchen more visually interesting and more alike to other rooms in a home.
Warm Grays
Gray is becoming the new white as we see a lot of kitchen designs going for the warm and neutral grays with the cabinets, walls and even the floor.
Black Stainless Steel
From shiny stainless steel that has been popular during the previous years we turn to black finish, and even matte black appliances and cabinets.
Contrasting Colors
Contrasting colors have been popular for years and they still find their place this year. That's especially true with the aforementioned warm grays and matte black.
Color Sinks
Apron front kitchen sinks have been gaining in popularity last year and they are here to stay, except that we can see them in accent colors now.
Brass and Gilded Elements
To complement the black stainless steel appliances and matte black cabinets gilded or brass fixtures and hardware finishes are here to stay.
Hidden Charging Stations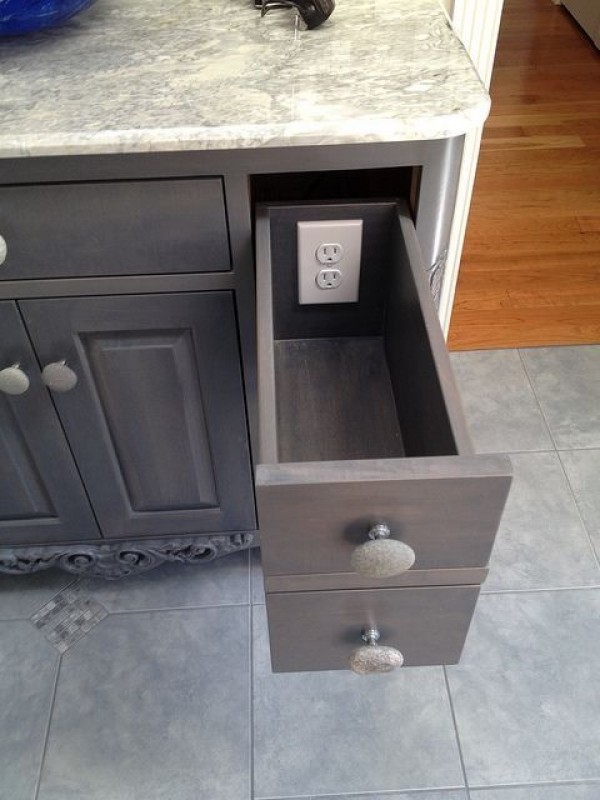 Hiding all the cords of electronics has been a popular DIY project and it continues to be a trend in kitchen design. We expect more kitchens to implement drawers with integrated power outlets like these.
Faux Material Countertops
Faux granite or marble countertops are becoming more convincing and it's a great way to save on the real deal.
Angular Faucets
We expect to see more and more of these black matte or metallic modern architectural design faucets.
Flexible Palette
Neutral hues have a very convenient feature – they provide the flexibility to choose accents on a whim. Keeping the walls and cabinets neutral but choosing accents in hardware finishes, fixtures, or even the sink is the popular way to design a kitchen this year.
Grey Cabinets
What we will see a lot in these stunning kitchen designs are soft hues of grey on the cabinets, walls and even floor. Grey is the new white this year, although white hasn't been phased out entirely.
Marble and Hardwood
Mixing materials is another popular feature and in some cases, we get a lot of it. This particular kitchen mixes marble countertops, wood stools, hardwood floor, subway tiles, metallic fixtures, and stainless steel. That's a lot to combine but it works very well.
Feature Walls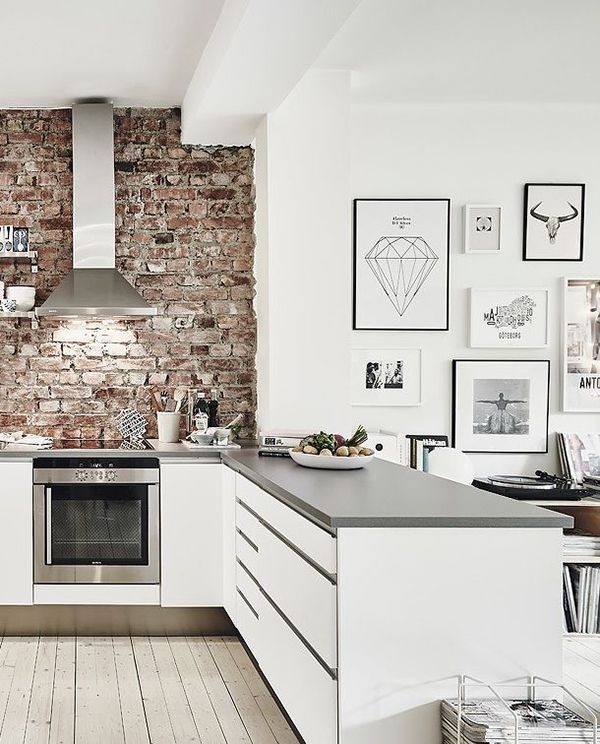 Color and pattern drawn from feature walls (bricks in this instance) is a remnant from previous years but some things are just timeless. The washed out grey hardwood floor is gaining in popularity in particular.
Chalk Paint
Contrast is very important and trendy, it works well while mixing different materials. The black chalk paint gives an amazing matte finish that contrasts with white walls so well.
Metallics
You'll see a lot of mixing of metallic finishes, especially brass, silver, and matte black. It's not the first time metallic is used as a decor feature but it keeps gaining in popularity every year and we don't see it going away anytime soon.
Accent Hardware
Another great example – matching the lighting fixtures and drawer pulls. We find the ever so popular grey cabinets here too.
Accent Stools
A lot of contrast is being used in this kitchen design, with marble features and brass accents, including vases and stool spray paint job.
Open Shelves
The use of open shelves is another feature here to stay, especially in small kitchens. Suspended shelves allow more storage in limited space and provide a surface for decorative display.
Classic Features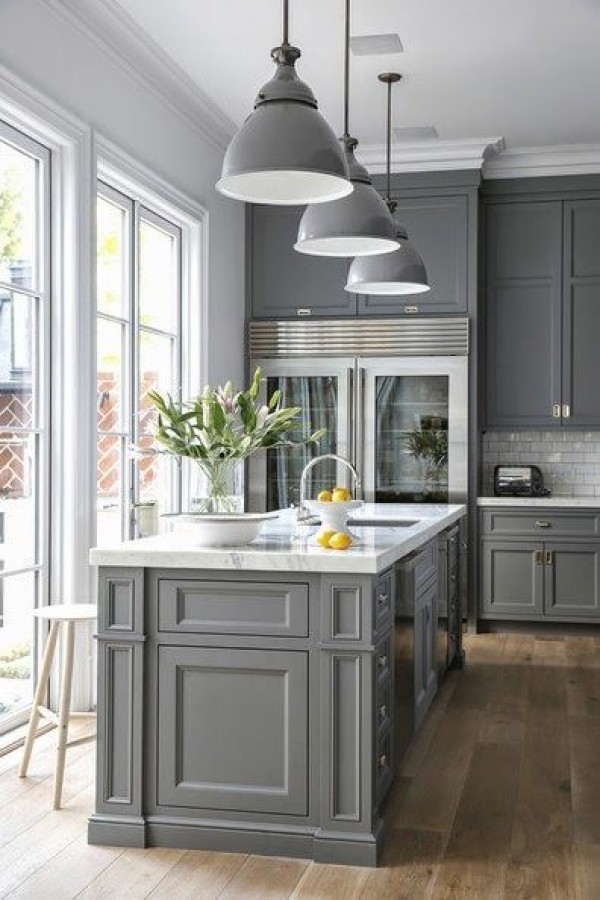 More of the warm grey cabinets which look stunning when contrasted with architectural features such as crown molding.
Stainless Steel
This kitchen design is truly stunning for many reasons. First, we have our favorite soft grey cabinets embellished with brass pulls and contrasted with marble countertops. Then we have even more contrast with black stainless steel appliances which also feature brass detail. The subway tiling with black painted grout create the perfect backdrop pattern and the large black granite floor tiling brings it all together.
Black Countertops
Despite the overwhelming presence of grey, white is still in, especially when contrasted with black features, such as countertops, sink, fixtures and other details.
Matte Black
Matte black works just as well as brass does with grey cabinets and glossy white surfaces. Here we have matte black pulls, faucet and lighting fixtures.
Earthy Tones
Mixing brass, silver, matte black hardware, grey cabinets and floor, and wood stools – proof that all of these materials complement each other in any setting.
White and Metallic
Brass accents work with whites and it's still in too.
Concrete Textures
It isn't always just about painting cabinets grey too as we can find features such as using the concrete finish in this kitchen design.
Prominent Hues
This design shows the transition between previous trends of whites and current soft greys – very soft greys are now replaced with more prominent hues.
Accent Colors
It isn't always about neutral colors. In this design, turquoise backsplash tiling makes a gorgeous feature.
Contrasting Styles
This kitchen design shows how important is contrast with a chalkboard accent wall and just a hint of grey hues with brass accents.
Accent Backsplash
Intricate pattern backsplash tiling is another feature to look forward to, especially if it also features our favorite greys.
Functional Design
The function is always so important, and we keep finding new innovative ways to make the kitchen more functional, easier to use and inspiring to cook. This drawer system shows a clever and very accessible way to store dishes.
Concrete Furniture
Brilliantly lacquered Silestone surfaces may have dominated kitchen countertop and island designs, but the rise of minimalist design has created a penchant for sturdy matte surfaces. And we are beginning to see concrete not only on furniture but also on walls and flooring.
The calm tone of grey blends beautifully with natural kitchens in white and black. Some kitchens are taking it to the next level, combining concrete workspaces with overhead concrete features joined to concrete steps leading to upper floors. If you opt for this look, sealing is vital to protect furniture from wear and tear.
Sustainable Appliances
Environmentally friendly and chemical-free dishwashers have long been all the rage in commercial kitchens, where the volume of dishes washed and the high temperatures required to make energy efficiency vital. However, they are also holding sway in home kitchens. Many of them are boasting energy certifications that have features such as delayed start (machines start during off-peak hours), soil sensing (the device adjusts the cycle length and water wastage to the dirt level of dishes), and energy-saving cycles (which operate for a shorter period of time).
Sustainable fridges, meanwhile, have features such as alarms that sound when the door has been left open for longer than a minute and technology that adjusts frost patterns for maximum efficiency.
Designer Lighting
The kitchen used to be the most practical spot in the home, but these days, it is a place to display beautiful lighting features that might otherwise be lost to visitors' views if placed in bedrooms or other private areas. Instead of the typical sturdy wall lamp, kitchen designers are opting for hanging pendant lights. They look beautiful when placed in a row above a long kitchen island, but are also stunning when hung together at different lengths, perhaps in a gourmet/coffee corner of your kitchen.
Large Baroque-style chandeliers also look fantastic in an otherwise simple, minimalist kitchen, fitting in perfectly in more traditional spaces as well. They turn a simple kitchen island into an appealing table for meals and coffee almost immediately.
Metallic Accents
Gold and copper accents are growing in popularity, reflecting a growing penchant for metallic use in design. Mixed metals are all the rage in kitchens as they are in fashion. Thus, it is common to see kitchen islands with metallic legs and a wooden top, with a kitchen hood in an entirely different metallic color. Island stools with copper metallic legs, meanwhile, add an über chic touch to a country-inspired kitchen.
Modernizing Wood
Wood is still a revered material in modern kitchens; few things speak warmth and tradition quite as much as solid wood. Forget about the monochrome looks of the past, though; these days, wood is being blended with a plethora of other materials, including white lacquer, marble, and stone.
Thus, wall cabinets might be made entirely of wood, while central islands are in cool white lacquer with wooden side accents. If you like the idea of mixing white and wood, islands can also be painted in white or eggshell for a more youthful appearance.
Rustic Brick Touches
Traditional kitchens are using brick accents to add a New York loft-like feel to even small, simple kitchens. Brick in both natural and white hues are being used behind sinks or decorating walls. They work beautifully as support for wooden shelves. Pop a few copper metallic items up there, and you will instantly add a country-style feel to your cooking space. Brick ceilings or overhead domes also work beautifully in a countryside home.
Tiling is Back
After around a decade of simple, monochrome, lacquered splashbacks, tiles are adding new creativity and color to modern kitchens. Geometric, Moroccan, and monochrome tiling is being used in wide 'strips' that run from one end of the wall to the other. Tiling is also being used to create decorative shapes that form a perfect backdrop to wooden shelves for glasses, cutlery, and equipment. Because white is arguably the 'it' color for kitchens, we see plenty of tiling in grey, dark blue or bottle green, and mahogany hues.
Another look involves the use of hand-painted tiles, each bearing its design, in a small section of the kitchen. Glass tiles bearing different hues (e.g., sparkly pink, light pink, ivory, and shell pink) add a playful touch and are ideal for those who embrace color and artistry. Tiling has become a must-have feature of plain white kitchens, since they attract attention, livening up a space that is predominated by light. Be creative when it comes to selecting the right tiles for your kitchen. Large hexagon-shaped tiles are as popular as plain square or tiny dotted tiles to ultimately it all depends on the extent to which you wish you highlight the area in which your tiles will be placed.
Investing in Appliances
Because open kitchens are being converted into a hub of activity in the home, greater care is being taken to design attractive spaces boasting new materials such as concrete and metal. The millennial interest in sustainability also means that people are investing more in equipment and machinery that is environmentally friendly and attractive all at once. The key to designing an excellent home kitchen is to liberate oneself and blend various influences, daring to try out new materials and color combinations for a result that is all your own.
Continue reading: