Last updated on February 3, 2021
Accent mugs are not an afterthought. It's how you make your kitchen decor pop. These top 10 best accent mugs of the year will guarantee it.
While you can't really say which set of mugs is the single best — if you really twist our arms and force us to say it — these are our #1 pick: Royal Doulton Pacific Accent Mugs
What we mean by that is you can't pinpoint one set of accent mugs because each kitchen decor will need different pops of color and pattern. We follow the current trends and know well what is in right now, but there are still some choices. Do you need gold accents or shades of blue? Neutral greys or vibrant rainbow glaze?
In any case, we've got you covered. Even if you don't like the ocean-inspired Royal Doulton collection as much as we do, you will have your chance to prove us wrong with the alternative options you will find below.
These aren't just mugs for display either. Each set is durable and functional, and you can use the mugs for their original purpose — to drink beverages. It is always that much fun to do it using a pretty mug, though.
So here they are — aren't they all so pretty?
We have included shopping links that earn us a commission. We do this for your convenience and it doesn't cost you anything extra.
What's Inside
Mosaic Gold Plated Mugs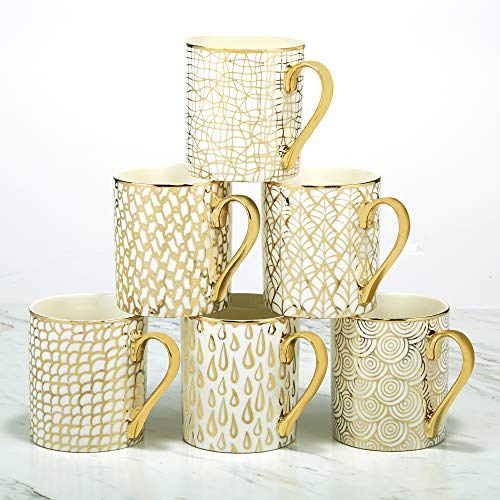 Would you like to add some gold accents to your kitchen decor? These mugs are truly beautiful. At 14 oz., they are the perfect size for your morning cup of coffee or tea and also have perfectly designed handles to keep your fingers away from the hot mug and properly balance it. With a low price for the quality, these mugs could not get any better.
Quick facts:
Made from ceramic (durable porcelain)
Gold plated.
Set of six mugs of varied pattern.
Hand wash only.
Royal Doulton Pacific Accent Mugs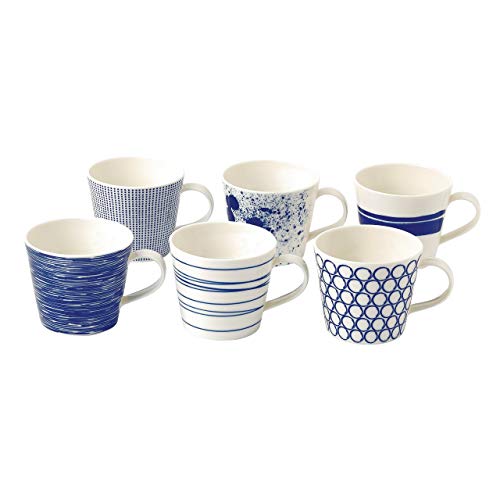 These mugs are outstanding. They combine the right size with a classic shape and a rich saturated blue color inspired by the sea. The handles are cool to the touch and can be used right out of the microwave. Beautiful colors that will go wonderfully in any kitchen.
Quick facts:
A set of 6 porcelain mugs.
Deep blue colors in varied patterns.
Dishwasher and microwave safe.
Signature Housewares Footed Mugs

These mugs are very much the perfect addition to your kitchen. Each cup is footed and stackable, featuring stunning color combinations and patterns, plus all of them match each other — somewhat. Holding 12 ounces (though listed at 20 oz — might be a mistake there) of your morning coffee, tea, or hot chocolate, these mugs are both charismatic and convenient. The design of these mugs is so cool. It's a mix of colors and patterns. These ceramic cups feature a contrast between their footed base and their rounded bodies.
Quick facts:
A set of four mugs.
Made of durable glazed stoneware.
Mix and match colorful multi-pattern design.
Dishwasher and microwave safe.
Lenox Trianna Taupe Grey Mugs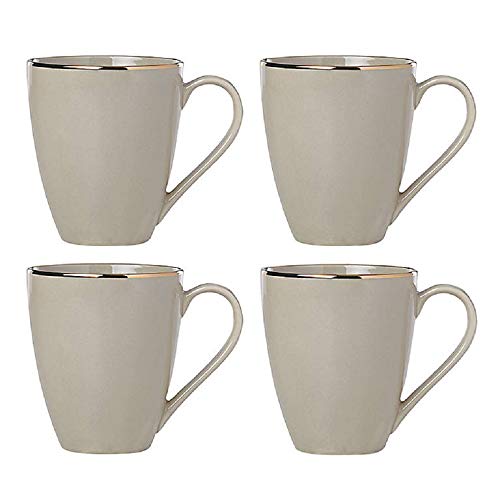 With clean, simplified lines and colorful accents, Trianna's mugs come in a trendy color palette that is both neutral and vibrant. Perfect for everyday use, such as drinking coffee in the morning, as well as special occasions, like your next brunch with friends. All gilded accents are microwave-safe to provide purchasers with a versatile product.
Quick facts:
A set of 4 porcelain mugs.
Microwave-safe gilded accents.
Trendy neutral and accent palette.
Jumbo Polka Dot Mugs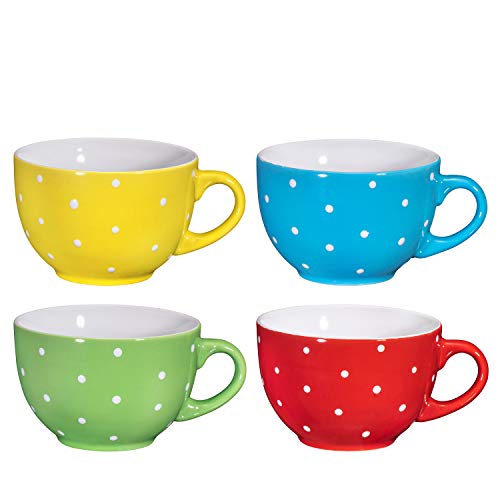 Look at these awesome, large mugs! The bright colors will liven up your kitchen decor and look fantastic out on the table. They are great for hot or cold beverages (especially coffee if you like having it at XL), and you can also make desserts like mug cakes. You can even put soup or stew in them or warm up a dessert in the microwave.
Quick facts:
A set of 4 ceramic mugs (24 oz.)
Dishwasher and microwave safe.
Great as a gift.
The Pioneer Women Flea Market Vintage Bloom Mugs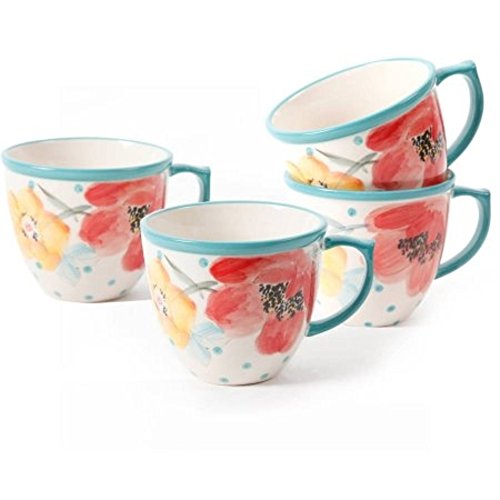 These floral mugs give off a laid-back, breezy vibe. They come in a set of four and feature polka dot accents. Made from stoneware, these bright and colorful mugs are durable and will make an excellent addition to any kitchen decor.
Quick facts:
A set of 4 stoneware mugs.
Microwave and dishwasher safe.
Beautiful matching accent floral patterns.
Sophie & Panda Stoneware Coffee Mugs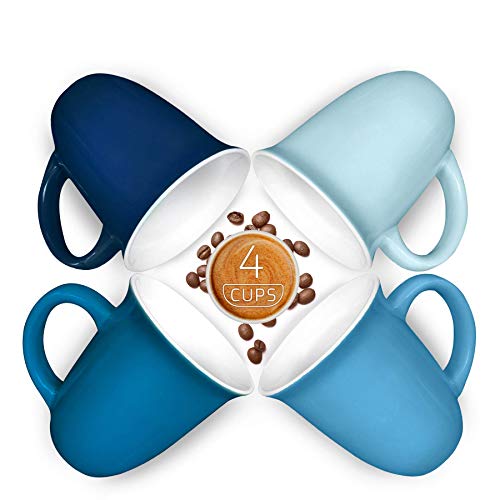 These are beautiful, large-handled mugs with a soft gradient design. A pleasure to drink from, you can even use them as a display for your coffee station. These are beautiful mugs that offer four different shades of blue – shades that can easily match any decor.
Quick facts:
A set of 4 stoneware mugs.
Great as a gift.
Awesome shades of blue for an accent.
Royal Doulton Coffee Studio Mugs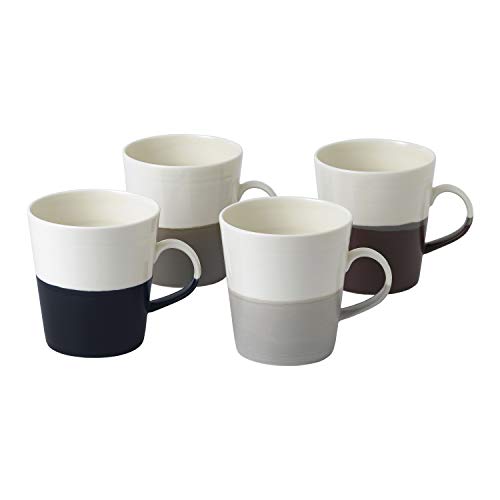 These pretty porcelain mugs are subtly designed with handles ever slightly tilted toward you. They have a light gray satin glaze that gives the porcelain a unique handmade-like finish. Partially dipped in light gray, this set shows off its pretty accentuation.
Quick facts:
A set of 4 porcelain mugs.
A crafty box for gifting.
Microwave and dishwasher safe.
Easily stackable.
Marble Accent Mugs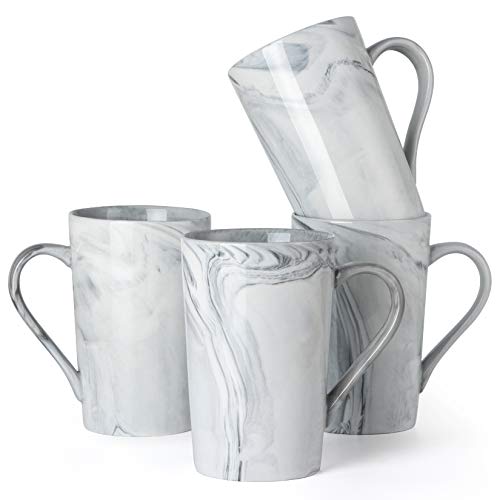 Would you like to add some marble accent to your kitchen decor? These ceramic mugs are marbalized to have the effect/ They have easy grips and marbleized patterns. Each one is unique. They might not be exactly like the ones in the photo, because every single one is handcrafted.
Quick facts:
A set of 4 ceramic mugs.
Each mug is unique.
Microwave and dishwasher safe.
Blue Glossy Rainbow Glaze Mugs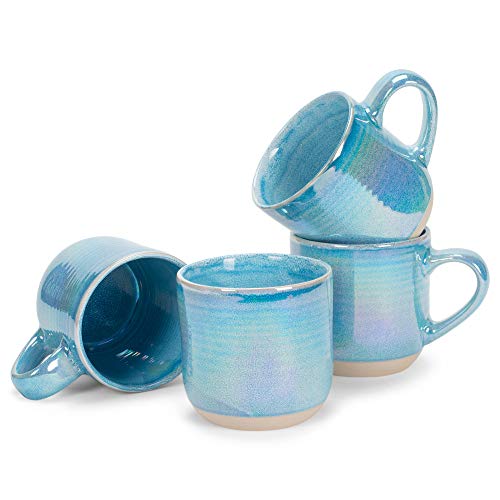 Add a little glamour to your morning coffee with color and style. Vivid design and bright finish, these fun accent mugs are perfect for just about any occasion. Don't settle for boring mugs, or even cute ones! Enhance your drinkware collection with a little splash of color. The bright finish and thick handle on these sturdy stoneware mugs add interest to your kitchen decor and make them perfect for gifting, too.
Quick facts:
A set of 4 sturdy stoneware mugs (17 oz.)
Dishwasher and microwave safe, although hand washing will increase their lifetime.
Pretty rainbow gloss finish.
Continue reading:
Disclosure: As an Amazon Associate we earn from qualifying purchases.