Last updated on September 18, 2023
Check out over 400 (well organized!) kitchen design and decor ideas. These are the best ideas that will help you to renovate or decorate your kitchen.
Kitchen is the heart of a home, and it's evident by how much attention people give designing, decorating, and renovating this room. There's no shortage of stunningly beautiful kitchen ideas on decor magazines, Pinterest and Instagram, and everyone is after the next fancy trend.
So what are the best and most popular kitchen design and decor ideas? This is what we find out in this organized list of all the ideas that we've written on this blog.
Let's dig in!
What's Inside
Small Space
A small kitchen isn't a limitation. Far from it. Many a designer will tell you that it's much easier to decorate the space when you are limited. Check out these brilliant small kitchen design and decor ideas that will inspire you to remodel your kitchen. (85 ideas)
Make It Look Bigger
Being stuck with a small kitchen is not flattering, but that's the drawback of living in a small apartment. And while you can't physically expand the space, you can do it visually by making the most of your small kitchen. These tips and ideas will help you make a small kitchen look bigger. (14 ideas)
Trendsetting Kitchen Designs
Every year interior design styles change and we can see new trends emerging every time. They don't change dramatically; the changes are usually subtle, evolved from previous trends. It also doesn't mean that you have to remodel your interior every year. But you might want to consider staying up to date with these kitchen design trends. (30 ideas)
Transitional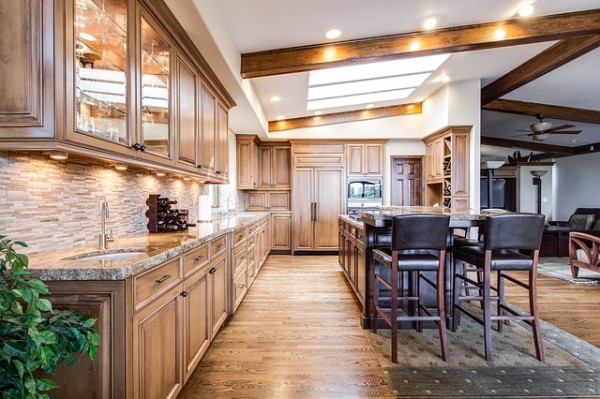 The transitional kitchen design style is getting more and more popular. Want your kitchen to be modern but look timeless? This is the style you're looking for. We have a complete guide with transitional kitchen ideas that will tell you all about it. (23 ideas)
Open Shelves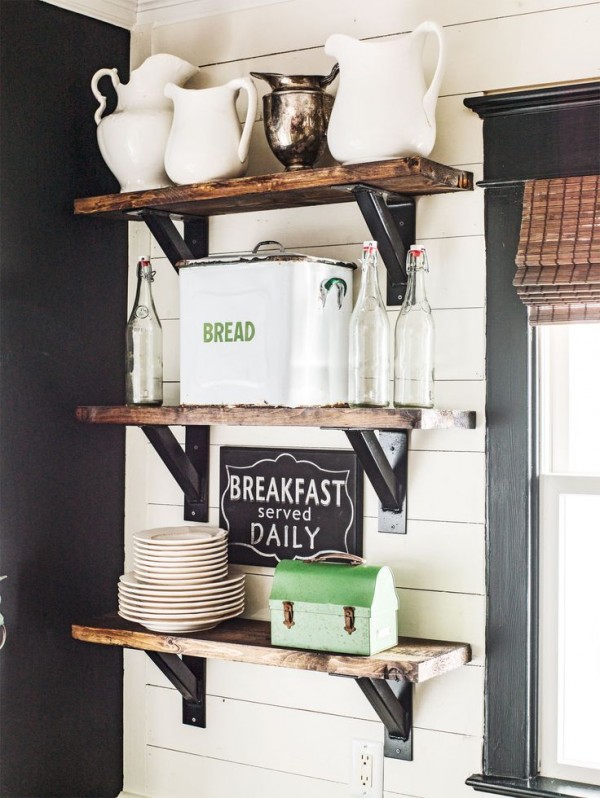 Kitchen storage is one of the main aspects that can make or break your interior design. And that's especially true if your kitchen is rather small. Cramping up space with cabinets can quickly turn your kitchen into a closet rather than a comfortable and tasteful area of your home. Better yet, you can improve your kitchen decor by arranging beautiful open shelving. (25 ideas)
Rustic Decor
The rustic decor style is a popular choice when it comes to kitchen renovation. And when we say rustic, we mean it in the broad sense of the term. Whether you want to add a few accents or you want to create a complete rustic look, these rustic kitchen decor ideas will help you do that. (33 ideas)
Kitchen Design and Decor Mistakes
Kitchen redecorating is rated as one of the best remodeling investments you can make in your home, offering a higher return than other home improvement projects. That is, provided they are done right. Given the expense and inconvenience involved, you will want to avoid these kitchen design mistakes. (7 ideas)
Marble Countertops
When designing a kitchen or planning a renovation, certain large-scale elements can set the tone for space. One such aspect is the material choice for the countertops. The top choice that's all the rage right now is the marble. Learn all about marble kitchen countertops here.
Organization Hacks
Chefs know a lot about kitchen organization tricks. I grew up with one (my mom) and here are the hacks I've learned from her about organizing the kitchen. (17 ideas)
Ceiling Design
Remember the forgotten wall – the ceiling? Kitchen is no exception. We do understand that other aspects of kitchen design perhaps are worth more investment. But check out these kitchen ceiling design ideas and see what fantastic effect can have if you pay attention to it. (20 ideas)
Fridge Decorations
When you come across the majority of kitchens, you find that the fridge is that big white box like an empty canvas. And what do people choose to do with it? Make a big mess of magnets and stickers with it. But since we take home decor seriously, we can do better than that. Check out these fridge decoration ideas for inspiration. (19 ideas)
Wall Decor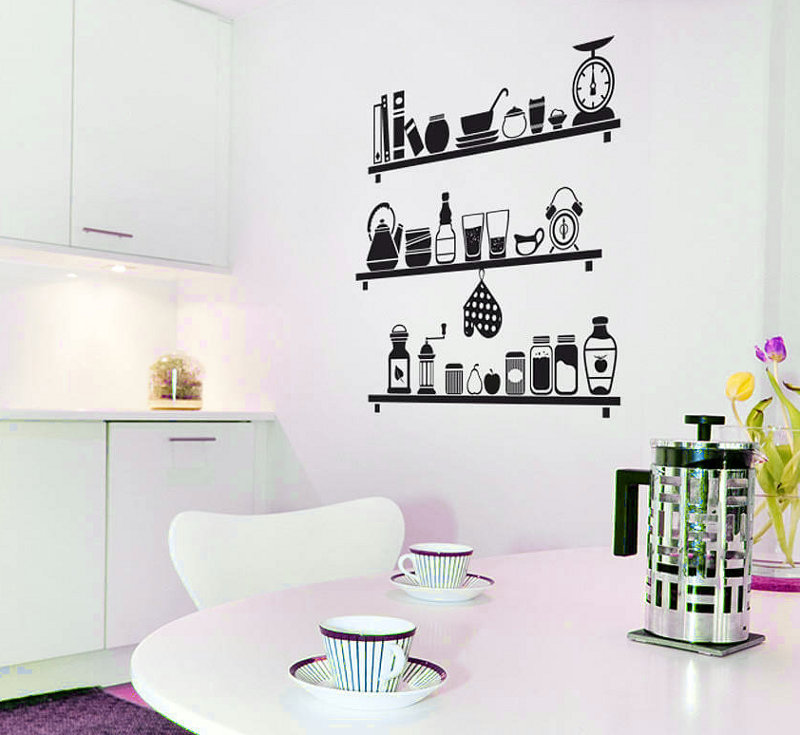 No doubt one of the most important parts of kitchen design is the walls. They cannot be left empty. Whether you use paint to find an exciting decor style or accessorize the walls with accents, much thought needs to be put into it. So check out these kitchen wall decor ideas for inspiration. (26 ideas)
Backsplash
The kitchen backsplash is more than just a practical idea – it can do a lot more than protect your walls. Designing an accent backsplash is all the rage, and it can have a significant impact at little expense. Check out these kitchen backsplash ideas to see what we mean. (29 ideas)
Rustic Backsplash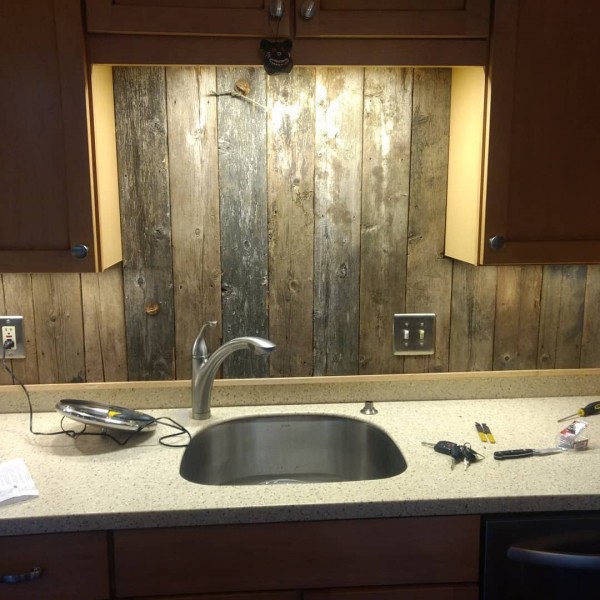 If you want a unique feature in your kitchen design, a rustic backsplash is by far one of the best options to leave a lasting impression. There are many ways to embrace this style too. Want to see our rustic kitchen backsplash ideas? (15 ideas)
The Pass-Through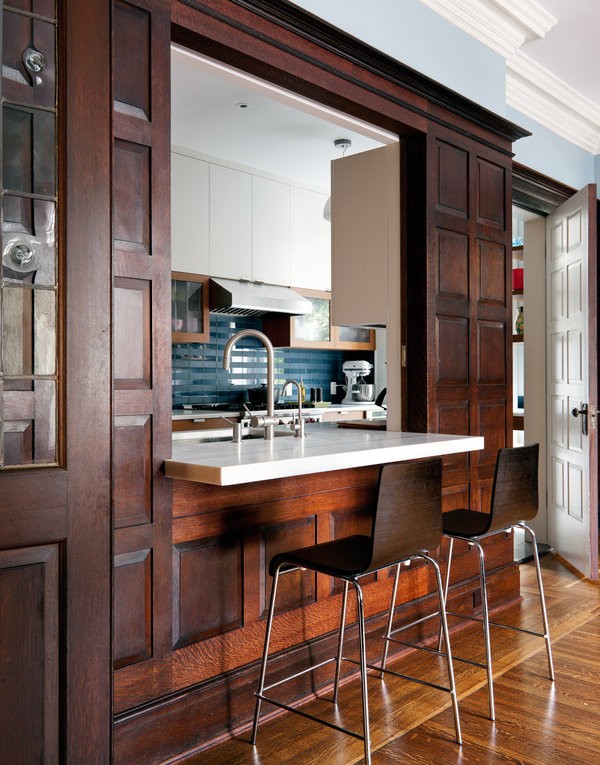 The days of the old kitchen pass-through window may be long gone but the feature is back in a new modern look. Check out what you can make of this feature today in our list of kitchen pass-through ideas. (9 ideas)
Window Treatment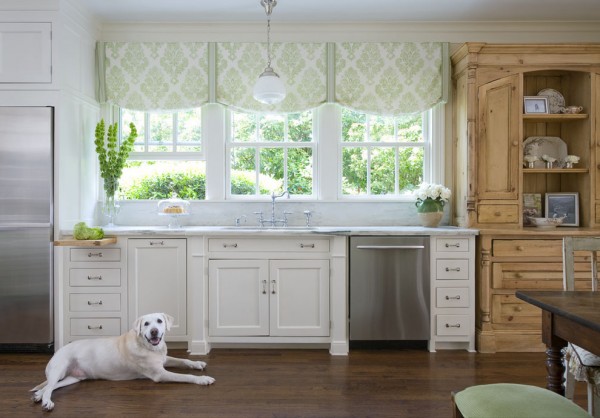 Unlike other rooms, you can use almost any type of window treatments in the kitchen. Some of these types aren't even treatments in the traditional sense at all. Want to know more? Check out the best kitchen window treatment ideas. (13 ideas)
Trash Can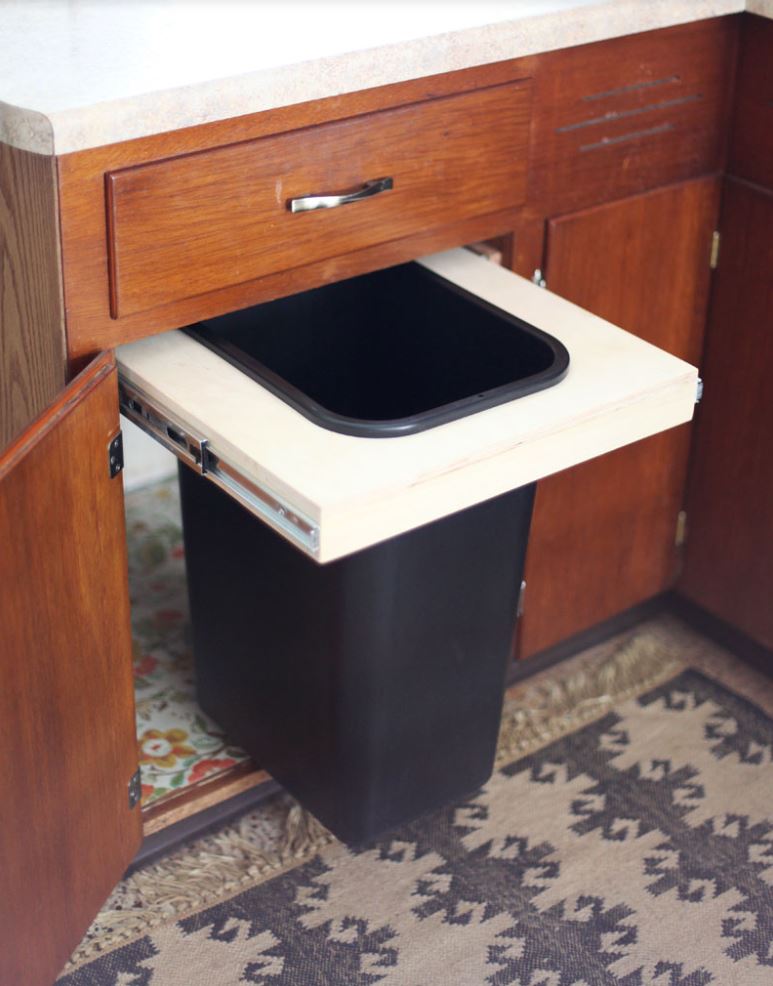 If you think a trash can in the kitchen is trivial you're in for a surprise. There are many reasons why you need to think it through, especially when it comes to a small kitchen. Check out the best trash can ideas in a small kitchen to see what we mean. (8 ideas)
Small TV
Do you want to have a TV in your kitchen? We won't argue with your decor choices. But what we can do is offer you some creative small kitchen TV ideas. (12 ideas)
Copper Decorating
From lighting pendants and cabinet handles to backsplashes and appliances. You can use copper anywhere in kitchen design. It's a popular trend that has found its following. You can use it but watch out for it not to become tacky. Check out these copper kitchen decorating ideas. (20 ideas)
The Hutch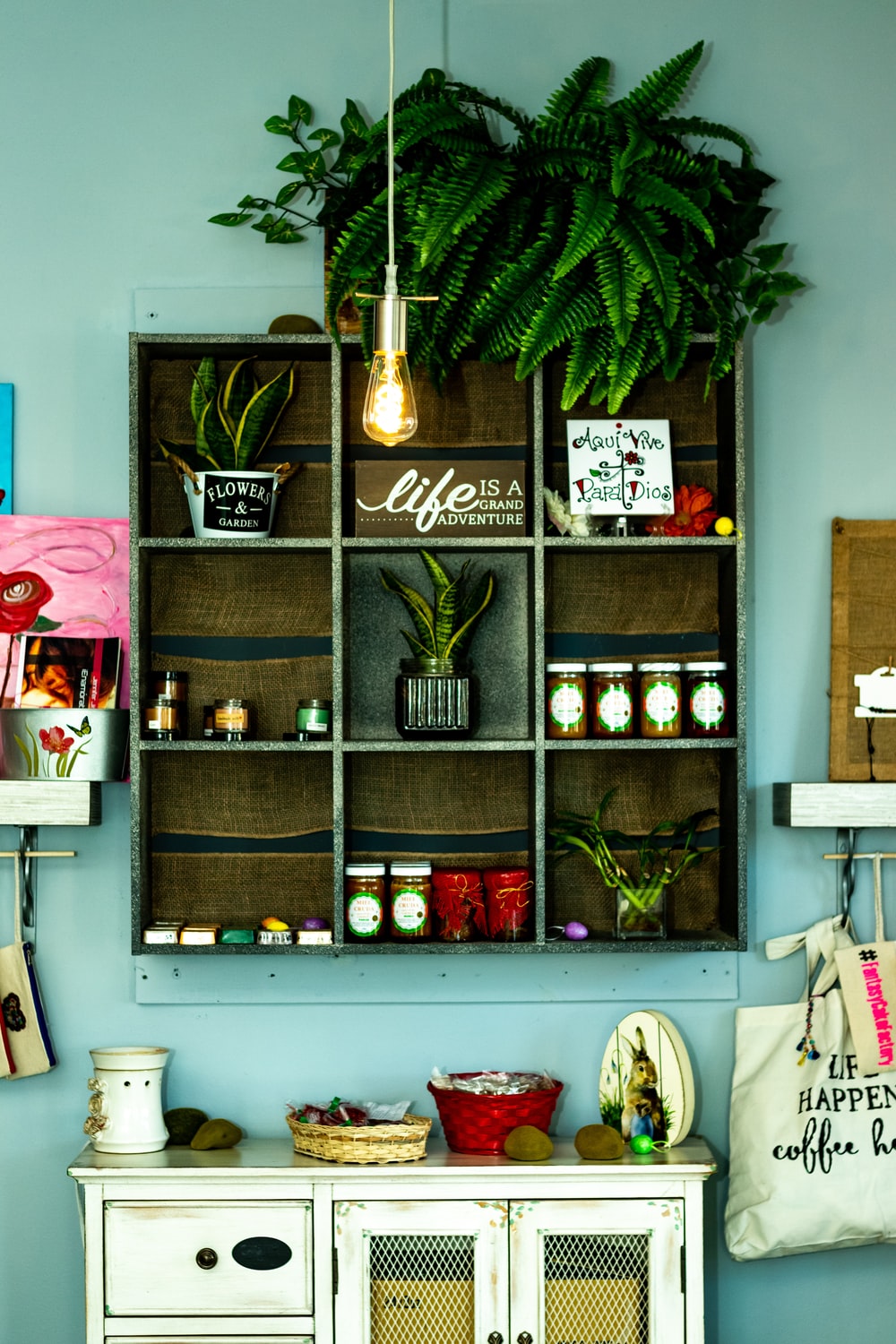 The hutch is not only your kitchen storage, it can be a decor feature too. It's a big shift in thinking about your kitchen design and a daring one too. Don't be afraid to open up the shelves and make displays. Here are the most unique kitchen hutch ideas for your inspiration. (15 ideas)
Window Blinds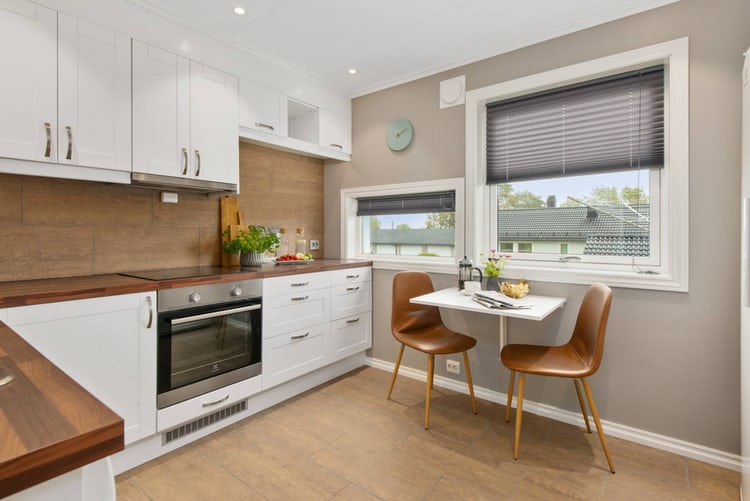 When it comes to window treatments, the most likely scenario is that you will use blinds or shades. They are the most functional and practical in the kitchen. And they can create a lot of decor value as well. Check out our selection of unique kitchen blinds ideas. (15 ideas)
Backsplash with Maple Cabinets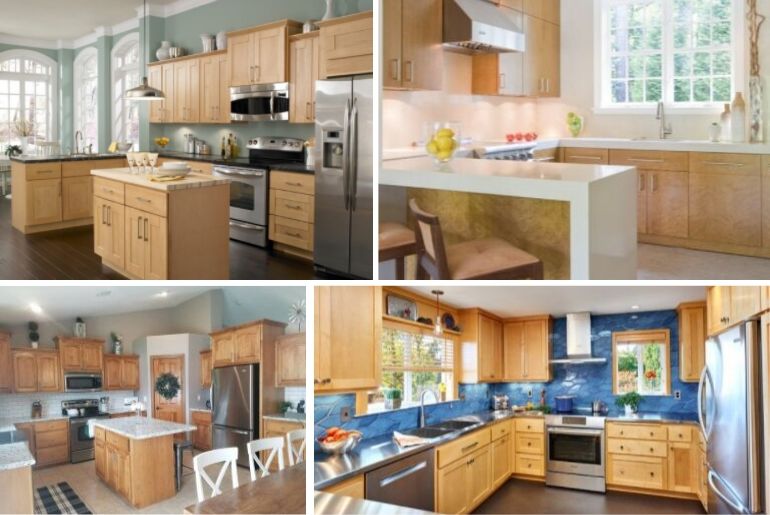 While some designers say that maple cabinets should be left in the 90s where they come from, we still enjoy the natural wood look. The trick is to find the right color and design for the backsplash to go with it. See these kitchen backsplash ideas with maple countertops for advice. (7 ideas)
Wine-Themed Decor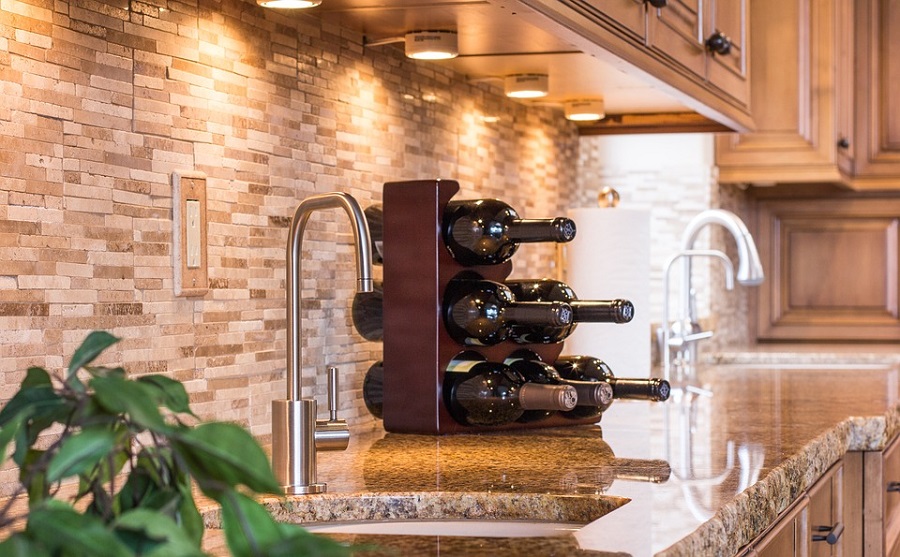 Do you have a passion for wine? Or perhaps you just love the color of red wine. In any case, decor accents of this theme or a whole kitchen design might be your thing. In which case, you need to see these wine-themed kitchen ideas. (10 ideas)
Shaker Cabinets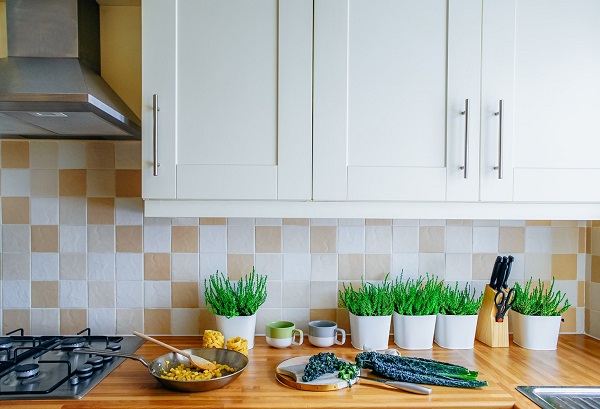 Do you know what style of cabinets is all the rage these days? You are right if you think it's shaker cabinets. It's definitely one of the most popular styles today. So here's how to make shaker cabinets and how to style your kitchen with them. (20 ideas)
Continue reading: